News
Saving Felines
RESQCATS to the Rescue
Located high on the cliffs in Santa Barbara, is an all-volunteer-run sanctuary called RESQCATS. Founded in 1997, by Jeffyne Telson, RESQCATS is dedicated to the rescue, care, and adoption of stray and abandoned cats and kittens. Since 1997, RESQCATS has placed close to 2,000 stray cats and kittens into permanent, loving homes.
When you drive up to RESQCATS, you feel like you are entering a cat resort rather than your typical shelter. The facilities consists of a large building divided into communal areas, large outdoor "playgrounds", and special enclosures for adoptable kitties. The large communal room is for resident cats that have been brought to RESQCATS, and for one reason or another they are unadoptable. They each have their own beds and always seem very happy whenever I visit. RESQCATS is truly a no-kill shelter as they keep even their unadoptable cats.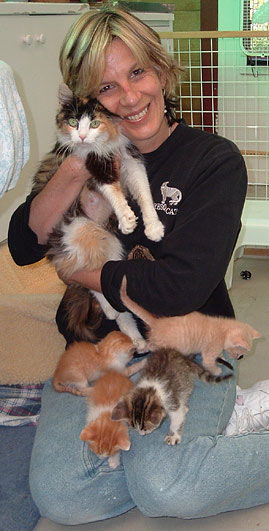 The cats and kittens that are available for adoption at RESQCATS have their own individual enclosures. These enclosures are not only quite large, 4 x 8 x 7 feet, but also they are very well-equipped. In fact, when I adopted my kitty from RESQCATS, I was afraid he wasn't going to want to leave! The enclosures are furnished with a large crate lined with soft blankets, a kitty condo, a scratching post, litter box, plenty of food, fresh water (sometimes coming from a fountain), and lots of toys. The enclosures have multiple levels and a driftwood log serves as a ramp to a high shelf with another kitty bed as well as a panoramic view of the trees and the field.
Many of the cats who reside at RESQCATS have access to a large outdoor protected area with 650 feet of special cat trails. These trails are enclosed and allow the cats to walk from one outdoor enclosure to another and view the world under complete protection from the dangerous outdoors.
The adoptable cats and kittens at RESQCATS come in many shapes and sizes. There are currently many cats and kittens looking for homes — many are moms with babies. There are orange tabbies, tortoiseshells, black and brown tabbies, and even Siamese and Russian Blue types.
According to Telson, "It is important to personally know each cat in order to find the 'purrfect' home." Volunteers spend a lot of time with each kitty to truly know their personality, which helps placing them in the appropriate family situations.
All cats and kittens at RESQCATS receive a vet exam, Felv/FIV test, fecal exam, worming, FVRCP vaccination, spay or neuter surgery, and microchip. When you adopt a cat or kitten from RESQCATS, they go home with a health record, sterility certificate, 3.5-pound bag of food, canned food, new toys, and a new blanket. RESQCATS even goes through the trouble of registering the microchip under the new adopter's name.
Once you visit RESQCATS and meet Jeffyne Telson, you'll understand why she has made rescuing cats her life's work. According to her, "It is about the cats first. The day it is not about them first is the day I do not need to be rescuing".
Since RESQCATS is solely run by volunteers, they are always in need of more help. To learn more about volunteering at RESQCATS, or to make an appointment to view the adoptable kitties, contact Jeffyne Telson at (805) 563-9424. To view adoptable kitties online, visit http://www.petfinder.com/pet-search?shelterid=CA1243&preview=1
ANNOUNCEMENTS
K-9 PALS Third Annual Dog Festival and Great Ball Drop, Sunday, September 25, 11 a.m.-3 p.m., Elings Park.
This is a family and dog friendly event benefiting the homeless and abandoned dogs of Santa Barbara County, so bring the kids — furry friends, too — and help celebrate! Proceeds will go to support the all-volunteer nonprofit K-9 PALS organization and the Elings Park Foundation.
This year's festival includes dog talent and costume contests, music, local food trucks, amazing agility, flyball, and police K-9 unit demonstrations, animal rescue and welfare organizations, and dog-friendly business exhibitors to teach you about the products and services available to your furry family members.
Highlighting the day is the Great Ball Drop Raffle. At approximately 2 p.m., watch the Santa Barbara Fire Department hoist 1,000 numbered tennis balls up into the air and drop them over our specially designed prize board. This year's grand prize is a vacation package including a two-night stay at the Four Seasons San Francisco luxury hotel, a five-course dinner for two with wine pairing at the five-star rated Restaurant Gary Danko, and a $250 gift card for expenses — a total retail value of over $1,600!!! Raffle tickets can be purchased prior to the event from Elings Park offices and K-9 PALS volunteers — 1 ticket for $10 or 10 tickets for $90.
For more information, contact GBD@K-9PALS.org.
Fix-a-Pit
Every Thursday, CARE4paws hosts "Fix-a-pit" at DAWG. CARE4Paws will fix up to eight pit bull terriers and pit mixes each week at DAWG as part of their Project ResponsiBull. Open to pit bulls from across the county. For more details, call (805) 968-CARE (2273) or email info@care4paws.org.
Adoptable Pets of the Week
Milo and Maddie are the most adorable kittens. Milo is a male orange tabby and Maddie is a female tortoiseshell. They are brother and sister and love each other so much that they need to find a home together. If you have room in your heart and home for these two sweeties, please adopt them today. You can click on this link to watch a video of Milo and Maddie.
Call RESQCATS at (805) 563-9424 for an adoption appointment. All kittens and cats have had a full veterinary exam and been vaccinated, wormed, spayed or neutered and tested for leukemia and microchipped. RESQCATS is a nonprofit sanctuary dedicated to the rescue, care and adoption of abandoned cats and kittens in Santa Barbara. For more information, visit www.resqcats.org.