Film & TV
I Don't Know How She Does It
Sarah Jessica Parker, Greg Kinnear, and Pierce Brosnan star in a film written by Aline Brosh McKenna, based on the novel by Allison Pearson, and directed by Douglas McGrath.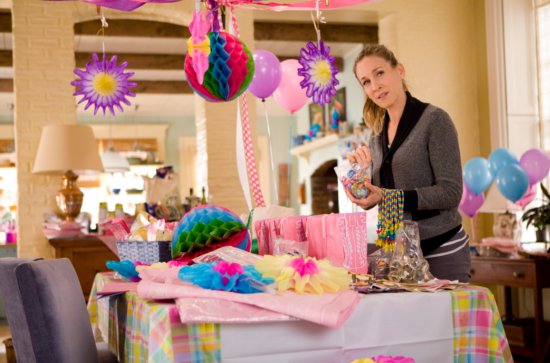 Here's a sample joke from this, the latest in the Bland Film Derby, currently playing itself out in multiplexes across this brave country of ours: Sarah Jessica Parker plays a hard-charging money market executive balancing her need to succeed with her lovely children's whining sulks and her bleary-eyed husband's patient patronization (played yogurt-smooth by Greg Kinnear). She gets her big shot at impressing über-boss, Jack Abelhammer, played straight-faced by Pierce Brosnan. She's sends two emails, one politely acknowledging her appointment with Jack, the other to her girlfriend suggesting abandoned celebration, including drunkenness and copious oral sex with strangers, joking, you know, like girls do.
Guess what?
If you guessed that the emails got crossed, then you have plumbed the depths of this film. There's nothing more for you here.
I Don't Know How She Does It is a television-brained comedy in the truest sense. The only highlights of this saccharine romp are Olivia Munn as an apparently unfeeling, computer of a subordinate, and Brosnan, whose performance will remind you painfully of his unhinged role in Mama Mia!. The biggest problem with all of these self-consciously post-feminist career films is that they always play out to the bad paradox. It's always on the boss's terms, ultimately, even when the woman makes the soulful choice. Yay! Our heroine gets to be happily overworked and tied to unappreciative children and cookie baking. And why do we care about banking people, male or female, anyway?