News
True Crime
Attacks on People Down, on Property Up
The Santa Barbara Police Department reported a 13-percent drop in violent crime over the first eight months of 2010, following an 11-percent drop the previous year. In that same period, property crimes increased by 5 percent. But that comes after dropping 9 percent from the year before. Officer response times in all but one of the four categories have either met or exceeded department goals. And all this was done with the fewest number of authorized officers — 137 — since 1984.
The meaning of crime statistics — like beauty and pornography — lie in the eye of the beholder, and with a hotly contested City Council race now entering the final leg, there's bound to be considerable debate as to what these numbers signify. Many of the candidates — especially those backed by the politically influential Police Officers Association — have argued that City Hall needs to strive to increase the number of sworn officers to the 2001 staffing levels of 150. But cops are much more expensive now — each officer costing City Hall roughly $125,000 a year in wages and benefits. Given tight budget realities, the push-comes-to-shove question remains how those positions can be funded. Only by cannibalizing other departments, insist city administrators.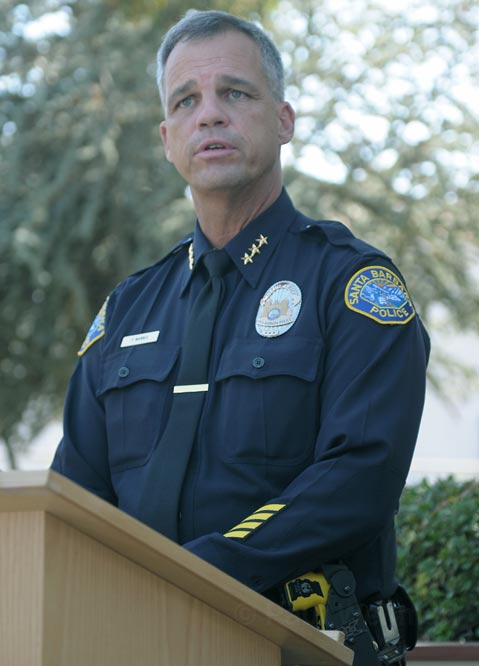 But the police union insists just as adamantly that City Administrator Jim Armstrong has squirreled away large sums in obscure budget accounts over the years and that the money is there. That debate is perpetual. But to the extent reduced troop strength has adversely affected serious crime, the numbers for the past two years don't show it. There were no murders during the first eight months of this year, down from one a year ago. The number of rapes increased by three, robbery by two, and aggravated assault dropped by 40. The number of burglaries increased by 30. But the number of grand thefts auto dropped by seven, and the number of vehicular burglaries dropped by 28. A host of "other" property crimes, however, increased by nearly 100. Of the 2,199 crimes the department categorizes as "Part One," 187 were "transient related," 133 alcohol related, 48 gang related, and 44 involved domestic violence.
Assistant Chief Frank Mannix credited the success of "criminal impact teams" — four officers and a sergeant — with keeping a lid on serious crime despite the department's relatively low numbers. They aggressively hounded parolees recently released from state prison; when they re-offended, the team would send them back. But given how short-staffed the department has become, that team has been disbanded, Mannix said. According to departmental protocol, an officer needs to respond to what's deemed a "Priority One" call within seven minutes. According to Mannix, the year-to-date average is 6.4 minutes. In July, he said, it was 7.9 minutes; in August, 5.6 minutes.
"Some shopkeepers don't even bother to call anymore," he said. "They know by the time we get there, it'll be over and done with."
Members of the police union have argued that the public has been ill served by the reduced number of officers, that response has diminished. Officer Eric Beecher, head of the union, said that the department has extended the acceptable response time in recent years. "Some shopkeepers don't even bother to call anymore," he said. "They know by the time we get there, it'll be over and done with." Beecher said Part One crime was never the "major factor" city cops confronted. "We don't have a lot of murders, but we do have lots of petty-nuisance crime, and we see a lot more of that."
But the figures, according to Mannix, don't bear that out. He said there have been 24,755 Part Two crimes to date this year, compared to 24,697 the year before, and 25,000 the year before that. In all three years, transient-related offenses accounted for roughly 10,000 of these. Mannix said the department has been able to maintain basic patrol strength, but only by cutting special assignments like DARE, PAL, and the beat coordinators. He said the department has also been hampered by an unusually high number of officers — 12 — out on injury, maternity, or military leave. But those numbers are starting to change.
The department now has nine new officers enrolled in the police academy; seven graduates now in training will begin patrolling in the next few months. In the meantime, the City Council increased the authorized number of cops from 137 to 141. Augmenting that, the department will assign three community outreach workers to connect homeless people to the social services they need or know the reason why not. In addition, the department will soon dispatch six liaison workers to be assigned to State Street, the waterfront, and Milpas Street to keep a lid on public intoxication, aggressive panhandling, and other behavior associated with transients. Whether all this proves sufficient in these political times remains up to voters to decide.