Arts & Entertainment
Urban Timber
Cal Poly Professor's New Book Identifies Trees in the Neighborhood
Southern California is unique on many levels. The native landscape has been irrevocably changed by generations of entrepreneurs who brought their own favorite plants with them from other regions of America. Some of these intrepid émigrés also sought far and wide to introduce exotic species from even farther afield. The result is a beautiful and interesting urban forest. Just what are these now-familiar trees that line the streets, provide welcome shade in our parks, and appear in nurseries and home-improvement centers throughout the area? Mat Ritter, associate professor of biology at Cal Poly, San Luis Obispo, has added his passion for trees and academic research of them to the library of resources to identify and understand them.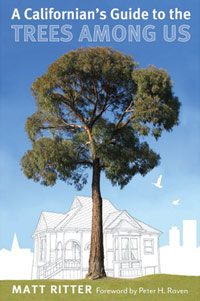 A Californian's Guide to the Trees Among Us is not only a handy guide to identify the trees in the neighborhood but also a trusty source available to inform any decision of which tree species to plant for a particular spot. It offers a detailed description of 150 different species of trees. Each entry is accompanied by photographs of the tree itself, as well as close-up views of flowers, fruits, bark, or other unique characters for the species.
Besides this compendium of information, the book has a set of keys to guide the reader to finding the identity of a particular tree. Biologists have long employed these devices to help each other identify a particular species of organism. It starts with a careful observation of the object and then deciding the correct answer to a set of questions that lead to another set of questions and another until the final pair of questions yields the desired answer. There are also charts detailing flowering time and color of flowers for ornamental species, a glossary of botanical terms used to describe plants (very useful in working through the keys), and even a listing of where to find the trees that appear in the photographs.
While this guide will be helpful when looking at the landscape that is already established, there is another tool that is useful when deciding what tree to include in a particular garden site. SelecTree.com was developed and is maintained by the Urban Forest Ecosystems Institute (UFEI) at Cal Poly as an online resource. It contains records on more than 1,000 trees and is searchable on a number of fields. Select a tree according to the ultimate height it will attain, the amount of sunlight or water that it requires, or the maximum and minimum temperatures it will tolerate; there are 49 attributes to search on. UFEI also offers information to the public on pests and diseases of trees and links to the California Register of Big Trees. It's all you ever wanted to know about trees!
October Tips
• Make sure Christmas cacti and poinsettias have a dark nighttime place. They need 14 hours of darkness and cool temperatures to produce their best December show.
• Get ready for winter rains by creating diversions for rainwater to areas where it can percolate into the soil instead of rushing to the sea in the storm drain. Basins, berms, and even a line of plants can slow and harvest the rain.
• It's not too late to divide some herbaceous perennial plants such as Agapanthus, Clivia, Penstemon, daylily (Hemerocallis), and yarrow (Achillea).