Arts & Entertainment
Worth the Drive: Portugal. The Man at the Avalon
Portland Rockers Step Into Adulthood on Saturday, October 1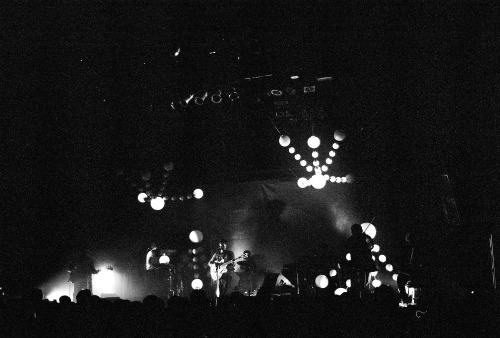 Portugal. The Man is not the same band that was born nearly a decade ago in the Alaskan tundra from the ashes of post-hardcore project Anatomy of a Ghost. The members are not the same musicians who moved to Portland to find bolstering support from the hardcore and math-rock communities there. Yet, images of the band's past still linger in their music, as they would in the thoughts of somebody growing up and looking for coherence in a strange, disjointed world. Portugal. The Man, it seems, is no longer a boy.
It is perhaps not surprising that the idea for all of this began as a novel in the mind of vocalist John Gourley, because every one of the band's performances could fill a chapter of a book. If last Saturday's show at the Avalon in Hollywood was one such chapter, it would tell of a happy crowd and a band clearly in awe of the overwhelming response that filled every silence between new and old material alike.
Surely it would also speak of the profound changes that have shaped Portugal. The Man's sound, most recently in the form of their latest album In the Mountain, In the Cloud, which reigned heavily over the set list along with 2009's The Satanic Satanist. Like most of its predecessors, the new album is a dazzling confluence of acoustic tones, electronic experimentation, singer-songwriter prowess, and the personal narrative style that seems to align Gourley's lyrics in perfect continuity with his listeners. It is both euphoric and poignant, and it is every bit as detailed as the psychotropic artwork that pervades the cover art, logos, and merch associated with the music.
While In the Mountain maintains Portugal's prowess for electronica-tinged experimentation on record, their live presence has changed indelibly. On stage, they now favor uplifting, chant-laden compositions and extended mid-tempo jams, aided by the recent addition of a cello and violin, instead of the older, more experimental material. They tend to neglect 2007's Church Mouth almost entirely, although they did give it a nod during the encore with "My Mind," following a rare cover of Oasis' "Don't Look Back in Anger." Clearly overwhelmed by the love from the crowd, Gourley sheepishly proclaimed, "I'm going to sing this song even if you all don't know the words," before launching into the psych-laden refrain. There are novels to be written about this band's relationship with the mind and the nature of reality, but for now, I think it is suffice to say that Portugal. The Man's music still makes sense, even if the world it describes does not.