Cover Story
Drugs, Dollars, and Death
Kathleen Sharp's New Book, Blood Feud, Pulls Back the Curtain on a Broken Healthcare System
In 2004, Mark Duxbury wrote to investigative reporter Kathleen Sharp, claiming that his former employer Johnson & Johnson (J&J) was flouting federal regulations, defrauding Medicare, and paying doctors kickbacks to pump patients full of lethal doses of Procrit. The drug, epoetin alpha, first sold as Epogen and more commonly referred to as just "epo," was invented just down the road in Thousand Oaks at a biotech startup called Amgen (now the largest biotech firm in the world and second-largest employer in Ventura County) to treat anemia, specifically in kidney dialysis patients. It boosts red blood cell counts, therefore lessening the need for blood transfusions. Best known as the "dope" that professional cyclists inject into their buttocks to endure grueling up-hills, it's also the drug that made Amgen a viable business.
But before they could get epo through the regulatory process, Amgen ran out of cash, so they sold J&J the rights to market the drug for non-dialysis patients. In the short term, it was a practical partnership, but it bred a rivalry in which the two companies fought for each others' clients, reneged on their agreement, and sued each other repeatedly. In the fierce battle to win market share, J&J, claimed Duxbury, urged its sales reps to target dialysis facilities, push the drug for non-approved uses, and bribe doctors to increase doses while ignoring the blood-thickener's side effects, such as strokes, heart attacks, and aneurysms.
Because she was skeptical of Duxbury's claims and busy on other projects, Sharp brushed off his entreaties until 2007, when she saw that the Food and Drug Administration (FDA) had issued a "black box" warning — its strongest form of caution — for epo use. When she finally listened to Duxbury's story, what she heard might be the biggest scandal nobody is talking about. Even scarier, it might just describe the way business is done on a day-to-day basis in the sordid world of pharmaceutical sales. The tale is laid out in her new book, Blood Feud: The Man Who Blew the Whistle on One of the Deadliest Prescription Drugs Ever. A Goleta resident, former writer for both this newspaper and the Santa Barbara News-Press, and contributor to the New York Times, Playboy, Fortune, and other national publications, Sharp spoke to The Santa Barbara Independent recently about the book and its implications for a broken health-care system.
Why isn't this a more reported story in the press? I think there are a few reasons. One is that medicine is real complicated, especially biotech medicine, so there's a lot of complicated science. The second reason is that at newspapers, there aren't as many reporters on the beat anymore. Those that are there don't have the time to dedicate investigative resources. The third reason is that the American press tends to deify businesses without questioning the official press releases. While there are many wonderful businesses that do great things, it's always a good idea to look behind the public statements to see what's really happening in them.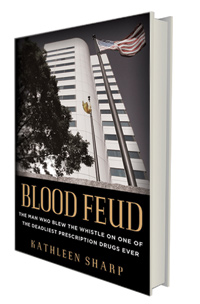 One of the things that surprised me about your book was how much pharmaceutical companies can influence doctors' therapies. Did that surprise you? It did, especially because our two flawed heroes, Mark [Duxbury] and Dean [McLellan, another J&J sales rep], were able to pay doctors at almost every prestigious institution you can think of, from Harvard to Stanford to the [University of Texas] Anderson Cancer Center. You'd be hard-pressed to find an institution that did not take money to either speak at conferences that touted high doses of Procrit, or … to participate in what they call mini-trials, which are really just pseudo-scientific trials that were never filed with the FDA. As I got deeper into this, I realized that Pfizer has done this, [Bristol-Myers] Squibb, and other major pharmaceutical companies that have been fined by the government for colluding with doctors to sell under-the-table indications of drugs.
Maybe one of the reasons this hasn't been made such a big deal is that, while ethically dubious, this is standard practice for how pharmaceutical companies operate. That's true, but there's a lot more interest in it now. These failed experiments on patients aren't so much different than the experiments in the 1940s when the government would inject plutonium into poor people to see how they would react. The community of reps and lawyers know about this and are watching it because it affects them. But maybe the public has not, which has been tragic because nurses and doctors and lawyers know that unapproved high doses kill people, but the poor patients who get the drug don't. And they haven't known. I felt very relieved to see the FDA all but pull the drug off the market at the end of June. Everyone should do anything they can to avoid taking this drug. So what you have is a drug that doesn't work for a disease that never existed. And yet it is still making billions and billions of dollars for Amgen and J&J. We have a broken system, especially in America. That's what this really points to. The fact that Medicare is paying for the overly high doses is pretty shocking.
Can you explain how Medicare is being defrauded by pharmaceutical companies? There are three or four very popular schemes to defraud Medicare. One is to charge Medicare a higher sticker price for a drug than private insurance companies have to pay. Another way is to push the drug in ways the FDA has not approved. So you can sell psychiatric drugs that are only approved for adults to children, which is highly illegal and dangerous. It's called off-label promotion. Another way is when doctors bill Medicare for drugs they got for free and claim that they paid high sticker prices for them. In the book, I document oncologists billing for hundreds of thousands of dollars. There are a few other ways, but those are the three main ways, and they contribute — along with waste — about $250 billion dollars per year to health-care costs.
The doctors seem to me to be just as culpable as the companies. Why do they get off the hook? That's a great point. There is an underground movement now to start charging the doctors with fraud, especially when the companies have already settled with the government for fraud. Now lawyers are trying to go after the hospitals, the institutions, or the doctors that colluded with the companies to promote off-label or to report inflated prices that the taxpayers pay for.
Did the health-care reform bill address these forms of fraud? The health-care reform bill made it a little easier for people to blow the whistle. It protects them from the type of retaliation that Mark suffered. It's illegal to gaslight [when bosses cause emotional stress for their employees by fabricating their workers' records]. I wrote an op-ed for the New York Times last week saying that the Obama administration should go after these types of fraud. It's not part of the conversation. It's not part of health-care reform. It's a $250-billion cost every year, so it's a no-brainer to go after it.
Can you tell me more about the character known as the "Code Mistress?" People like her are important cogs in the health-care machine. I can't say that she out-and-out taught Dean's clients how to cheat on their Medicare bills. That was something that Dean followed through on. Her whole job — and a very lucrative business — was to teach billers how to put the correct code on their Medicare reimbursement forms for drugs. It's very complicated, and she was an insurance specialist. So J&J would fly her in to a big meeting luncheon where the Code Mistress would be up at the front showing people the right codes to use for Procrit for the high doses that were experimental and off-label.
There are dozens and dozens of cottage industries in the American health-care system. Not in any other health-care system. They all either directly or indirectly game Medicare. There's a legitimate reason for a person like the Code Mistress to teach billers how to fill out insurance forms, but a lot of the reps took it a step further. One thing that shocked me is how many middlemen are involved in this pipeline.
Do you have any idea how to clean up the mess? A single-payer system makes a lot of sense. The government right now contracts with people to run Medicare. That could still continue. Medicare — the government — already pays for 60 percent of the insured Americans. You might as well make it 100 percent and get rid of all these middlemen that take a cut and that leave wide open the possibility for taxpayer fraud. It just makes a lot of sense to have a single payer.
You narrate from the point of view of J&J salesman Mark Duxbury. Could you tell me a little bit about him? Whistleblowers are very quirky figures, but I really believed in what Mark was doing, and I believed in the importance of the story, so I wrote it like a nonfiction novel. I wrote it looking at the relationship between these two buddies who were on the road: Mark and Dean. They had this very wonderful man relationship with the usual tension and humor and shenanigans that good buddies have. Mark was a very smart man. Yes, he had a lot of flaws, but he had a lot of wonderful characteristics. One of them was that he was funny as hell. Dean was a straight arrow. He memorized the J&J credo. He could not believe that anyone would do anything harmful in his organization.
What was cool about focusing on this relationship was that you could see the different paths these men took. Mark became the outsider and was absolutely driven to blow the whistle on J&J and to clear his own name. He had a personal mission, as well as a larger public one. And then this man Dean became the "robo rep" who did everything according to the book and rose even higher, selling $70 million worth of the drug over his career, becoming a legend in the J&J hallways. At some point, the two men have a falling out, but then they come back together when Dean realizes that he, too, is killing people.
The mission to expose J&J brings them back together. The guys weren't getting anywhere until they hired another flawed hero, Jan Schlichtmann.
Famous for being played by John Travolta in the film A Civil Action. By the way, he doesn't look anything like John Travolta. Tall, wiry, very thick Boston accent. But he had this awful experience where he went up against two goliath companies and basically lost. He was bankrupt both financially and emotionally. He hates the law and doesn't want to enter a courtroom again. Instead, he wants to mediate between corporations and the downtrodden. He thought he could do that with this case, that he could convince J&J that they did wrong, and that they would come to the table and settle. Well, that hasn't happened.
Schlichtmann finds himself in "A Civil Action Part II," trying to redeem himself and do the right thing — without getting paid, by the way, up against attorneys that are charging $800 per hour. The court case is still going on, and I'm going back in December to follow it. The trial should happen in the early part of next year. It's kind of fun to be in the center of the story and see how it will wind up.
What's a little troubling about Dean and Mark is that, at best, they turned their heads and ignored the wrongdoing. At worst, they understood it and complied with it, at least for a period of time. Not Mark. He tried to blow the whistle right away in 1995 when he realized there was wrongdoing. He testified in secret, in a truthful way. He thought that J&J would do the right thing when they heard about it. When they didn't, he went up the chain of command to a director at J&J who blew him off. When he heard about the promotion to persuade doctors to increase their doses, he said, "I bet the FDA would like to hear about this" publicly to his boss. That was the beginning of the end for him.
Did you ever ask Mark why he didn't just quit? Yes, I did. He said he couldn't, because it meant he would have given up. He would have turned his head and looked the other way. He knew he was going to pay a price, but he kept thinking of the patients and the hospitals that he sold to, and he knew he had to hang in there until he saw justice done. Even when he had his nervous breakdown, and even when he tried to commit suicide, he kept going. He never looked the other way.
Now Dean did. Dean and I have talked a lot about this. Mark tried to tell Dean that he was doing something wrong. But Dean was riding high. He was taught to always believe in authority and to trust his boss. I think all of us have something like that in us. At what point do you break away from the herd and expose yourself to the danger of being a loner? Dean waited until the very last minute.
It's like a real-life test case for the famous Stanley Milgram experiment, "obedience to authority," where a lab-coated scientist instructs a test subject to electrocute another test subject. That's a brilliant insight, and a lot of this is real life. There aren't a lot of narratives right now that show how the common, middle-class person lives at the edge of the 21st century. It's not a story about the CEO or some celebrity. It's a story of how we are all living, what we are up against. I love the fact that Mark was fighting with Countrywide to keep his house, fighting with his insurance company to get medical care, fighting with Social Security to get a stipend for his children.
You mentioned that you tried to write a nonfiction novel. Who were your influences? You said you wrote a story about two guys "on the road." I was wondering if you were thinking about Jack Kerouac. Jack Kerouac [and Dean Moriarty], but even Owen Wilson and Vince Vaughn, or Bob Hope and Bing Crosby.
As far as some of the books that influenced me, Jack Kerouac's On the Road, John Steinbeck's Travels with Charley and Of Mice and Men. From a very young age, I read those and was taken by them. Joan Didion is someone I read a lot. She describes people in her stories and doesn't really assert herself. If she does, it's with a very light, bright touch at the very end. While writing Blood Feud, I read a lot of great fiction at night. After doing all this hard, brain-churning work, I kicked back with some great books by authors like Margaret Millar or newer writer Tana French. I learned mood and pacing from them.
I tried to combine those three elements of classic American reporting, the modern mystery, and the old-fashioned gumshoe investigative reporting work into this.
There's a semi-local story here about Amgen, which isn't very far away, in Thousand Oaks. They were built on EPO, which was the first genetically engineered drug, if I am correct. They were. We should call it the first genetically engineered blockbuster. This was definitely the first huge biotech blockbuster.
How have they fared legally? First of all, you should know that I called Amgen and their lawyers, too, and didn't get any response. They are now involved in suits with former reps blowing the whistle on their allegedly illegal practices. So they are in hot water, too. In the rivalry, the blood feud between the two companies, Amgen won some, but J&J won some of the more important cases. But they've sued each other 10 times over just this drug. And if you talk to patients at the FDA hearings, Amgen was even more ruthless in their tactics than J&J. Amgen was even more difficult for consumer advocates to deal with.
How vulnerable is the company financially to the potential fallout of litigation? After the FDA slapped the black box warning on EPO, Amgen's stock went down, the housing market in Thousand Oaks dipped, there were layoffs at Amgen. So this drug really supported a huge chunk of Southern California for two decades.
4•1•1
Kathleen Sharp will sign copies of Blood Feud on both Wednesday, October 12, and Thursday, October 13, at 7 p.m. at Chaucer's Books, 3321 State Street. Call 805-682-6787. For more info, see kathleensharp.com.