Theater
Interview: Bryan Callen from The Hangover
Comedian Will Kick Off SOhO Comedy Nights on October 19
Even in the most memorable hit comedies — the kind that spawn hordes of fanatical memorizers — some scenes stand out as more memorable than others. When Eddie, the proprietor of the Las Vegas Wedding Chapel that figures so crucially in The Hangover, greets the guys with such hearty familiarity, you know that things got more than a little out of control. Bryan Callen, the stand-up comedian and actor who played Eddie, made the role indelible with his hard-to-place foreign accent, his charming air of having seen it all, and his sympathetic sigh when he answers, "Yes, I do an annulments, and for you, I make a good price."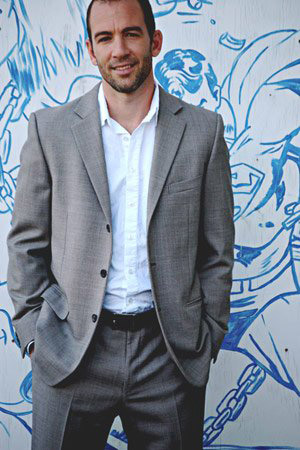 Callen will be in Santa Barbara next week to work his stand-up routine on Wednesday, October 19 at SOhO. I spoke with him by phone last Wednesday.
With two Hangovers out and lots of other stuff happening, how do you feel? I'm happy with it. "The night is young," as they say.
You have an interesting take on sexuality in your stand-up. How do you look at it? My point of view is that men are basically animals, and I'm okay with that. I like women and I'm not interested in offending people, so I avoid the harsh language that some people use, but I don't think that as men we should be ashamed of our sex drives or even our aggression. That stuff is our juice. I celebrate masculinity when I'm onstage.
So you like being a male savage? I do. I think things were sexier back then, and men were cooler. Compare sending someone a text message and getting a love letter delivered by carrier pigeon. No contest. Guys want a 500 horsepower car. I'd rather have one horsepower — in a horse. That's macho. You go to pick up your date and you show up on a horse.
You manage to come off as sexy and tough without dropping loads of F-bombs. Why is that? Some comics really thrive on being disrespectful, especially toward women, and it's somehow understood as edgy, but I'm the opposite. I've never liked curse words for that reason.
Your bits often have great second characters with really funny voices. Have you always done voices? Yes, for sure. It's partly because I grew up moving all over the world, so I was constantly exposed to different cultures and languages, but it's also how I used to make my family laugh. I was always doing these characters and their voices.
So, you didn't really get bitten in the face by a cow, did you? Like in the cow bite bit? Of course I did! How could you doubt that? I will show you scars. Or I would, but I got some work done — cowbite plastic surgery. But cows did bite me; in fact it happened a lot. My dad's idea of punishment was to dress me up in all green to disguise me as grass, and then throw me in the pasture. Cows bit me all over.
Okay, sorry. Not to change the subject, but you are an actor in Hollywood, so you must see a lot of beautiful women. Who would you like to get next to these days? Oh, wow, all of them. There are so many hot, sexy women in L.A. Rose McGowan — I've always had a thing for her. And Jennifer Aniston — I just saw her the other day and she is every bit as hot at 40 as she has ever been.
I guess I am attracted to older women. I'm looking for a 40-something who has had her heart broken two or three hundred times. She's going to be fun! She's forgotten everything her mother ever said about what not to do. You aren't going to hear any of this "Eewww, why would I touch that?" nonsense out of her. She's down.
Good answer. What do you want to tell the people of Santa Barbara to expect next Wednesday at SOhO? They should wear their boner pants and fasten their seatbelts. I am coming hard and straight, and [mumbles].
I'm sorry, I didn't catch that last bit. I said, "SOMEBODY'S PROBABLY GOING TO GET PREGNANT."
Gotcha.
4•1•1:
Bryan Callen will be at SOhO on Wednesday, October 19 at 9:30 p.m. For reservations and information, call 962-7776 or visit sohosb.com.