Angry Poodle
Dead Dogs Dancing
When Smart People Happen to Dumb Things
WHEN SMART PEOPLE HAPPEN TO DUMB THINGS: When it comes to raw stupidity, I take a backseat to no one. As a kid, I sawed off the branch I was sitting on. And not just once, but twice. Later, as an alleged mature adult endowed with a fully developed prefrontal cortex, I went out of my way to pick a fight with a skunk. I'd say it was a draw. To the extent I'm exaggerating, it's only to the extent I held my own. When it comes to stupid human tricks, I'm not just a connoisseur; I'm a gourmet chef. So when I say it was really stupid for City Council candidate Deborah Schwartz to get in dutch with her bank over an unpaid personal loan of $28,000 (as was recently reported), you should take my word. But it also needs to be put in its proper perspective. After all, lots of elected officials — from both sides of the political aisle — have experienced personal financial embarrassment and still performed their public function admirably. Grant House and Babatunde Folayemi, city councilmembers present and past, come to mind. Former county supervisor Gloria Ochoa unhappily made headlines when she got sued by a bill collector over unpaid phone-sex bills racked up by one of her sons. But Ochoa was absolutely vital to the successful conspiracy to wrest the County Bowl away from the good old boys then in charge of Old Spanish Days, who were happily running the Bowl into the ground with what bordered on criminal negligence. Were it not for Ochoa's up-to-her-elbows involvement in that happy scheme, it's highly doubtful the Bowl would be the kick-ass venue it is today.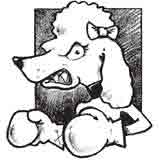 When news of Schwartz's default broke, I got calls from fiscal conservatives with the County Taxpayers Association wanting to know what I was going to do about it. But where was all the noisy indignation, I wondered, when Joe Armendariz, Carpinteria city councilmember and executive director of the Taxpayers Association, recently failed to pay his own property taxes? Armendariz acknowledged payments weren't made for a time because he was then splitting up with his wife. Eventually, he said, their house was sold, and the county tax collector was made whole. And then there's Michael Huffington, the Texas tycoon who moved to Santa Barbara in the early '90s so he could run for Congress. Huffington ingratiated himself with S.B. movers and shakers by writing $10,000 checks to all their favorite charities. But he and his famous wife, Arianna, who has since morphed into a famous left-wing media mogulista, were so late paying their bills that many of Santa Barbara's high-end foodie establishments cut off credit to the high-octane couple. As he would later — when news stories broke that he'd hired an illegal immigrant to care for his children — Huffington blamed his wife.
Schwartz has explained she walked away from the loan only after her bank doubled her payments without justification, explanation, or any pretext at negotiation. And maybe it did. But as a rule, candidates running for office try to clean up such messes before entering the fray and for good reason. That's particularly true for candidates like Schwartz, who touts all the über-competence and high-powered business acumen she'll bring to the post, having worked for a Fortune 500 company. Obviously, Schwartz should have engaged in preemptive damage control and broken the story herself. And to protest, as Schwartz has, that the state of her personal finances has no bearing on her ability to navigate the fiscal challenges facing City Hall sounds, well, kind of stupid. But in a decidedly perverse way, it might also be true. The fact is that even with lots of smart, buttoned-down, fiscally prudent people who scrupulously balance their checkbooks, City Hall has made some colossal financial blunders for which we are still paying.
Did it really make any sense to spend $34 million to build a desalination plant (back in the early '90s) that we've never used, while at the same time also obligating city ratepayers to the tune of $4.5 million a year for hooking into the State Water system? While, technically, those payments entitle us to 3,300 acre-feet of water a year — that we don't really need — we only get 800. This, I know, is like complaining that the food is bad, but the portions are too small. But $4.5 million a year is real money, and it comes directly out of our pockets. Now that we're inescapably on the hook for State Water, city water planners have used it to increase the reliability of our overall delivery system. May as well. But at a huge price. The cost of an acre-foot of state water is $5,331. By contrast, the cost of an acre-foot from Lake Cachuma is $100. I don't pretend to balance my checkbook, but even I can do that math. The desal plant, by the way, still exists. But to get it out of mothballs and into an operative state would cost an additional $18 million.
Or what about the $25 million City Hall sank into the Granada parking garage, which remains consistently half empty many years after its grand inaugural debut. I know it's a tired story, but as I recall, few of the councilmembers involved in this decision were the tax-and-spend fiscal profligates that we've since been warned about.
Or what about the $25 million City Hall sank into the Granada parking garage, which remains consistently half empty many years after its grand inaugural debut. I know it's a tired story, but as I recall, few of the councilmembers involved in this decision were the tax-and-spend fiscal profligates that we've since been warned about. The Granada Garage, we were told ad nauseam, was absolutely crucial to meet the huge unmet parking demand that existed north of Carrillo Street. Clearly, the facts have demonstrated otherwise. In reality, it's always been an unacknowledged gift to the consortium of movers and shakers who transformed the Granada Theatre from a fine old movie house — with the emphasis on old — to an overpriced and overwrought fine-arts emporium that on a weekly basis disproves the axiom "If you build it, they will come." The one-two punch of the Granada Theatre renovation and new garage has cost City Hall $30 million. I'm not saying we haven't got anything to show for it. But have we gotten anything close to our money's worth?
Clearly, the world is experiencing a contagion of stupidity, and Santa Barbara is hardly exempt. In hindsight, it seems really stupid that Tony Denunzio didn't happen to see the flashing red-and-blue lights of the cop car behind him two weeks ago as he pulled into the Loreto Plaza parking lot. It seems equally dumb that he didn't hear the cop tell him to get back in his truck as he walked away. But unless the video tapes show that Denunzio actively resisted the officer pulling him over, I'd say the beating that was inflicted to bring Denunzio into compliance was stupider still, incredibly so. People at City Hall are too quick to point out that Denunzio has a couple of priors when it comes to DUIs, as if that justifies anything. What they should say — at least if they want my support for tasering a guy 13 times — is that he changed lanes three times without deploying his turn signals. That, if true, would justify the degree of force deployed. The fact is that we've reached a global turning point when it comes to enforcing traffic safety. This past week, the planet hit the seven-billion mark for human population. About a month before, it hit the one-billion mark for the number of trucks and cars on the roads. If and when China reaches the same number of cars per person that we have, that number will be two billion.
In the face of such daunting statistics, traditional law enforcement can no longer do the trick. Only a little Saudi-style justice, randomly and arbitrarily inflicted, can serve as an effective deterrent for those scofflaws who contemptuously refuse to signal before changing lanes. We simply cannot afford to hire enough cops. I know Councilmember Michael Self, now running for reelection against Schwartz, believes otherwise. "If mom's in the kitchen," she likes to say, "the kids aren't raiding the cookie jar." Also, Self gets riled up when she hears about "traffic calming" schemes hatched by alt-transit advocates — such as myself — who perhaps naïvely believe that motorist behavior can be more effectively controlled with bulb-outs, curb extensions, and narrower streets than with a flotilla of new cops.
Naturally, my hidden agenda is to pry the car keys out of the cold dead fingers of all car owners and force all the fat kids in town off their couches and onto their bicycles, which they will ride to city-subsidized organic vegetable patches to grow things that require an inordinate amount of butter or cheese to stomach, like broccoli, kale, and chard. If I can help make city streets safer for bike riders and pedestrians in pursuit of my more nefarious goals, so much the better. To be fair, Self — who has a collection of nine cars — has a point when she beats up on some city traffic engineers. They haven't always played it straight with the neighbors when deciding where to install bulb-outs. And, admittedly, not all bulb-outs make sense. But Self and her crew of fellow conservative incumbents — Dale Francisco and Randy Rowse — have overcompensated far too much. (I use the term "conservative" here because this semi-cohesive group is committed to keeping Santa Barbara "the way it is." By contrast, the less-cohesive slate of challengers backed by the Democratic Party Machine — Schwartz, Iya Falcone, and Cathy Murillo — are more willing to tinker around the edges when it comes to relaxing parking requirements and increasing residential densities in hopes — however vain — of expanding affordable-housing opportunities.) It's worth noting that the 15-year-old musician recently killed while crossing Milpas Street was struck by a truck just one block from where a curb extension had been proposed. That bulb-out, also known as a curb extension, was effectively blocked by the conservative machine that put Self, Francisco, and Rowse on the council. Is it merely a coincidence that this machine has been led by a retired General Motors executive, Jim Westby? It's worth noting that the council conservatives also deep-sixed a proposal to install a bulb-out by Figueroa and De la Vina streets, even though there was strong neighborhood support, a clear need, and grant money available to pay for it. The Santa Barbara Independent offices are spitting distance from that intersection, so I can testify something is needed to make this corner safer. A few years back, an MTD bus killed a man trying to cross the street, and close calls are a daily occurrence.
To the extent the City Council election is about anything, it's about that. Voters have a very clear choice. On one hand, there's a group of candidates — the incumbents — who can be reliably counted on to oppose almost all traffic-calming efforts. On the other hand, there's the slate of challengers, backed by the Democratic Machine, who might actually support such efforts in concept, but who cannot be counted on to vote for them with much reliability. The choice is yours. Don't forget to vote. In the meantime, I'll be hand-delivering my mail-in ballot to the folks at City Hall. I'll be the crazy guy chasing after a skunk, waving a tree branch in my hand.