Arts & Entertainment
Opera Santa Barbara Presents La bohème
The Great Puccini Opera in a Full Production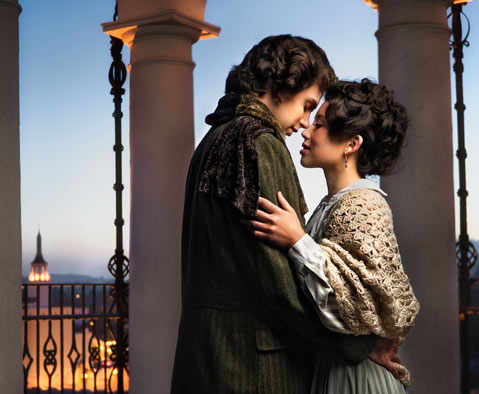 Life in a garret is great if you dare it, chérie. Or so La bohème would have it, as will those who attend the upcoming Opera Santa Barbara production of Giacomo Puccini's masterpiece at the Granada. When La bohème premiered in Turin, Italy, in 1896, the time was ripe for a romantic view of starving artists in Paris, and it has remained so ever since, as La bohème is easily one of the top five best-known and most frequently performed operas in the standard repertoire, with good reason — everything about this fast-paced, ingeniously constructed, and gloriously lyrical piece works, and works well. From the opening arias and duet of the lovers Rodolfo and Mimì in Act One to the ultimate opera death scene, Mimì's classic and utterly simple Che ha detto at the end of Act Four, the Italian composer never makes a wrong step. The listener gets swept along in a fine frenzy of communal passion, and la vie bohème becomes once again fashionably miserable.
One of the most exciting aspects of having an excellent opera company like Opera Santa Barbara in our city is the extraordinary talent it attracts. For this production, veteran stage and opera director Brad Dalton is in from his home in Houston. Dalton is perhaps best known as the director of two recently composed works, André Previn's A Streetcar Named Desire and Jake Heggie and Terrence McNally's Dead Man Walking, but he's done Il barbiere di Siviglia at the Metropolitan Opera in New York and Il trovatore at the San Francisco Opera, among many other impressive credits. What he hasn't done before is La bohème. "I've never even assisted on it or been at a rehearsal of it before," Dalton told me last week, "so at first, it felt like there were a million people running around and doing a thousand things, but now, I'm comfortable."
In answering a question about the appeal of this assignment, Dalton, after paying the appropriate homage to his time spent in Santa Barbara, expounded on his enthusiasm for the opera's themes and Puccini's craft. "My first feeling was that I was happy to get a chance to do an opera that's about people living on the margins," he said. "So many grand operas are about the upper class, or even royalty. It can be a bit hard to relate to Don Carlos, for example, but we all have an inner bohemian I think. Who doesn't remember those university or early post-university days with some affection, no matter how broke they were?"
Dalton went on to put the story in the larger context of the stages of one's life, saying that "when Mimì dies at the end, it's like the end of one stage of life and the beginning of another. We weep for Mimì, but we also weep for the loss of this time, and for the loss of innocence that takes us into maturity." But make no mistake: These are not narrow or self-serious characters, no matter how tragic their circumstances, as Dalton made clear, saying, "These artists are not the types who stand around and talk art all day. For them, being an artist means surviving by your creativity and imagination, and having fun while doing it, and that's very attractive. They are living as artists for the passion of it."
Christopher Bengochea will sing Rodolfo, Mimì will be sung by Rebecca Davis, and the great cast also includes Malcolm MacKenzie (Marcello) and Jan Cornelius (Musetta). There is also a dress rehearsal on Wednesday, November 9 at 6:30 p.m. that is free for students with ID. n
4•1•1
La bohème plays at the Granada Theatre on Friday, November 11, at 7:30 p.m. and Sunday, November 13, at 2:30 p.m. For tickets and information, call 899-2222 or visit operasb.org.