News
Judge Throws Out Lance DUI Case
Rules Police Pulled Him Over Without Probable Cause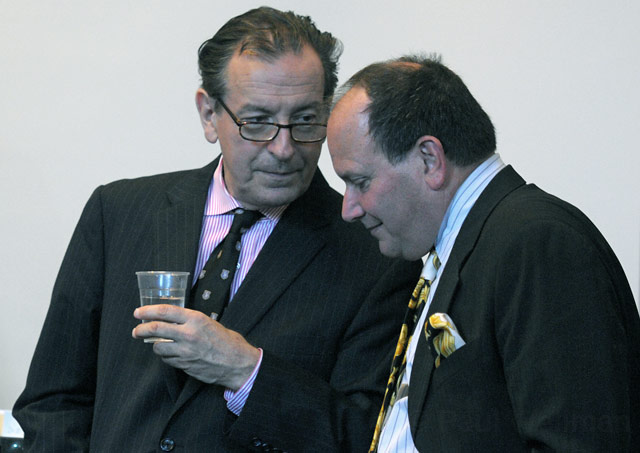 The DUI case against investigative journalist Peter Lance has been dismissed.
Judge Brian Hill granted a motion on Tuesday to suppress the evidence gathered against Lance when he was pulled over, including what police said were his failed Breathalyzer and field sobriety tests. Hill said officers didn't have the necessary probable cause to stop Lance in the first place, rendering their findings unusable in court and essentially killing the prosecution's case. The ruling brings to an end an 11-and-a-half-month ordeal that has become perhaps Santa Barbara's highest profile DUI arrest of all time.
Lance — who has written extensively in the Santa Barbara News-Press about alleged police misconduct involving his arresting officer, Kasi Beutel — was pulled over early in the morning on New Year's Day of this year. According to testimony, Officer Bruno Peterson observed Lance's vehicle stopped at a green light for three to five seconds. He pulled alongside Lance and saw him looking downward. Peterson shone his light toward the vehicle, he said, and Lance looked at the officer, then back down at his lap before looking up and driving through the green light. Peterson pulled Lance over a block-and-a-half later. That's when Beutel, then the department's drinking and driving officer, showed up and conducted the investigation, the results of which are now moot.
In a pleading filed Monday morning, Lance's attorney, Darryl Genis, noted several out-of-state cases where vehicles sat motionless at green lights — some for as long as 60 seconds — and the court found the stops were made without reasonable suspicion. Those cases were enough for Hill, who granted the motion after several weeks of a drawn-out hearing that saw several law enforcement officers — including Beutel — testify.
Lance and Genis lauded the judge's decision, both of them calling him courageous. "Judge Hill made a legally and factually correct decision, a courageous decision," Lance said. "He's not going to win any brownie points from his former colleagues at the DA's Office."
Beginning in June, Lance embarked on a voluminous series of investigative pieces for the News-Press on Beutel, her history on the police force, her marriage, her credit issues, and her arrest history. In the pieces, which raised eyebrows both in and out of courtrooms, Lance alleged forgery, perjury, fraud, and other misconduct. Many questioned the ethics behind letting a defendant with a pending charge against him write pieces about his case. But Lance defended his investigations. "From the beginning I said anybody who wants to look at my findings, vet it, and challenge me — have at it," Lance said.
For now, Lance plans to go back to writing a book he was supposed to turn into publisher HarperCollins in mid October about an allegedly dirty FBI agent. He plans to write a book about Beutel and this experience, as well.
But while the case may be over, it does leave many questions unanswered. For one, did Beutel or others forge signatures on documents, as Lance and several others have alleged? Beutel, on the stand, said no. A defense handwriting expert — in court documents — said yes, though the question was not definitively answered in court. Lance also accused Beutel of holding the Breathalyzer during his test to manipulate it, possibly increasing his blood alcohol content above the 0.08 percent legal limit. He allegedly blew a 0.09.
And Beutel did admit to using prefilled-out forms — for a time — to indicate certain common variables (a practice Deputy Chief Frank Mannix told The Independent was not inappropriate), though she denied doing so in Lance's case. Issues about Beutel's past were also deemed irrelevant by the judge.
Lance called out several law enforcement leaders, specifically Santa Barbara Police Chief Cam Sanchez, District Attorney Joyce Dudley, and City Attorney Stephen Wiley. "All of those people, in embracing Kasi Beutel, crossed the line into obstruction of justice," he said. Dudley took issue with the statement, saying there was no effort to protect Beutel whatsoever, pointing out the DA's Office tried several times to get Beutel on the stand. "We wanted the truth to come out, and the place for that was the court of law," she said.
In August, a statement issued by Mayor Helene Schneider and City Administrator Jim Armstrong said that under the City Charter, the city administrator, city attorney, and chief of police were required to review the allegations and, if necessary, "take appropriate action to initiate discipline, outside investigations, etc." Sanchez said in an email Tuesday afternoon that his department and the city attorney's office continue to investigate, but that there was nothing to share yet.
And then there's the question of whether this was all worth it. The case not only garnered a lot of notoriety, but also generated a multi-volume court file unseen in cases of this nature. The size of the file represents a lot of time — and no doubt a large amount of public resources and money — spent on a supposed first-offense DUI by a 63-year-old with no prior criminal history. Court time, city and county attorney time, up to three deputy DAs in court for each hearing, along with the time of officers and administrators in the Police Department, adds up to thousands and thousands of taxpayer dollars spent on the case.
Dudley defended the prosecution. "I have seen too many people's lives destroyed by drunk drivers," she said. "Our taxpayers expect their DA to rely upon the laws that are binding in California and keep drivers under the influence off their roads."
And there is also at least one glaring positive that came as a result of all this: The Santa Barbara Police Department — which, along with Guadalupe's, is the only department in the county to not have video recorders in its patrol cars — has made a commitment to push for cameras in patrol vehicles. In fact, it is currently testing video in a handful of vehicles, and one such video could come in handy, recently capturing a conflict in which witnesses allege an officer used excessive force. "If nothing else comes out of this whole thing, that should be a victory for the city and the community at large," Lance said.
The District Attorney's Office issued a press release Tuesday, mostly going over the basic facts of the case and the judge's ruling. The release noted Hill "did not find there was any misconduct on the part of any of the involved officers, including Officer Kasi Beutel, or any member of the District Attorney's Office." Police Chief Cam Sanchez said he had no comment on the court's ruling.