Business
State Street Retail Rundown
Fresh Look at New Shops and Still-Empty Storefronts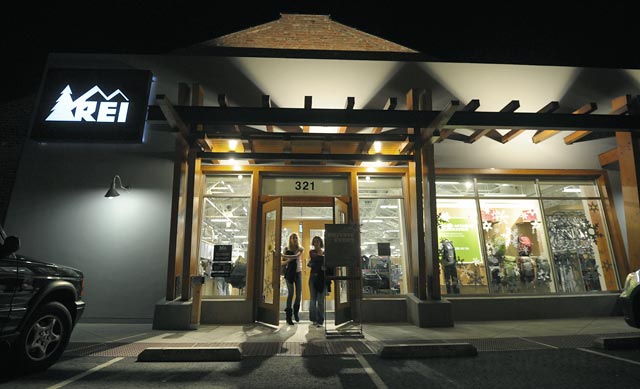 With Christmas just weeks away, Santa Barbara businesses are starting their seasonal scramble to cash in on the holiday rush. Based on a recent examination of State Street — where nine commercial leases were signed in the third quarter alone this year — shoppers will have some new downtown spots at which to spend their dollars, not to mention a new hotel to see and a rock-climbing wall to try.
In addition to the much-needed employment and tax-revenue boosts, there's hope that a big holiday boom will bring in even more retailers next year. "If holiday sales exceed expectations," explained a recent report from Hayes Commercial Real Estate, "then we expect to see an increase in leasing activity in 2012."
Here's a rundown on what's new, what's still vacant, and what else is happening on our town's busiest commercial corridor.
Statehouse Hotel: The former Hotel State Street at 121 State Street will soon complete its transformation into the Statehouse Hotel and have a soft opening next month. "The furniture should be moved in the next two weeks," said owner Marc Recordon, who's also remodeling the attached restaurant at 117 State, formerly a Subway. Two restaurants have expressed interest, but there's a November 22 reception for others interested in the site.
REI: Just off lower State Street, the 24,500-square-foot Santa Barbara REI outdoor gear store, which officially opened November 11 at 321 Anacapa Street near Gutierrez Street, is sure to generate significant revenue, as well as employment to its 62 staffers.
S.B. Rock Gym: Behind REI at 320-322 State Street, a new lease has been signed for a 5,000-square-foot facility called Santa Barbara Rock Gym, which should open in May.
99 Cent Store: The long-empty storefront at 414 State Street, former home to Pep Boys, will be filled by a 99 Cent Store, which is taking over the 16,900-square-foot space. Plans for an international food court there went south when the economy took a dive in 2008.
Baja Sharkeez: Baja Sharkeez, currently at 416 State Street, plans to move to 525 State Street, where Madison's Sports Grill now operates. They should close escrow "very soon," said Sharkeez's spokesperson Leigh Lupinacci, who hopes for a March opening. Sharkeez also owns the Sandbar Restaurant at 514 State Street, and plans to move another one into the 416 State Street location. Madison's, meanwhile, may be moving to the Sizzler's Steak House location at 5555 Hollister Avenue in Old Town Goleta.
Mimosa: After closing its longtime spot at 2700 De la Vina Street, the French restaurant moved downtown to 714 State Street, former home to the short-lived Chino's Rock & Tacos and Piranha Sushi before that. Chino's still has a restaurant in Isla Vista.
Goorin Bros.: This hat store is set to open at 802 State Street, where Bryan Lee was until a couple months ago.
Savvy: This clothing shop opened in August at 911½ State Street, a former Blue Bee jeans shop.
Kitson: The retail and accessories store Kitson had originally leased 923-925 State Street (another former Blue Bee property) for a temporary store, but found a permanent location in Paseo Nuevo, where they will take over the former Banana Republic across Nordstom.
Hampstead Village: This British-goods shop has moved from the back of La Arcada to the corner of State and Figueroa streets at 1100 State Street, where the women's clothing and home décor shop Tracy Porter was until July and Blue Bee Luxury was before that.
El Cielito: La Arcada's centerpiece space near the turtle pond will one day be El Cielito Restaurant, which was supposed to open a few months ago but probably won't open until December.
Paper Source: The national stationery store has signed a lease at 1125 State Street, next to Anthropologie and Free People.
Maggie's at State & A: Gary Lynd owned the popular State & A eatery at 1201 State Street for 28 years before he sold it to Barry and Margaret Shulman of Goleta in April. Despite extensive work, they probably won't be open in time for the holidays.
Petros: A Greek restaurant is being developed at 1316 State Street, the former site of Café Buenos Aires, which closed earlier this year after being the town's hottest tango spot. Look for a possible opening by December.
STILL VACANT
111 State Street: There's been a lot of renovation activity at this former home to Be Bop Burgers, not to mention food-truck parties every few weekends, but there are no permanent tenants yet.
403 State Street: Although it's been vacant for about six years, extensive interior floor demolition also can be seen inside this former home to Esau's Restaurant, which is now on Chapala Street. No word on a new tenant.
521 State Street: This former home of Retroville is tough to fill, in part because the triple-net lease (which covers monthly rent, utilities, and other services) at $3.25 for 2,300 square feet means you need to generate $7,400 per month just to cover the space.
532 State Street: It's unclear what's happening with this former home to the Zia Café, which hasn't served a meal in almost two years.
623 State Street: Interior demolition can be seen between the Volcom and Vans shops at this former T-shirt shop that's been vacant for a couple years. The entire brick wall inside the space has been ripped out, and the rear has been exposed to the open air. There's a "For Lease" sign out front, but no tenant.
700 State Street: Another one of downtown's chronically hard-to-fill spaces is the former home of the Mexican restaurant Left at Albuquerque. It closed in December 2009.
734 State Street: Since Ruby's Café was shuttered about two years ago, this restaurant space still has no new tenant. A Ruby's family member reportedly tried to renovate the eatery and popular salsa dance spot, but was unsuccessful even after some interior demolition started.
923 and 925 State Street: Two former Blue Bee clothing shops on the 900 block of State Street remain vacant.
Riding the Rents
Though State Street was once known as a place to browse mom-and-pop stores, the dominance of the new Marshalls and H&M stores underscores how the commercial district has changed, with national chains able to suffer high rents better than the little guys.
Some are willing to pay the high rents just to have a presence on State Street, explain brokers like Jerry Beaver, who's been doing commercial real estate in town since 1960. But he also sees rents dropping substantially, explaining that prior to the recession, State Street leases were as high as $4.50 per square foot. That drove away tenants and, after a couple years, attracted big companies like Marshalls, which was able to pay as low as $1.50 to $2 per square foot for the three-level building at 900 State Street, the former Borders Books & Music.
In a speech to the Santa Barbara Executive Roundtable on November 10 at the Santa Barbara University Club, Beaver was optimistic. "I expect the fourth quarter to generate revenue," explained Beaver. "I believe the down market has turned a corner."
But that also means some prices are already going back up. "My rent was just raised," said Amy Cooper, owner of Plum Goods at 909 State Street, which opened at the end of October 2010. One of the dwindling number of locally owned stores, Plum Goods sells fair-trade, handcrafted, "upcycled and eco-chic" jewelry, furnishings, and other items.
She's remaining upbeat, though, saying, "We do have some customers who are loyal because we're local." Cooper is not interested in just selling her wares on the Internet, as many Santa Barbara vendors have chosen to do, and remains steadfast in her desire to keep a homegrown offering on State Street. She explained, "I want to give our customers the Santa Barbara experience."