Arts & Entertainment
The Civil Wars at the Lobero
Take an Alabaman Guitar Slinger, Add a Cali Crooner …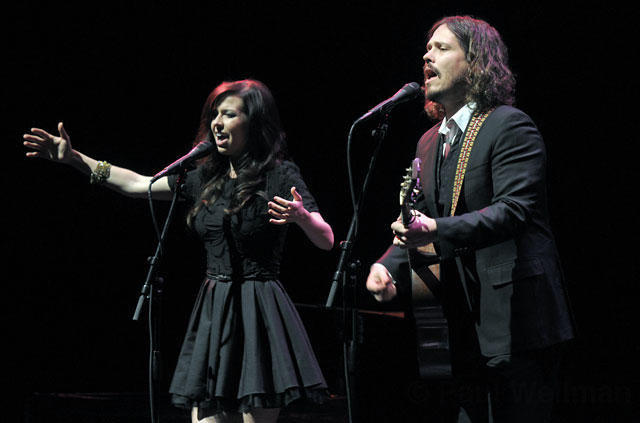 Lucky for us early birds, Friday's Civil Wars show proved to be one of those rare occasions where the opener outshined the headliner. In their defense, The Civil Wars' Joy Williams and John Paul White are near-perfectly matched. White's strong, sometimes gravelly baritone is a flexible asset, capable of hitting the high notes, bellowing with country twang, and dipping with ease way below Williams' mighty alto. Together, the pair made a sweet couple onstage, too, she coyly bopping and gesturing at the mike as he offered up guitar lick after guitar lick. Even with just two of them up there, the sound was resounding and filled the Lobero's sold-out room splendidly. And the banter was good, too.
Where The Civil Wars falter, though, lies in the lyrical delivery. Nearly every song off the pair's 2011 debut, Barton Hollow, revolves around finding love, losing love, and, well, finding it again. And with just two bodies — and hardly any instrumentation — there to accompany it, the story got old quick. Consequently, the few variations on the theme that they did offer up were nothing short of great. Two late-set covers — of Michael Jackson's "Billie Jean" and Smashing Pumpkins' "Disarm" — were the perfect combination of homage and genre-bending remodel. And the newly penned "O'Henry" proved a nifty mix of '70s AM radio and Springsteen-style guitar work.
Still, the MVP of Friday's festivities was openers Milo Greene, who gave us a rollicking and energy-infused mini-set of alt-folk, twangy stomp, and one killer — and jingle bell–laden — rendition of Sufjan Stevens's "Chicago." I guess sometimes more is more and less is, well, less.