Film & TV
SBIFF 2012 Unveils Slate
New Sidebars, Acquisition Program, and List of Cinema Virtuosos Announced Thursday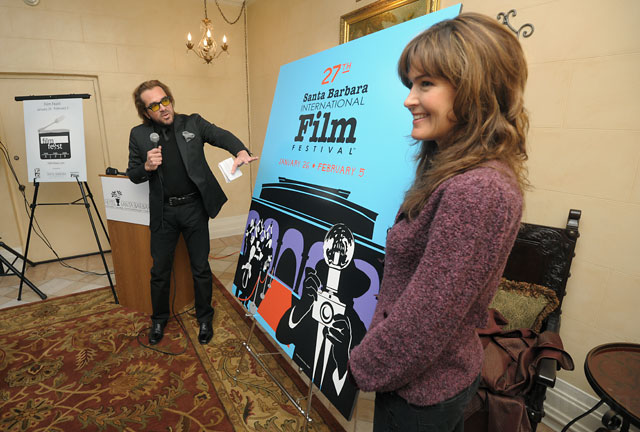 What's become an annual day of expectation for film lovers from Santa Barbara and beyond went down on Thursday morning at the Hotel Santa Barbara, where Roger Durling — the now iconic executive director of the Santa Barbara International Film Festival — officially released the slate of films and faces coming to this year's festival, which starts on Thursday, January 26 and runs until Sunday, February 5.
"When I joined SBIFF 10 years ago, I set out to bring the festival's program and its sidebars to reflect the City of Santa Barbara as a city, and its community," explained Durling. "This year we've taken that concept even further. We have a fantastic, quirky, all-encompassing program."
Rather than try to run down Durling's rundown, we'll just direct you to the 37-page press release here.
But there are some notable changes and enhancements to SBIFF version 2012 that are worth exploring. First off, a couple of beloved sidebars are out this year, replaced by new collections that Durling and his staff believe are properly reflective of the Santa Barbara community. Out in 2012 are East X West (aka the Asian films), Eastern Bloc (featuring flicks from Eastern Europe), and Focus on Quebec (self-explanatory). In for 2012 are Cinema Nouveau (films by "emerging" French directors), Cinesonic (movies about musicians), Kolnoa (about the Jewish and/or Israeli experience in the 21st century), Screen Cuisine (featuring culinary cinema and sustainability), and Warner Archives (a showcase of classic films such as Ben Hur that have recently been restored).
"The new sidebars come from a need to be more encompassing to the different aspects of the Santa Barbara community," said Durling. "I feel that the new food, music, and Jewish films expand that mission." He's particularly jazzed about the Warner classics, though, explaining, "Film restoration is essential to a vital film festival — and what better year to start this sidebar when Martin Scorsese, who's so passionate about the preservation of film, is being celebrated."
Santa Barbara's healthy crop of music lovers, meanwhile, should love the Cinesonic offerings, especially what will certainly be that sidebar's most memorable event: the screening of the 1926 German film Faust with live musical accompaniment by hometown lo-fi rock heroes Gardens & Villa, who recently returned from national and European tours and have been perfecting a Faustian soundscape for more than a month now.
The first weekend of this year's fest also features an acquisitions program, in which reps from the major distribution companies will come to town to check out premieres and determine whether they want to pick any up and show to the masses. In other words, filmmakers being shown on Santa Barbara's screens this year have a better chance to hit the big time in Hollywood than ever before, an exciting proposition both for directors and the fest itself. "It may not happen the first year," said Durling, who said that the reps will be in the audience beside regular moviegoers, "but this is a step in the right direction."
Another annual expectation point is the list of "Virtuosos," who Durling and staff select based on the standout performances of the year, usually by lesser-known actors who are on the rise. This year's group might be the most eclectic ever, representing folks you've probably never heard of but no doubt know well if you've ever seen them on the big screen. They are Demián Bichir from A Better Life, Rooney Mara from The Girl with the Dragon Tattoo, Melissa McCarthy from Bridesmaids, Patton Oswalt from Young Adult, Andy Serkis from Rise of the Planet of the Apes, and Shailene Woodley from The Descendants.
And we couldn't leave this report without mentioning that, according to Durling, this year's fest poster was "inspired" by The Santa Barbara Independent's own photographer, Paul Wellman.