Capitol Letters
Ransom Note
Brown Vows Full Schools Funding If He Gets His Way on Tax Hike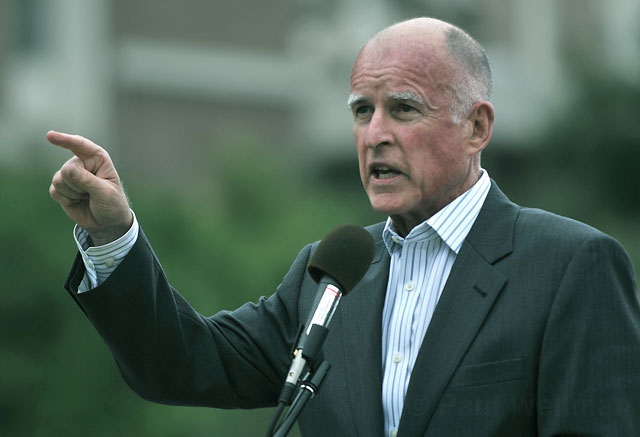 Back when gas cost 40 cents a gallon and Big Dick Nixon assured the nation he was "not a crook," National Lampoon published an iconic cover photo featuring a sad-eyed mutt, a big revolver, and a screamer headline:
"If You Don't Buy This Magazine, We'll Kill This Dog," it tastefully said.
Much-lampooned, the January 1973 monthly rag came to mind during a perusal of Governor Jerry Brown's latest plan for balancing California's long-unbalanced budget. Amid its countless complexities, Brown's just-released $92.6-billion proposal, as both a policy and a political matter, boils to this:
He promises that the state in the next year will boost spending on K-12 schools and community colleges by $4.8 billion, to a total of $52.5 billion — if voters in November pass his plan for a five-year, half-cent increase in the sales tax and a new, higher rate on personal incomes above $250,000.
The catch: The defeat of his measure, which he estimates would yield the state more than $6 billion a year, would trigger an automatic $5-billion cut for public education.
"It's the most expensive ransom note in California political history," Dan Schnur, a former Republican political operative who now runs the Jesse M. Unruh Institute of Politics at USC, told Bloomberg News.
There are, to be sure, many other big and important issues at stake in the budget debate, which will unfold in Sacramento between now and June, when the Legislature is to approve a final budget for the fiscal year that begins July 1.
Among them: The Democratic chief executive proposes to wipe out the projected annual deficit, now estimated at about $9 billion (a mere bagatelle compared to the $25 billion-plus in red ink he and lawmakers whacked at last year), in substantial part by imposing $2 billion in new cuts to welfare-to-work, child care, and medical programs for the poor; failure of his tax-hike ballot initiative would also cancel out several billion he is aiming at local law enforcement agencies to pay the costs of transferring state prisoners to county jails; similarly, the UC and CSU systems would also lose $200 million each if his bid for higher taxes goes down.
But it is basic public education, which by far represents not only the largest expenditure in the budget but also the loudest political constituency, that will be at the center of a huge and sprawling 2012 statewide battle over taxes and spending that now is shaping up, with Democrats howling about social service cuts and Republicans bashing Brown for what they charge is political extortion:
"This cynical, scare-tactic budget strategy once again hinges on the hope that voters will ignore their own financial problems to bail out the Democrats with another ill-advised tax increase," said Tom Del Beccaro, chair of the state GOP.
The governor, noting that most of the spending in the budget is required by either state or federal law and driven by population growth and inflation, argues that California will never begin to chip away at its mountain of debt without more revenue and an economic recovery.
"The California government is under stress," Brown told reporters as he announced his plan late last week. "We're spending, in real terms, what we were in the '70s, under [then-governor] Ronald Reagan. So we're doing the best we can, and it is a hardship."
WILL KIM K. DO HER PART? Outside the Capitol, Brown's biggest political challenge is heading off a host of competing ballot initiatives that various interest groups are also pushing for the November ballot.
Smartly calculating that putting multiple tax increases before voters essentially guarantees that all of them will be defeated, the governor has been meeting privately with sponsors, urging them to drop their efforts and join his.
One of the alternatives is promoted by the liberal Courage Campaign, which wants to slap a one-percent income tax surtax on millionaires in the state. The group has already captured national attention with an online ad using images of the trashy sex-tape/reality-TV star Kim Kardashian, famous for reasons that remain mysterious, as a case study of rich folks doing their nails instead of pulling on their oar.
The must-see Web video is at couragecampaign.org.