Film & TV
Generation P
An Interview with Director Victor Ginzburg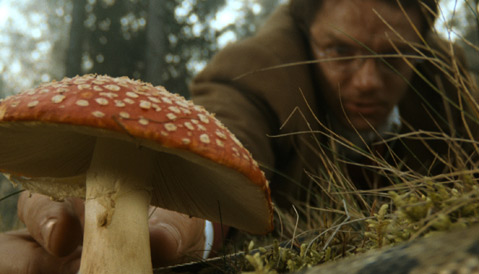 his year's most stoner-friendly film during SBIFF is surely Generation P, which involves trips on both fly agaric mushrooms and LSD for our protagonist as he navigates the early days of post-Soviet Russia working in advertising man and caught up in a Babylonian cult that runs the world through media manipulation. It's got lots of hilarity and trippy visuals wrapped up in symbolism and social commentary, plenty to chew on for even the most sober of us.
Director Victor Ginzburg recently answered a few of my questions via email.
There seems to be a wave of films coming out of Russia about the transition from the Soviet era. Does that mean that enough time has passed for filmmakers to reflect with some meaning on that time period?
There's definitely a civil reawakening going on in Russian society today, and a certain re-evaluation of the past, but I don't think the same thing is happening in Russian film (excluding documentary). Russian cinema hasn't really dealt with the revolutionary period of the '90s, and the Putin era in any meaningful way. It doesn't deal with political issues. The Russian film industry hasn't produced any real sharp anti-government satire or political films since the '90s.
Filmmaking in Russia today is split between thre genres: Festival genre, the brooding, dark, and slow pseudo-Tarkovsky product for Euro festival elite, that don't get released in Russia, because Russian viewers don't want to see these films; imitation Hollywood B-movies; and "patriotic films" which are either period war epics or Special Ops films. All of the above are financed by the government and TV networks. There's no foul language or politics, due to "self-censorship", born out of fear of not getting the next project financed. It's all toothless.
Generation P was a huge game changer in that sense. There was real fear on the part of my distributor and investors that Gen P will not be granted the "distribution license" due to foul language and politics, including a scene with "banned" oligarch Berezovsky, and the scene of the creation of Putin-like virtual president, and his virtual inauguration in Kremlin, where I used real footage of Putin's inauguration.
But after four years in stop-and-go independent production, and lots of press, the buzz was so strong, and Facebook and Yandex (Russia biggest search engine) becoming our partners in the Russian release, nobody could stop us. So I believe Gen P is the only contemporary Russian film to meaningfully reflect on the '90s, and I'm happy to have helped to fill that vacuum.
Was the process of converting this book into a film difficult?
This is a story without a classic plot structure, there's no conflict or a love interest or a bag full of money that we're chasing. But that's exactly what I liked about this story. It's driven first and foremost by ideas and energy, and the suspense comes from punchy dialog and amazing characters. There was a lot of interior monologue and thought process in the novel, that had to be radically re-conceptualized, as well as the entire Babylonian storyline and the hallucination sequences.
Also, a lot of Pelevin's dialog was so great, that I couldn't get the script below 220 pages, as opposed to standard 120. My co-writer Djina helped my tremendously as we were rewriting it constantly on the set, looking for the balance in the story. I shot a lot of extra footage, as opposed to cutting out the pages. It was a calculated expense. You could say that the final draft was "written" in the editing room, where the film found its current pace, and I finally have a 120 page script.
I imagine that advertising was a pretty wide open business with the fall of communism. Is this based on personal experience, or on the experience of others who were in advertising?
Russian advertising was wild and crazy in the '90s, free of any rules of aesthetics, history, or regulations. It ranged from terrible to brilliant. Advertising serves a symbolic role in the film. It's like an interface through which Babylen starts to see the new world. This matrix evolves right in front of our eyes and becomes the virtual world that we live in today.
Drugs are obviously a big part of the film. Was there a boom in psychedelics and cocaine with the fall of communism? How about fly agarics? Are those consumed by in contemporary Russian culture?
Historically, Russians prefer to hallucinate on vodka. LSD and hallucinogenic culture, such as Castaneda literature, arrived in Russia with the end of the Soviet Union, along with the branding and consumerism. For Babylen Tatarsky, it's gateway to Ishtar, the goddess of these new values. It is also a way to enhance his creativity, but once there, he discovers new revelations about himself and the world.
So in way, LSD serves a spiritual purpose to Babylen's search for meaning and self understanding, just like it would be for any young person in today's complex world.
On а more strategic level, for the purpose of telling this story, drug-induced hallucinations serve to introduce the viewer to the concept of the alternative reality that we arrive at towards the end of the film, the virtual world of politics and branding, where you're led to believe that a politician is more than a TV show or that a given product can bring you happiness.
What's your fascination with Babylonian mythology?
We worship the same gods of glamour, money, and blood.
The idea of supercontrol of politics doesn't seem too far from the truth, whether in Putin's Russia or the corporate world's America. Do you see films like yours calling attention to that, or is this just an absurd exercise in a fun movie?
I really hope that the film works on a few levels: as a fun ride with a real belly laugh, as biting political satire, and a philosophical tale about the contemporary world. There's a wide audience out there of smart and interested people that can really dig this.
Generation P screens on Friday, January 27, 7:20 p.m., at the Metro 4 and again on Wednesday, February 1, 10:20 p.m., at the Metro 4, and Saturday, February 4, 1:20 p.m. at the Metro 4.