Sports
Baseball Chatter
Pros Michael Young and Skip Schumaker Talk World Series, and Gaucho Baseball at "Hot Stove" Meeting
Baseball had one of its finest hours in the 2011 World Series, a seven-game thriller that turned around in Game 6, when the Texas Rangers were twice just one strike away from the championship, only to see the St. Louis Cardinals erase a pair of two-run deficits, win the game in 11 innings, 10-9, and take the series a night later.
Rangers infielder Michael Young remembers thinking, "God, this is insane. Two great teams just duking it out." Cardinals outfielder Skip Schumaker said, "I'm not sure how we won the [sixth] game, to be honest." David Freese's two-out, two-strike triple drove in two runs to tie the game in the bottom of the ninth. "I thought it was an out," Schumaker said of the ball that cleared right fielder Nelson Cruz's glove.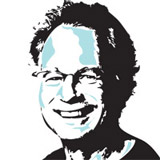 Those reminiscences, still fresh in the players' minds, were offered during the baseball program staged by the Santa Barbara Foresters and UCSB last Friday night at the Earl Warren Showgrounds. It was called a "Hot Stove" meeting—referring to the tradition of off-season conversations about baseball during the winter months.
No stoves were needed to cast a warm glow over this evening. Young and Schumaker returned to the scene of their college baseball days. Both played for the UCSB Gauchos and were drafted by major league teams, Young in 1997 and Schumaker in 2001. Young, 35, has been a consistent standout in Texas, winning the American League batting title in 2005 with a .331 average and, last year, hitting a career best .338 with 106 runs-batted-in.
Even though Schumaker, who turns 32 this week, will wear the World Series ring, he saluted Young and the Rangers for making two consecutive appearances in the Fall Classic. (They lost to the Giants in 2010). "I believe it's a bigger accomplishment to get there twice," he said. "It's such a long season, and so many things can go wrong. Getting into the playoffs and getting into back-to-back World Series is an incredible feat. We were just one game better, one out better."
Young said, "As tough as it was for us at the time, I can appreciate how nice it was for the Cardinals and for Skip. They deserve a lot of credit. They played really well. Hopefully the fans appreciated it. It was a World Series for the ages." Young added that the Rangers "will use it as motivation" to go at it again in 2012. Most of their roster remains intact, but they will have to contend with an improved Los Angeles Angels team that picked up St. Louis slugger Albert Pujols. "He's the best player in the game," Young said. "Our team turned into 10-year-olds seeing him take batting practice."
Despite the presence of Pujols, the Cardinals were buried deep in the standings with a month remaining last season. "It was probably the most unbelievable season I've ever seen," Schumaker said. "Having to win every single game, going 25-and-8 the last month, do or die. … They say the hottest team entering the playoffs is the most dangerous. We were that team. The Phillies got there with ease, but we beat them in the first round." It was in the clinching game of that series that Schumaker had his big moment, an RBI double against Roy Halladay that accounted for the only run in a 1-0 St. Louis victory.
Also attending the Hot Stove event was Ryan Spilborghs, another former Gaucho and Santa Barbara High standout. He had some big moments as a Colorado outfielder in the 2007 season, when the Rockies won 21 of 22 games en route to the World Series. Spilborghs will try to extend his career with the Cleveland Indians this year.
Former UCSB coach Bob Brontsema said the three Gaucho major leaguers were peas in a pod: "They're all where they are for the same reason. They think of others before themselves, they don't take themselves too seriously, they've got an incredible work ethic, and they're obviously talented. They're great representatives of this university."
UCSB will open its first season under new coach Andrew Checketts on February 17 against two-time national champion Oregon State. The Gauchos have the support of their forebears. "We want this place to be a powerhouse baseball college," declared Schumaker. "We want them to go to Omaha [the College World Series]."
The Santa Barbara Foresters, who take over UCSB's Caesar Uyesaka Stadium in the summer, are a powerhouse amateur club under the leadership of manager Bill Pintard. They regularly go to Wichita for the National Baseball Congress World Series, and last summer they brought home their third NBC championship.
Friday's festivities included the induction of three new members in the Foresters Hall of Fame—former major league All-Star infielder Morgan Ensberg; slugging first baseman Sean Luft; and Chris Messier, a leukemia survivor who more than a decade ago was the first young cancer patient adopted by the Foresters' Hugs for Cubs program.