Film & TV
Bones Brigade: An Autobiography
Review of Stacy Peralta's New Documentary About Legendary Skateboard Team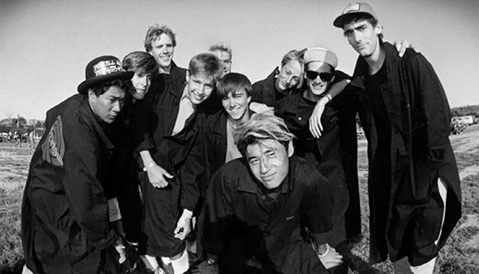 Santa Barbara's woodwork was left with few, if any, of its core skate contingent last Thursday night as the West Coast premiere of Bones Brigade: An Autobiography drew a sellout crowd to the Arlington Theatre.
Since its seaside birth in the late-1970s, Powell-Peralta Skateboards has called Santa Barbara home, its factory producing top-of-the line skateboards and urethane wheels poured from proprietary formulas. It's biggest claim to global fame, however, has been the deliberate assemblage of arguably the greatest team of professional skateboarders in the so-called sport's 50-year history: the Bones Brigade. That's what this movie is about. Sort of.
While the greater Bones Brigade team included upward of 30 of the top skaters from the 1980s, its elite half dozen — Tony Hawk, Steve Caballero, Lance Mountain, Mike McGill, Tommy Guerrero, and Rodney Mullen — essentially proved that a talented, driven skateboarder could make a very good living riding a wooden plank with four wheels. But it took more than skill and will to pull it off. In the case of the Bones Brigade, it took mentoring.
Enter Stacy Peralta, a retired professional skater from the seminal 1970s Zephyr team (for that story, check out Peralta's Dogtown and Z-Boys documentary) who wanted to compile and coach a group of his own. Turns out Peralta not only had an uncanny knack for spotting prodigies, he had the empathy and patience necessary to keep them inspired at the very top of their competitive game.
Combine that with the skateboard magazine advertising campaign of conceptual artist Craig Stecyk III, and the influence of the Bones Bridage — both in trick progression and the everyday trends of 1980s — would make is its deep and permanent gouge into American history.
But all of this was simply a sum greater than it's parts. At its core, this film is about six lost teenagers searching for what all teenagers want: a voice, a purpose, a sense of peace. That they rode skateboards is incidental.