Film & TV
A Wrap and a Mass "Yes"
Final Thoughts from Our Critic in SBIFF's Theaters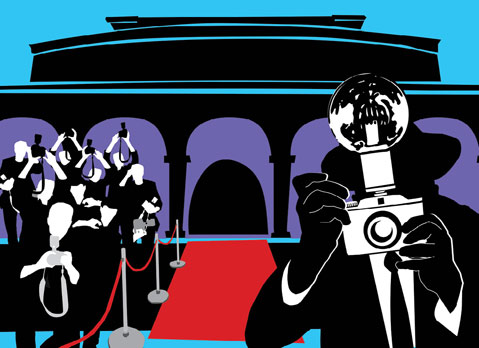 On multiple levels, Santa Barbara is lucky to have had SBIFF as a pillar of our cultural calendar, going back 27 years now. This is Santa Barbara's otherwise culturally strong town's main event, festival-wise, and a contender in the ever-expanding universe of film festivals around the world. And part of what has made it special is the diversity of its programming agenda, building up what is essential many mini-festivals under one large umbrella. International cinema nerds have their particular idea of the festival, while celebrity sighters and awards season watchers get some love. Santa Barbara filmmakers get a valuable public forum, and this year, the new sidebars on music films, foodie films, and new French cinema brought even more to the collective table.
That diversity aspect became more sharply-focused with this past weekend's sad passing of Mike DeGruy, the naturalist filmmaker who, for a decade, spearheaded other niches of the festival, namely the "Reel Nature" programming and also the valuable "Field Trip to the Movies" program, ushering thousands of young children into the world of the festival and cinema-consciousness, more generally. Quite fittingly, DeGruy, who died in a helicopter crash in Australia while working on a new filming project, was paid an emotional tribute on the festival's closing night on Sunday at the Arlington.
DeGruy's unexpected passing, at age 60, and during the festival which he loved and gave his all to, cast a melancholy aura over the festival's second weekend. Hearts go out to his family, and broader definitions of family in the circles where he worked and moved. On Sunday night, friendly and stalwart festival director Roger Durling's emotional homage to his friend and colleague led up to a collective cathartic moment, as he incited the audience to scream out an affirmative "Yes!," in tribute to DeGruy's own tactic for generating excitement with hordes of children.
Then, it was "roll film" time. The closing night fare, the delightful Lebanese film Where Do We Go Now?, directed by Nadine Labaki, beautifully filled the bill of capping off another fine festival, with its blend of comedy and real life tension, defused by the wisdom and cunning of women in a village poised on unrest between Christians and Muslims.
Earlier on Sunday, the Arlington's sweeping screen was filled with the fascinating narration-free poetic documentary extravaganza Samsara, an "around the world in 100 minutes" experience living up to the translation of its Sanskrit title, "continuous flow." This mesmerizing, Koyaanisqatsi-like visual tapestry of scenes from the planet and the species we belong to moves in non-linear yet also logical free associational ways from matters of nature awe, spiritual practices, the mad thrum of urban life, the mechanization of many aspects of modern life, and back to the natural and spiritual realm. The implicit message of Ron Fricke's grand opus, slowly created over the course of five years using 65 mm film and high-def refinement of the imagery, may be that spirituality and nature may be the saving grace of a species spinning out of control. But, dark and light themes aside, the "continuous flow" of Earthly images on the screen is pure seduction in itself.
With the global recalibrating of the "international" part of the SBIFF programming this year, compared to the last stretch of years, one of the casualties of the shift has been Asian cinema, a strong player in the festival's past decade but only scarcely represented this year. A happy exception was the meditative and subtle Chinese film Here, There, in which director Lu Sheng intertwines tales of Chinese characters in disparate places and life situations, in Paris, Shanghai, and a remote mountain terrain of Inner Mongolia. In this beautifully shot and calmly realized film, themes of family tensions and comfort, separation, cultural alienation, and compassion combine to create a mosaic of humanity in motion.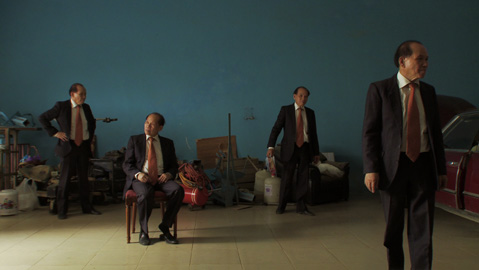 From another place and perspective entirely, the Cambodian film Golden Slumbers, wonderfully and artfully directed by Davy Chou, is a remarkable documentary — really one of the most compelling and unusual docs of this doc-enriched festival, and one of the finest overall films of the '12 crop. In effect, the film takes as it essential and metaphorical subject a world now virtually non-existent: the Cambodian cinema world under the cruelly oppressive, anti-cultural Khmer Rouge regime. Pol Pot's 1970s rule of terror, which moviegoers know from The Killing Fields, included a cultural terror that destroyed movies, displaced and killed cinema artists, and did its level best to make the "decadent" realm of Cambodian cinema a thing of the past. Only about 30 of some 400 films created in Cambodia from 1960 to '75 survived the burning purge and cinema was sent into a forced slumber.
Lacking any real film footage to tap into, this film instead conjures up the normally evidence-based and clip-ready world of film study through more vaporous means. It dwells, with a still photographer's visual sensitivity, on the repurposed and/or decayed structures of former theaters and movie palaces, it relies on the great power of music and songs from lost films to trigger palimpsest-like impressions of "disappeared" art. And, most poignantly, the film trains a focus on the resiliency of memories of this destroyed world, as directors, actors, and common movie lovers recount the plots and details of movies which now exist in the realm of dreams. In one case, young filmmakers in an artistic collective gather to recreate a famous lost nude scene from the film The Sad Life.
In this way, Golden Slumbers transcends the tragic circumstances and factual details of its story and makes a more poetic statement about the majesty and mystery of cinema at large, a world which lives and thrives in our minds, collectively and otherwise, regardless of the harsh realities outside the theater — and the theater of memory. In that way, it's an ideal film festival film.
Like the striking and artistically crafted documentary Whores' Glory, Golden Slumbers was a doc this year that demonstrated the delicate but possible balance of telling a compelling real world story and heeding the demands of the documentary form, while sneaking in visual and cinematic ideas in an artistic way.
REALLY REELING: Comes a time in most film festival runs when the extreme fest-goers among us — you know who you are, the five or six-film-a-day cases — begin to lose touch with reality, and sense something akin to an out-of-body dissociation with concrete, collective reality. Through sleep deprivation and too much time spent at the movies, the lives of others onscreen begin to blur with people we know and life on the screen and on the street and with our loved ones. I knew I had reached that state only on the final day of the festival this year: watching a film in which a speech in the film is followed by clapping from the gathered crowd, I began to clap myself, apparently hallucinating that I was now part of the filmed crowd instead of the film-going crowd. The real/reel border had been crossed, as happens at some point most every year in this wonderfully rich ten-day thicket of cinematic options.
Probably a good thing that the festival is history, and we can rejoin reality, already more or less in progress.
Humbly submitted, here is one habitual festgoer's Top Ten list for the 2012 model of SBIFF: Bullhead, Think of Me, Heat Wave, Whores' Glory, Golden Slumbers, Found Memories, Samsara, Vinyl, Alois Nebel, Where Do We Go Now?