Film & TV
SBIFF 2012 Peeps Part Two
A Symphony of Absurdishness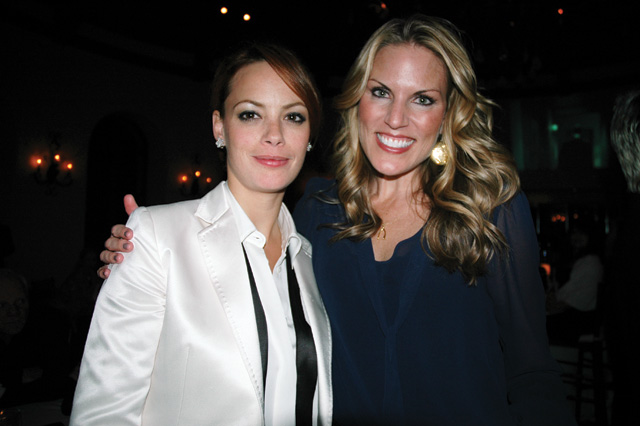 "Honey, honey! Your flash! You want me to take a look?"
The speaker of those words? Legendary director Martin Scorcese. The person to whom those words were directed? Me.
I've found that, in order to survive the marathon that is the SBIFF, it's imperative to cultivate a healthy appreciation for the absurd. And if the absurd happens to take the form of an artfully cornered Martin Scorsese and Sir Ben Kingsley, getting a chuckle at my expense, I'll take it. Not least because it makes for a great lede.
The Crapped-Out Flash Incident went down after midnight in a dark corner of Cadiz, after Monday's tribute during which we learned, among other things, that Scorsese wore cufflinks to Woodstock and probably could talk from now 'til forever. And, while it seemed it would take forever for me to regain the energy required for the fest's final push, by Friday, I felt ready to get back on the horse. I mean, the high heels.
Friday's Virtuosos Tribute began with a bombshell — Bridesmaid Melissa McCarthy, laid up with laryngitis, wouldn't be there. But the program didn't disappoint: the late addition of Demián Bichir was a treat, and moderator Dave Karger kept the action moving. Patton Oswalt, who described Young Adult as a "symphony of awkwardness," put his stand-up skills on full display, while Rooney Mara wasn't terribly revealing, confessing the unshocking news that "romantic comedies aren't really my thing." On the opposite end of the spectrum, Andy Serkis completed the entirety of his interview shirtless. Alas, he declined to remove it for my camera at the after party, although John Corbett was all too eager to remove my camera from my neck. Oh, speaking of absurd: vegan sushi? No, please.
Saturday, we all awoke to a shock: Mike DeGruy, beloved Santa Barbara-based filmmaker and curator of the SBIFF's Reel Nature sidebar, was killed in a helicopter crash while scouting locations for an upcoming project — rumor has it, Avatar 2. The news left everyone stunned and saddened, although the show did go on.
Arriving at the Arlington for the Cinema Vanguard tribute — honoring The Artist stars Jean Dujardin and Bérénice Bejo — I did a double take at the sight of the gigantic organ sitting center stage (insert inappropriate gigantic organ joke here), a pitch-perfect pre-talkie nod. Roger Durling moderated, dropping some impressive française, while Bejo and Dujardin charmed in both languages — when Dujardin wasn't pretending to snooze, that is. The double feature called for a double dose of parties, and I zoomed out to the Bacara for Soiree Un, where Bejo and Dujardin mingled and left the guests debating which of the two is more attractive. And then, a small crew of us made our way back D-town, in time to catch the action — and acrobatics — still going on at the Lobero.
Closing night featured the film Where Do We Go Now? an apt question, when contemplating reentry to real life, post-fest. But for Sunday night, the answer was obvious: We go to the after party, of course.