News
Here Weego
Two Thumbs Up for "Here Weego"
"Here Weego" was the tagline of a very creative and very funny Super Bowl XLIV commercial that aired this past Sunday. This Bud Light commercial featured a cute rescue dog, named "Weego, " who would fetch partygoers a Bud Light every time someone called out his name. This was a very clever commercial that most people–not just animal advocates–would love.
The best part about this ad is that Weego is an actual rescue dog; he doesn't just play one on TV. He was at a shelter waiting for his forever home, when he caught the eye of a dog trainer. Weego's natural talents took him from homeless to famous by landing a spot in this commercial. What makes this ad even sweeter is that the commercial actually helps rescue pets. At the end of the commercial, Weego is seen pushing a cooler of beer that has the words "help rescue dogs" and a link to Bud Light's Facebook page. Bud Light tied in a promotional campaign with the ad; for every new "like" on the Bud Light Facebook page, the company will donate $1 (up to $250,000) to famed baseball manager Tony La Russa's Animal Rescue Foundation, ARF (www.arf.net).
"Weego's shelter and owner played a critical role in his story," Bud's Facebook page reads. "In celebration of his humble beginnings, Bud Light is joining forces with Weego to make a donation to help these animals in need and those that make animal rescue possible." As of February 7, the page has received more than two million new likes, and more than 100,000 comments from people enthusiastic about the idea. For anyone interested in rescuing a dog of their own, visit www.petfinder.com
The Weego commercial is a refreshing change from some of the other pet un-friendly ads that were featured during the Super Bowl this year. There was a Sketchers ad that promoted greyhound racing featuring a French bulldog wearing sneakers. The ad was trying to be cute, but it was anything but, considering that greyhound racing is an industry that exists solely for the entertainment of humans, at the expense of animals. According to the Humane Society of the United States, an estimated 5,000 greyhounds are euthanized annually simply because they can't run fast enough. Despite a change.org petition with more than 122,000 signatures protesting the ad, it still aired.
Two other Super Bowl commercials fumbled when they used live exotic animals in their ad. Career Builder used a chimpanzee in its ad, while Hyundai featured a cheetah. Wild animals used for ads often spend most of their lives confined to cages. Animatronics and CGI technology are so good that it can be hard to tell the real animals from the robots, which is why there's no excuse for using exotic animals in commercials.
Two thumbs up to Bud Light! Watch the "Here Weego" commercial.
ANNOUNCEMENTS
C.A.R.E.4Paws' FurEver Valentines Friendraiser
Join C.A.R.E.4Paws' for a fun-filled event to raise funds and awareness for Santa Barbara County animals in need. Enjoy wonderful wine, a chocolate tasting, great food, and music by Jesse Rhodes. Plus, bid on amazing silent auction items (all proceeds go to support C.A.R.E.4Paws' spay and neuter programs). Saturday, February 11, 6-9 p.m., at Oreana Winery. If you'd like to contribute to the silent auction or help sponsor the event, contact C.A.R.E.4Paws at http://www.care4paws.org/contact.html. Tickets are $35 (includes food, a glass of wine and gourmet chocolate). To buy your tickets, visit www.care4paws.org/valentines.html. You can also mail your payment, with checks payable to C.A.R.E.4Paws: P.O. Box 60524, Santa Barbara, CA 93160-0524
Valentine's Day Pet Adoptions Discounted
Santa Barbara County Animal Services has hundreds of eligible animals waiting for their chance at love and you are sure to meet your match. For this week-long (February 11-18) event cat adoption fees will be reduced to $14 and dog adoption fees will be reduced to $41. During this event you can adopt two rabbits or guinea pigs for the price of one. These cuddly companions come spayed or neutered, vaccinated, vet checked, and receive a complimentary bag of Science Diet Food.
Valentine's Day is a great time to open your heart to a homeless pet. Having a pet in your life has been proven to bring happiness, decrease the risk of cardiovascular disease, all while reducing blood pressure, cholesterol levels, and loneliness. Santa Barbara County Animal Services has dogs, cats, and rabbits in all shapes, colors, and sizes to give you just the health boost your heart needs.
If you are not looking for love, Santa Barbara County Animal Services reminds you that this is a great time to show your pet how much you love them by licensing them. A license is your pet's ticket home! You can also show your pet your love by getting them a microchip. For only $20 you can provide your best friend with a permanent form of identification and increase their chances of making it home should they ever get lost.
Santa Barbara County Animal Services has hundreds of animals that will be calling to you, "Take Me… I'm Yours." You can pick the love of your life by visiting one of our three county shelters in Santa Maria at 548 W. Foster Rd.; in Lompoc at 1501 W. Central Ave.; and in Santa Barbara at 5473 Overpass Rd. All three shelters are open Monday through Friday from 10 a.m. Until 4:30 p.m.; Saturdays from 10 a.m. Until 4 p.m. Make it a date; adopt a pet today.
Adoptable Pet of the Week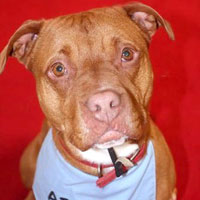 Katy could be exactly the dog you and your family have been looking for. At 2½ years old, 49 pounds, this pit bull mix is good with grade school aged kids, likes other dogs, and is gentle and calm. Add in her good looks and being easy to handle…what's not to like? And did we mention she is a world class ball player–it's the majors for her!
Katy knows all her basic commands and walks nicely on a leash. She recently went on one of her first off sites walk. We learned that Katy is very smart, responsive, and loving to everyone she met. She was the official greeter at the C.A.R.E.4PAWS children's education booth and did just fine.
If Katy sounds like the perfect dog for you, stop by the Santa Barbara County Animal Shelter, 5473 Overpass Road, Goleta. Read more and view photos at www.K-9PALS.org.
Do you love dogs, but can't have a pet? Volunteer at the shelter or for K-9 PALS or make a donation to K-9 PALS to help pay for the medical expenses and prescription foods for the shelter dogs. For details about volunteering at the County Animal Services, Santa Barbara Animal Shelter, call 681-4397.