Arts & Entertainment
So Nice, They Played it Twice
AAN Plug in at Warbler Records, Muddy Waters on March 1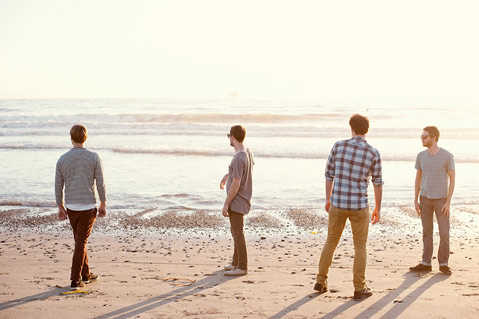 This Thursday, March 1, Portland experimental rockers AAN return to Santa Barbara for a double header of shows at Warbler Records & Goods and Muddy Waters Cafe. The band (made up of guitarist/vocalist Bud Wilson, bassist/synth player Reese Lawhon, drummer Jon Lewis, and guitarist/synth player Andrew Klabzuba) hit the road this week en route to a series of festival dates at this year's South By Southwest in Austin, TX. Below, we chat with founding member Wilson about the past, present, and future of AAN's musical rise.
First off, where did the band name come from/what does it mean? AAN means "Amor Ad Nauseum." I recorded solo material under that moniker back in the late 2000s. A poor translation from its fake Latin origins would be "To love unto sickness," or "so much love it makes one sick." [It was] a bit mellow-dramatic so I eventually shortened the name to Aan. But our first full length record (being released this summer) will go by the long form title.
How did you guys all meet? I started recording songs at home and I would share them with a few friends. I was playing in another band with Reese and kind of tricked him into leaving the band we were playing in and making AAN his main gig. He's been with AAN ever since. I think we've had seven or eight other players over a very short period of time, but not until 2010 did we really feel like it was time to put our complete efforts into the project. We picked up Jon in spring of last year for an East Coast tour and he's been a huge motivation. We all just met Andrew recently through friends and we share a lot of the same interests. He's down to tour so we're happy to have him.
How would you describe the band's sound? By default we're a "rock band" because we play guitars and use distortion pedals. I think we put a serious effort into bucking the traditional rock tenets otherwise [though, and focus] our energies on creating nontraditional song structures and textures. We do our best to affect the listener through dynamics and vocal melodies. So I guess our sound is "moody psychedelic pop rock" or some blend thereof.
I get glimmers of psych, soul, and funk when I listen to your recordings Who/what do you guys cite as sonic inspiration? I love me some Deerhunter. My sound has certainly been influenced by the layering of that band, the droney washes of guitars and percussive bass lines. When I first started trying to write songs, I was very much into early Beck, Blonde Redhead, Stereolab, Drive Like Jehu, and a whole bunch of bands making moody jams. Reese and I love doomy stuff, while Jon's a bit more light-hearted. I'm motivated by progression in music. I strive to create a voice for the band that is unique and free; a sound that is modern and respectful of its roots (which are sometimes obvious) while exploring our own boundaries.
You guys released a seven-inch, Somewhere's Sunshine, last year. Are there new recordings in the works? Yes, we're about 2/3 done with our first full length record, Amor Ad Nauseum. It's being crafted with much more sonic detail than our prior efforts and it's taking forever! We''e recording it in a studio with a good friend of ours, Jeff Bond, who's been on tour for a while so we haven't had a chance to get in there and wrap it up.
Can you tell me a little bit about the new songs? Well we went out to a cabin on the Oregon coast late last summer for a week, destroyed our brains and tracked the majority of the record. Since then we've been in the studio off and on between tours trying to make it as interesting and cerebral as possible. The album will be richer in quality than our past releases and we're hoping a bit more focused. I think we'll be able to put it out in the summer time, but we're trying to find a good home for it, as I've personally released our last records on an imprint I help run in PDX called Infinite Front.
How does the live show compare to the recorded stuff? I think the live show is certainly more intense. On record we're limited by the format's physical capabilities — a CD can only be so loud or quiet. But live we can actually force an audience to pay attention through loudness, then sudden and brief moments of extreme hush. As a performer, it is fulfilling when the song leaves its blaring chorus and lands in a patch of silence. We win no matter what because it was so loud in the chorus that no one could hear each other and those trying to talk are suddenly yelling full volume in a silent room. People learn to be attentive. But our records are something different because we have to connect with the listener in their element, not ours. Sometimes the songs are slower and in certain cases, never played live.
Portland is rife with up-and-coming bands. Have you had any especially memorable hometown shows that you'd like to talk about? Well, I was really stoked to open for Chad Vangaalen, who is from Canada and rarely tours. That for me was the best feeling show ever, not because of how we played but because I was hanging out and playing with an artist who had moved me so many times and influenced me dramatically. Of course we have our favorite Portland bands that we play shows with, like Radiation City, Hosannas, And And And, Wild Ones; alot of super talented kids who are putting their hearts into their music. It's pretty wild how many great bands there are up here right now.
And you guys are hitting the road and heading to South By real soon. Any touring survival tips and/or crazy on the road stories you'd like to share? Make sure everybody has their own key to the van. Make sure there are a few empty bottles around (especially on the New Jersey turnpike). Bring your own towel (which may be the grossest thing in a person's bathroom). Own up to your body's natural emissions. Driver picks the tunes unless it's Jon's [turn] for the third straight time, 'cause I'm totally not feeling jazz fusion at 4 a.m.
4•1•1:
AAN play an in-store at Warbler Records & Goods (131 E. De la Guerra St.) on Thursday, March 1 at 5:30 p.m. and Muddy Waters Cafe (508 E. Haley St.) at 8 p.m. with Gothic Tropic and Ghost Tiger. For more about the in-store, call 845-5862. For info and tickets to the Muddy Waters performance, call 966-9328.