News
Smart Meters Rile Goleta Residents
City Council Writes Letter to Edison Asking for Opt-Out Option
The Goleta City Council on Tuesday unanimously decided to send a strongly worded letter to Southern California Edison (SCE), urging the energy company to institute a cost-free opt-out option for citizens who do not want new smart meters installed in their homes.
The meters, which SCE plans to install throughout Goleta next month, record consumption of electricity in short intervals and then send that information to the utility for monitoring and billing. Smart meters allow for two-way communication between the meter and the central system. The idea behind these smart meters, which were approved by the California Public Utilities Commission (CPUC) in 2008, is that they will reportedly reduce costs and promote energy conservation, due to their precise monitoring of electricity consumption and the fact that vehicle trips to take meter readings will no longer be necessary.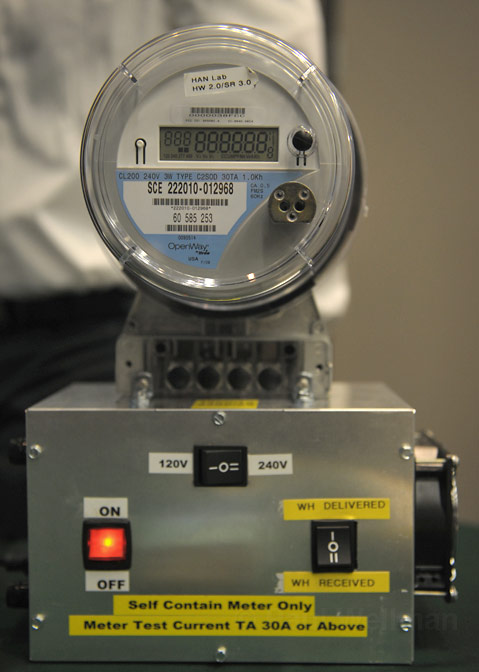 Despite the apparent benefits, these meters have sparked controversy because little is known about the potential health effects of the radio waves they emit. The City of Santa Barbara sent a letter to Edison last July, asking it to embrace opt-out provisions for customers who do not want new smart meters. The Goleta City Council was asked by concerned citizens to follow S.B.'s lead.
Nine members of the community, from scientists to homeowners association reps, showed up to express their distaste for the new meters. "We should choose when to expose ourselves to radio frequencies," one speaker said. "Goleta should send a message to SCE, like the Santa Cruz City Council did when they put a moratorium on installing the meters." Another speaker cited a study from the International Agency for Research on Cancer (IARC), which listed these radio frequencies as a "Group 2B carcinogen." Group 2B carcinogens, according to the IARC, are "possibly carcinogenic" and that "there is limited evidence of carcinogenicity in humans and less than sufficient evidence of carcinogenicity in experimental animals." Coffee and gasoline fumes are two other Group 2B carcinogens.
Other speakers were afraid that SCE would be able to shut off their appliances or significantly increase costs during peak hours. "It's like buying a car and being told by the dealer when you can use it," one citizen said. Another Goleta resident mentioned, "Defense Secretary Panetta said recently that there is a real threat of a terrorist attack on the electric grid. At the same time, these companies want to digitize everything. I'd like the Goleta City Council to take a stance of precaution."
Tim Giles, Goleta city attorney, was quick to point out that the City Council did not have the authority to institute an ordinance blocking the meter installations, and neither did Santa Cruz, which did not enforce its moratorium. This is because the California Constitution stipulates that local governments cannot regulate the CPUC.
Councilmember Margaret Connell was sympathetic to the public's concern. "It's kind of offensive," she said, "having to pay for something you don't want." Mayor Edward Easton said that he learned about smart meters at the League of Cities. "Conservation of energy is something I'm biased toward," he said. "But I listen to what people have to say." After a quick discussion, the council unanimously decided to write a letter that "is as strongly worded as possible." "We can do this tomorrow," Easton said.
SCE currently has a delay list for Goleta citizens who do not want meters installed on their home in the next month. The number to get on that list is (800) 810-2369. "The number works," said Roger Aceves, Goleta's mayor pro tempore. "My neighbor told me he called, and the next day his meter was tagged."