Dance
The Secret Garden at the Granada Theatre
State Street Ballet Presented Josie Walsh's Original Wok on Saturday, February 25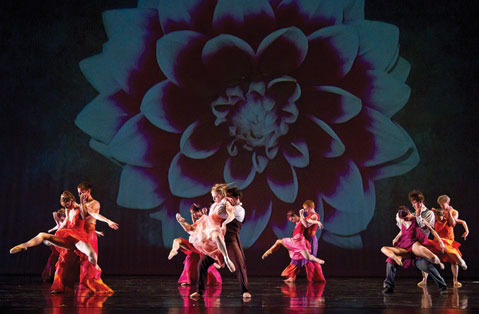 Sometimes, a rose is just a rose. On Saturday night at the Granada, though, a rose was much more. For the world premiere performance of director/choreographer Josie Walsh's The Secret Garden, State Street Ballet brought Frances Hodgson Burnett's classic novel to life with a swirling mix of stylistic, sonic, and visual dichotomies that worked together to stunning effect.
An adventurous hybrid of contemporary and classical dance, Walsh's Garden sprouted in the first act in the hands of Season Winquest. As Mary, the tale's young and orphaned protagonist, Winquest relayed pain and fear with a series of heavy, mostly floor-bound, turned-out movements, and later embodied the role of a wide-eyed and adventure-seeking youngster with a number of lithe and light-as-a-feather leaps and passes.
Against a collection of animated video projections by David Bazemore, which worked in place of any actual sets, the dancers were free to occupy the Granada's entire stage, and in large group dances the space was used in full. Both Act One's "Butterflies" and "Maze" scenes were of special note, beautifully occupying a world that was part classical ballet, part modern dance. For "Butterflies," nine dancers emerged from a collection of taut, parachute-like cocoons, seamlessly interweaving sexy flexed-feet partner work with hyper-feminine flight runs. Similarly, "Maze" made for an intricate game of interlocking arms and squared-off shoulders. Together, the dancers twisted and morphed their human labyrinth into myriad positions, allowing Winquest to pass and backpedal through the garden's mysterious paths.
Of equally impressive note was costume designers A. Christina Giannini and Anaya Cullen's contributions to the scene; both male and female dancers were equipped with large headdresses that appeared to be made of brambles, and the females donned similarly molded bustles, creating outfits that simultaneously evoked visions of steampunk warriors and topiary hornets.
Not long after, dancers Bonnie Crotzer, Lelia Drake, and Kaori Takai donned black unitards and headpieces to create "Keylock," a hyper-sexualized and undeniably contemporary dance that found the trio crouching low with turned out feet and hands clenched in tight fists, moving spider-like to a bassy soundtrack of electronic beats.
Not surprisingly, Garden's most compelling moments came when Mary, Dickon (smartly and playfully embodied by Ryan Camou), and the once-crippled Colin (Jack Stewart, who delivered some of the night's most impressive and expressive scenes) left the confines of the manor and headed out into nature. In the second act, the garden afforded all three the chance to interact with a tree "built" of dancers, who took to the stage on each other's shoulders and "grew" by way of intricate twists, lifts, and gymnastic feats.
The unsung hero of Garden's ambitious team was composer Paul Rivera Jr., whose original score guided the story with an emotive and enjoyably forward-thinking mix of acoustic guitar ballads, pulsing house beats, and neatly arranged classical piano. Intermixed with the sparse-but-crucial use of found sounds, the soundtrack worked wonders alongside Walsh's hybridized choreography.
For the finale, every element of Walsh's vision came to glowing light, as dancers lifted, leapt, and passed through a dazzling sea of human flowers against a backdrop of sprouting seedlings and bright blossoms. As Lillius, Angela Rebelo blossomed before our eyes, commanding the stage in rose-colored garb and a glinting headpiece as her fellow dancers mimed lotus flowers with their hands. Together, the group created a rose garden of dramatic proportions and delivered a fast-paced, intricate, and propulsive end to a truly visionary night at the Granada.