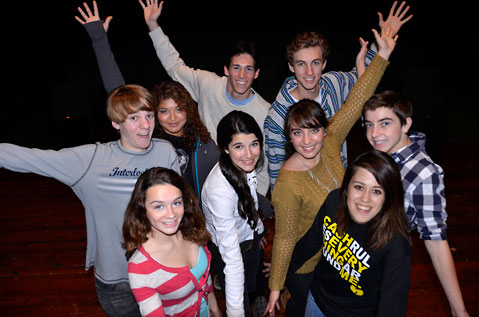 On Saturday, the 10 finalists in the 2012 Teen Star Santa Barbara solo singing contest will take the stage at the Granada to duke it out in song for a title and a heap of cool prizes, ranging from cash money to a professional recording session. Even still, the biggest prize of all at this year's Teen Star will go to the schools of Santa Barbara County, which will receive the proceeds from the event as a donation to their performing arts programs. Teen Star, which is modeled on a very famous current television program that takes its copyrights very seriously, gives teens from all the Santa Barbara County middle and high schools a chance to show their talent in front of a distinguished panel of judges — including Townsend Coleman and J.R. Richards. Those who make the cut bring their act to a live audience, members of which will choose Saturday night's winner by cell phone, just like on that other show. Expect to find the Granada jammed with partisan fans, all of them with their choice of texting weapon at the ready.
If you enjoy the real-life drama of these types of competitions, you won't want to miss this one, as the stakes are high, the chops are considerable, and the message is clear: Santa Barbara's got talent. The Teen Star finals take place on Saturday, March 3, at the Granada Theatre (1214 State St.) at 7 p.m. Visit granadasb.org or facebook.com/teenstarsb for tickets. For those who can't attend, californiastreamin.com will host a live Web broadcast of the event. Below you'll find three good reasons to get to the Granada for the finals.
1. The Personalities: As with previous winners Allison Lewis (2010) and Bear Redell (2011), this year's contestants all radiate that star quality that makes you want to watch them sing.
2. The Team Effort: Teen Star wouldn't be possible without a whole lot of volunteer effort and sponsorship from people like Joe Lambert, the event's founder and executive producer, and Deckers, the program's sponsor. Deckers even went so far as to present a free pair of shoes to every finalist as part of their support, so you can expect to see some stylish footwear onstage come Saturday.
3. The Courage: It is really hard to get up and sing solo in front of an audience, never mind a large audience that is voting on your performance! Lambert said of the large crop of students who auditioned, "Most of these kids seemed to be fearless." Show up to see if the finalists can remain fearless when faced with 1,400 voting cell phones.