Positively State Street
Austin-bound AAN Heads Back to Town
Portlanders Team Up with Gothic Tropic, Ghost Tiger at Muddy Waters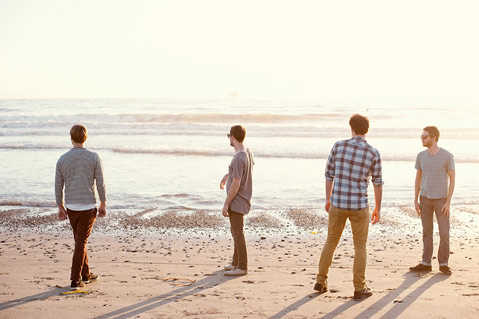 TRAVELING SONGS: The start of March means one thing to bands: South by Southwest (SXSW). And while the annual Austin Music Mecca doesn't open shop until March 9, this week begins the Texas pilgrimage for bands across the country. Case in point: Portlanders AAN, who will headline Muddy Waters Café (508 E. Haley St.) this Thursday, March 1, as part of their month-long tour to and from South By.
With just an EP and a seven-inch under their belts, these four are already stirring up plenty of buzz in their hometown music scene, and the reason is clear. AAN's sound is a complex mix of psych, blues, and funk rock, thrown through a pop filter with a keen ear toward the stuff that gets people dancing. On Somewhere's Sunshine, the band's most recent two-track offering, frontman Bud Wilson walks the line between high-pitched experimentalist and bluesy auteur, calling to mind Dan Auerbach and Jeff Buckley, sometimes in the same breath. Behind him, guitarist Reese Lawhon and drummer Jon Lewis churn out an assaulting collection of punching, wonky beats and dexterous, Devo-esque guitar noodling that dares its listeners not to bop along.
"By default we're a 'rock band' because we play guitars and use distortion pedals, [but] I think we put a serious effort into bucking the traditional rock tenets otherwise," relayed Wilson recently via email. "I love me some Deerhunter, and my sound has certainly been influenced by the layering of that band, the droney washes of guitars and percussive bass lines. … I'm motivated by progression in music. I strive to create a voice that is unique and free; a sound that is modern and respectful of its roots while exploring our own boundaries."
Better still, Thursday night's bill is stacked with sonic goodness, including S.B. harmonizers Ghost Tiger and rising L.A. rockers Gothic Tropic. Like AAN, Tropic's sound is all about hybridization. They mix bluesy guitars with insistent, world-beat–infused percussion to create a sound that feels as much like a tropical getaway as it does a suburban garage. Add to the mix frontwoman Cecilia Della Peruti's reverb-soaked speak-sing, and you've got a funky grab bag of dance-worthy tunes. The show starts at 8 p.m. For tickets and info, call 966-9328. You can also catch AAN at a pre-Muddy afternoon set at Warbler Records & Goods (131 E. De la Guerra St.) at 5:30 p.m. For info, call 845-5862. And for a full interview with AAN's Bud Wilson, visit independent.com/aan
REV THE ENGINE: If you're talking musical trends, chances are Mord Fustang's name will be mentioned. At the epicenter of that whole inverse-wording band-name thing sits this Estonia-born producer. He's also guilty of fueling the dubstep fire that seems to still be raging in clubs across the globe. But it's no matter, because, well, Fustang's tunes are airtight. This Tuesday, March 6, Mord brings his bleep-and-bloop–filled live set to SOhO Restaurant & Music Club (1221 State St.) for a mid-week, all-ages dance party that is sure to get the place moving. The show starts at 8 p.m. Call 962-7776 or visit clubmercy.com.
IT'S A FAMILY AFFAIR: Also this week, the cabaret folksters of He's My Brother, She's My Sister return to SOhO for a night of good ole-fashioned boot stompin'. For the unacquainted, these six Los Angelenos lay claim to one of the most fun-loving stage shows on the West Coast. Front-folks (and bro and sis) Rob and Rachel Kolar provide a lively and nostalgia-inducing take on the male-female harmony shtick. They're also backed by human beat machine Lauren Brown, who keeps rhythm by way of some super-slick tap dancing moves. (Think Edward Sharpe & The Magnetic Zeros meet Tilly and the Wall.) It's part vaudeville, part gypsy rock, and part campfire sing-along–style folk, and it's guaranteed to make a fan out of you. The band plays SOhO on Friday, March 2, at 8 p.m. Call 962-7776 or visit clubmercy.com for tickets.