Visual Arts
Group Show #1 at Surfbeat Gallery
Shawn Stussy, Jeff Divine, and Demi Boelsterli Help Reimagine the Surf-Art Experience
A few Friday's ago, something funny happened on the way to Spiccolli-ville. Down the end of a checkered sidewalk, behind the hipster haven of Municipal Winery, on the historic and hallowed ground we once knew only as the Diver's Den, the Funk Zone's newest altar to creativity, Surfbeat Gallery (22 Anacapa St., #5), hosted one heck of a hootenanny. The spirited celebration effortlessly threw down the shackles of cliché-addled, half-cooked "surf art" and instead offered up something wholly new, refreshing, and gritty. It was art — good art — by artists — good artists — who also happen to dig riding waves, the latter being more fact than foundation to the event's overall effect. As the show's curator (or, as he puts it, "artist wrangler") Will Adler enthused with a beer-smeared smirk, "Sure, it's a surf-art show, but it's not necessarily all surf art. I mean, it's more art that's by surfers than art that is all about surfing."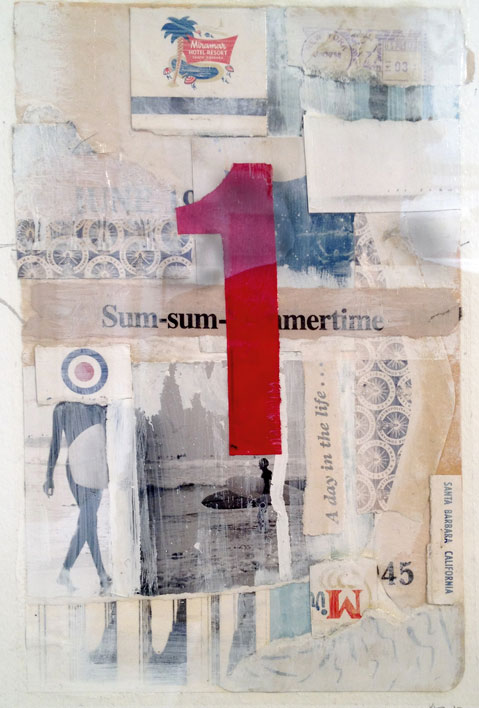 In his book The Pump House Gang, good old Tom Wolfe observes the "sui generis" undeniably inherent to certain gangs of surfers, something which he, a definite landlubber, noticed way back in the early 1960s as a rare mark of distinction between the surfing subculture and other social movements of the time. The lasting sui generis of surfers — informed, it seems, by their essential connection to the aesthetics of the ocean — was something, to Wolfe, at least, that ensured the tribe's lasting authenticity in the decades ahead. If this is a thesis statement, well, then Surfbeat Gallery's Group Show #1 makes a visually stunning, varied, and accessible case for its enduring accuracy some five decades later.
Specifically, the show features photos, sketches, pen-and-ink drawings, paintings, collage, and letter boxing by an eclectic collection of surfers, the vast majority of them natives of our South Coast, and many of them with certain amounts of international acclaim. Shawn Stussy (yes, that Stussy) emerged from his secret factory just off Milpas Street long enough to hang three distinct collage-style posters rendered specifically for the show. Russell Crotty, a man better known in art circles for his large globe installations, has a couple classic sketchbook sequences on the wall. Freshly crowned eight-time Women's Champion of the Rincon Classic, Demi Boelsterli (showing in a gallery for the first time), adds her layered and emotive paintbrush work to the mix, alongside other names of artistic repute from Santa Barbara's surfing subset, such as Bummy Koepenick, Branden Aroyan, Trevor Gordon, Sean Tully, and the gallery's co-owner Seth de Roulet. "Basically, I just called up friends or friends of friends and asked them," explained Adler of how he put the show together. "I didn't really pick the art, just the artists, and then I let them do the rest."
Wandering the gallery space — a modest and bright misshapen rectangle down an alley at the end of the street — your eyes drink deep from the vast well that is the surfing experience. Colors and the pure joy of a day at the beach pop out at you from an image by Aroyan, a candid shot of a family playing on the sand in France. A vintage letter box declaration of "Cowabunga" courtesy of Travers Adler, and nearby Tully's tight behind-glass assemblage of splintered skateboard decks, creates a brief view of a world that may not know the sand but certainly knows the power of waves, be they saltwater or pavement. In the next room, Stussy's large, hyper-intelligent mixed-media posters demand your attention, while Jeff Divine, current photo editor of The Surfer's Journal, displays a few full frames of pure and powerful surfing history that easily double as high art, no matter what your feelings about saltwater-based activity.