Arts & Entertainment
S.B. Symphony at the Granada Theatre
Latin Passion Program Includes Russian and American Influences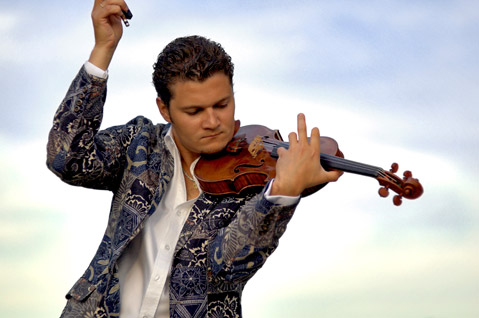 Yoking "Latin" with "Passion" has become a cliché, yet the material on offer at the Symphony's March Latin Passion concert was anything but stereotypical. The opener, "Three Dances from The Three-Cornered Hat," was perhaps the closest to a fully traditional Spanish composition, but even that piece by Manuel de Falla held quite a few surprises, especially from the augmented percussion section that would be an essential aspect of the entire program.
From there the orchestra took off on the afternoon's most intriguing flight of fancy, the 2003 concerto for violin and orchestra of American composer Michael Daugherty called Fire & Blood. The soloist, Alexandre Da Costa, was exemplary, and the piece, which Daugherty composed to honor the Mexican artists Frida Kahlo and Diego Rivera, and in part to commemorate their work in Detroit on a Ford Motor Company–sponsored mural project, was a fascinating mix of influences, ranging from conventional romantic concerto writing to mariachi. The most interesting effect occurred in the interplay between the violin and the heavily featured marimba. Daugherty, who has acknowledged influences as disparate as Karlheinz Stockhausen and the cartoon music of Raymond Scott, would seem to be that rare composer who is equally at home in multiple idioms and who is capable of weaving a plausible concerto out of extremely disparate elements. For the young soloist Da Costa, the Daugherty piece clearly represents an opportunity to show off and to pay homage to the industrial neighbor to the south, which in his case is Michigan, as Da Costa is a Canadian citizen. When it was done, Da Costa took several curtain calls and answered the applause with a pre-intermission encore. His choice — "Manic Depression," composed by American guitarist Jimi Hendrix — came as quite a surprise, but his clever and delightfully dry arrangement, which he played as a duet with cellist Trevor Handy, went over extremely well.
After the intermission, the orchestra returned with a very Russian-sounding arrangement of Bizet's Carmen by Rodion Shchedrin and a short piece called "Huapango" by Mexican composer José Pablo Moncayo. The Russian Carmen, which was written at the request of Shchedrin's wife, who was a prima ballerina of the Bolshoi Ballet, pleased the audience enormously. As in Daugherty's Fire & Blood, the work takes an outsider's sympathetic perspective on another culture and makes it into something new. In the hands of maestro Carlos Miguel Prieto, whose enthusiastic conducting style eschews the baton and involves exaggerated serpentine hand gestures and lots of body English, the work became a roiling memory-scape full of Spanish percussion and Russian pizzicato.