Arts & Entertainment
Opera Santa Barbara Presents The Marriage of Figaro
Mozart's Classic Comedy Comes to the Granada Theatre Starting Friday, March 23
On Friday and Sunday, March 23 and 25, Opera Santa Barbara offers the opportunity to step into the Granada and enter another world — perhaps the most amazing and perfect alternative universe ever created for the stage. The Marriage of Figaro is the only opera ever to remain continuously in production from the day of its premiere, and it contains some of Mozart's most impressive music, but — as is so often the case with great opera, and great Mozart — that's only half of it. Enacting W.A. Mozart's immortal ideal of a "crazy day," La nozze di Figaro pits the dirty old man, Count Almaviva, against both his wife and his servants in a game of wits that calls for endless improvisation. The extraordinary ingenuity on display throughout The Marriage of Figaro represents Mozart's most definitive embodiment of the romantic artist, a sovereign figure capable of calling the tune to which the aristocracy and the people must dance. The plot, derived from a French play that was considered highly subversive at the time, involves a complex game of mistaken identity, impersonation (including female impersonation), seduction, and betrayal that winds up with the emerging bourgeois character Figaro besting his aristocratic patron Almaviva in every conceivable way.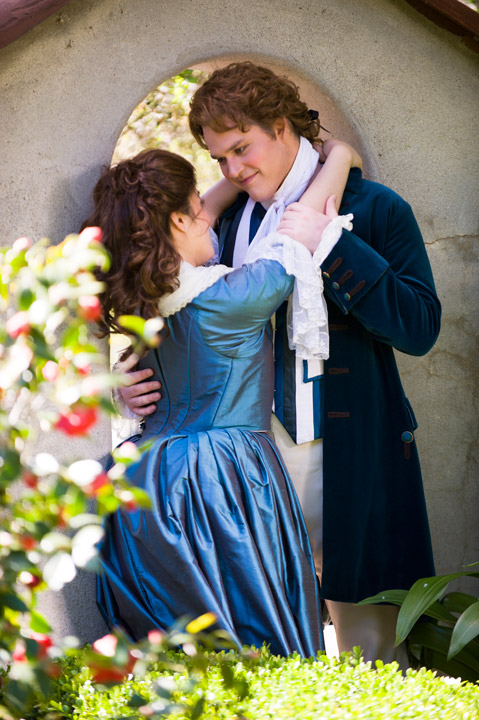 For this production, Opera Santa Barbara has recruited a seasoned director, Kelly Robinson, from his home at the Banff Centre to work with a cast that mixes established singers such as Canadian soprano Rhoslyn Jones (Countess Almaviva) with up-and-coming talents like Karen Vuong (Susanna), a Juilliard Artist Diploma Program student who won the Music Academy's prestigious Marilyn Horne Song Competition in 2011. Among the many dazzling effects that Mozart deploys in Figaro, Susanna's mimicry of the Countess's vocal manner nevertheless commands an unusual degree of attention, and it will be a joy to hear a vocal duel between these two giant voices in the great acoustics of the Granada.
When I spoke with director Kelly Robinson last week, he saluted the company for putting on what he termed an outstanding production of a very challenging work. "It's big and it's complex, not just musically, but also in the blocking of the great tutti scenes, when you have seven or eight characters on at once, all of them singing separate lines," he said. "But it is all worth it when you reach the end," he went on to say, "which is terrific, because these characters are distinct human beings; they are all trying to get what they want, and that is a great thing to watch." Asked about the way that Mozart's music integrates with the story, Robinson pointed out that The Marriage of Figaro is "one of the first times in opera that you see a kind of triumph of musicality over form, where the music doesn't feel stuck in some expected pattern."
Having directed the work half a dozen times, one might expect that Robinson would feel stuck, but he claims that his experience is just the opposite. "Each time it teaches you something," he said. "It's like directing one of the great classical plays in that way. For instance, in this round of rehearsals I have been thinking again about the complexity of the character of the Countess. The others are more straightforward in their needs, but her dilemma is quite complex. She confronts everything she was supposed to have, and it has gotten away from her. She has to use a servant to recover what is hers. It's an extraordinary thing."
Asked about this particular production's concept of the story's setting, Robinson laughed, saying, "It's not been reset in Morocco in a cigarette factory, if that's what you mean. In my view, this takes place in a traditional world that still responds to sensuality. I think of it as [the French painter Jean-Antoine] Watteau in Seville, expressing the fragility of the characters through their sensuous natures."
For those with an established appetite for opera, this wedding will likely be a feast. But for those who have never sat down to a proper Mozart opera, it could be something more — a first trip to a better musical-theater place than they have ever known. And, with tickets still available and starting as low $28, what's to lose?
4•1•1
Opera Santa Barbara presents The Marriage of Figaro at the Granada Theatre (1214 State St.) on Friday, March 23, at 7:30 p.m. and on Sunday, March 25, at 2:30 p.m. For tickets and information, call (805) 899-2222 or visit operasb.org.