Theater
Waiting for Godot Reviewed
The Wait for a Great Godot Is Over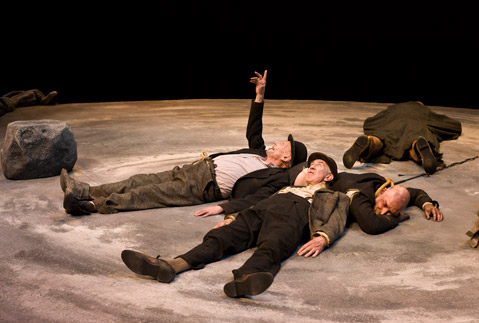 Waiting for Godot is in my select group of every-five-years plays—those profoundly ambiguous works worth seeing at least twice a decade since their meaning seems to change with the passage of time. We inevitably view classics through a series of prisms—current political and cultural debates, what's happening in our own lives, and, of course, the vision of the director—and the great ones reveal new depths with each refocus.
Samuel Beckett's 1953 masterpiece certainly fits into that category, and those of us in this area haven't had a chance to see it since the fine Rubicon Theatre production of 2004. So we're past due for a revisit, and the Mark Taper Forum has filled the need with a staging that is highly amusing, deeply chilling, and unquestionably authentic.
The play is, of course, about everything and nothing. Two tramps, lifelong friends who have grown into old men together, hang out at a clearing in the road. Vladimir (Barry McGovern) and Estragon (Alan Mandell) are expecting a visit from the title character, a man they believe will fulfill all their wishes and desires. So they hang around this no man's land, aimlessly chatting and passing the time until he arrives.
He doesn't make it, of course. But on two separate occasions, the hapless protagonists do entertain visitors: another pair of travelers, Pozzo (James Cromwell) and Lucky (Hugo Armstrong). Theirs is a master-slave relationship—Pozzo is in control, Lucky utterly subservient—and the cruel way Pozzo treats his servant makes the tramps uncomfortable. (Anger about the power of the "one percent" immediately springs to mind. See what I mean about the way topical controversies inform our reaction to a 60-year-old play?)
The central question Beckett obliquely poses is as basic as it comes: How do we organize, and make sense, out of our lives? Given the lack of concrete information over our purpose, if any, on earth (religious faith is a distant, confused memory for these characters), we fill our days with trivia, pass the time, and await further instructions.
It's a famously bleak image—the play is, on one level, a response to the carnage of World War II—but what struck me watching this production is that it's unfair to assert that Beckett fails to provide any way out of this dilemma. There's a huge hint in Act Two, when Pozzo falls and is unable to get up. As he repeatedly cries for help, Didi and Gogo bicker, procrastinate, ask what's in it for them—and only come to his assistance after establishing in their own minds that they might receive some benefit in return.
If they're looking for meaning in life, here it is: a chance to help another human being who is in desperate need. Ironically, Didi and Gogo are too focused on their own dilemma to reflexively engage in selfless behavior—which would, in fact, give their existence a concrete purpose.
Pozzo, at one point in the play, goes blind, but Beckett suggests blindness is the human condition. We focus so relentlessly on our own desires that we can't see the possibility of transcendence, even when it's right in front of us.
Michael Arabian's production hits just the right tone—the knife's edge between humor and pathos. More than in most productions, I sensed the physical pain the characters were in. But I also laughed more heartily than usual, especially at Mandell's physical humor. Watching him attempt to "hide" behind the scrawny tree that is the sum total of the scenery (apart from a beautifully ominous backdrop of a threatening sky) is priceless.
Both McGovern and Mandell worked closely with Beckett in past decades, but Mandell, at age 84, is taking on this iconic role for the first time. He beautifully conveys Gogo's childlike quality—the sense that, as an old person, our wishes revert back to what they were as an infant (food, sleep, comfort).
Indeed, the entire cast is nearly perfect. Cromwell, best known for his consistently fine work in film and television, is impressively commanding as Pozzo. Lucky's nonsensical monologue is beautifully delivered by Armstrong, whose cadences suggest he believes he's delivering a statement of profound importance.
Which, in a sense, he is: Beckett is reminding us that most of our attempts at profundity are little more than empty words. But occasionally, a genuinely poetic work such as this one breaks through the blather.
Waiting for Godot will be performed as long as theater exists. Here's a chance to see it performed by brilliant actors who absorbed its elusive essence through firsthand relationships with the playwright. As Beckett reminds us, we all have long lists of regrets; don't add to yours by missing this.
4•1•1
Waiting for Godot
Where: Mark Taper Forum, 135 North Grand Avenue, Los Angeles
When: Through April 22. 8 p.m., Tuesdays-Fridays; 2:30 and 8 p.m., Saturdays; 1 and 6:30 p.m. Sundays
Tickets: $20-$65
Tickets: (213) 628-2772 or www.centertheatregroup.org