Living
Eco-Outrigger Canoe
UCSB Student Creates Green Surfcraft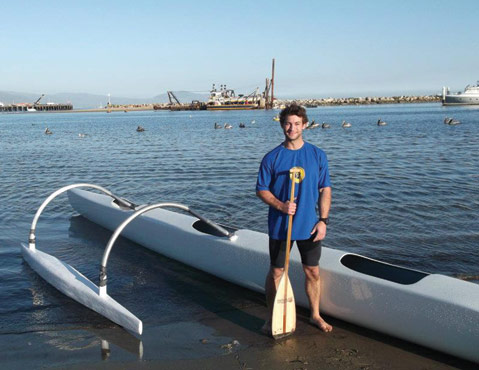 Todd Strand didn't graduate UCSB with just his mechanical engineering degree — he also left campus having created two "green" outrigger canoes. Strand sees these projects as his contribution to a revolution in environmentally conscious surfcraft that the industry is currently undergoing. "I focused on using materials with reduced petrochemical content, practicing sustainable business efforts and the possibility to achieve competitive performance," said Strand.
Strand aimed to use only sustainable and abundant materials in his construction. His V3 canoe is composed of plentiful, as well as locally available, Douglas fir wood. It's glued and laminated with a bio-epoxy resin, which is made of polymers derived from pulp mills and other industrial waste streams.
Strand attempted a similar design in the form of a one-person OC1 outrigger canoe as part of his summer 2010 internship with canoe builder Kamanu Composites in Hawai'i. The OC1 was made with hemp cloth, cork, balsa wood, and bio-epoxy resin.
He said that those on O'ahu who paddle his one-person canoe have repeatedly complimented him on how well it runs, despite the unconventionality of his materials in comparison to other canoes used for both racing and recreation. "Both of the canoes I built are as competitive, if not more so, than those built without renewable materials," said Strand. "The performance is just the frosting on the cake because this is subscribing to the future of design for all recreational and competitive surfcraft. It's a no-brainer that society is realizing the scarcity of resources and, in particular, those that are commonly used in surfboards, stand-up boards, and boats."
This green transformation in the watercraft industry has been encouraged by those who are purchasing the products. Though the use of greener materials may be paired with increased costs of production, Strand explained that many companies are nonetheless making strides to create more environmentally conscious products.
"The cool part is that the very people who are pushing for this change are the consumers themselves," said Strand. "People who enjoy surfing or paddling are impelled to use craft that is less harmful to ecosystems or less taxing on limited resources. They are motivated to preserve their surroundings and can express this tangibly by purchasing equipment that incorporates renewable materials in the construction."