Positively State Street
Easter Teeth, Hosannas, Nekrogoblikon Play Muddy Waters Café
Brotherly Love Gets Musical on April 1; Goblin Rock Returns March 29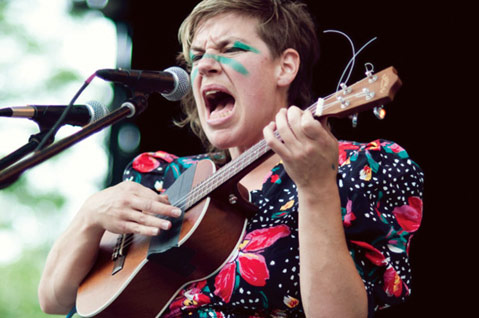 IT'S (ALMOST) GO TIME: If you're a live-music fan living in or around Southern California, you understand the joy that comes with the dawn of April. Every year for the past decade, the Coachella Valley Music and Arts Festival has brought a weekend's worth of top-notch bands and artists to the SoCal desert. For 2012, the annual anything-goes music party is stretching itself to a (very-sold-out) two-weekend affair (Apr. 13-15 and Apr. 20-22), not to mention courting some of the world's biggest rock, hip-hop, and indie acts (Radiohead, The Black Keys, The Shins, Dr. Dre with Snoop Dogg). More importantly, though, is what Coachella brings to us on the periphery. For the weeks before, after, and during the fests, myriad musicians will be cruising up, down, and around the Cali coastline, looking to play as many one-off shows as they can muster. For us Santa Barbarans, that means a sonic smorgasbord the likes of which even I can't quite wrap my head around.
Starting next Thursday, area venues large and small play host to everyone from Radiohead (Apr. 12, S.B. Bowl) and The Black Angels (Apr. 12, SOhO) to Florence and the Machine (Apr. 14, S.B. Bowl), M. Ward (Apr. 14, SOhO Restaurant & Music Club), and tUnE-yArDs (Apr. 15, SOhO). And after week one, the gifts just keep on giving, with Bon Iver headlining the Santa Barbara Bowl on Sunday, April 22; Neon Indian playing SOhO on Wednesday, April 18; Grouplove hitting the Lobero Theatre on Monday, April 16; and Nick Waterhouse making his Santa Barbara debut on Sunday, April 29, at SOhO. Christmas may come but one time each year, but an action-packed month like this comes along but once in a lifetime. For times, prices, and ticket information for all these shows — and all live-music events — visit independent.com/events.
IT'S A FAMILY AFFAIR: Before you get too far ahead of yourself, though, I encourage a pit stop at Muddy Waters Café (508 E. Haley St.) this Sunday, April 1. Starting at 8 p.m., S.B. bands Easter Teeth and Hesse team up with Portland noisemakers Hosannas for an April Fools' Day night well worth staying up late for. Born out of the ashes of S.B. math-rock outfit Springtime Is Wartime, Easter Teeth is made up of brothers and bandmates Tim and Josh Eymann. Armed with drums (Josh) and bass and keyboards (Tim), the band fuses their more syncopated, proggy roots with a heavy dose of soul. At the forefront, though, are the brothers' well-honed ears for punched-up rock 'n' roll, replete with guitar distortion and crashing drum and cymbal crescendos.
In a nice little variation on a theme, Hosannas' members (and brothers) Brandon and Richard Laws will headline the night with a handful of new (and newly reworked) songs from their forthcoming release. As anyone who's caught them live can attest, Hosannas put on a show that's equal parts hypnotizing and groove-worthy. Here, synths and drum pads intermingle with the brothers' lilting harmonies and pulsating beats, making for a tripped-out dance party that's heavy on the lyricism and heavier on the bass. For tickets and info, call 966-9328.
COMING HOME: And on Saturday, March 31, Muddy Waters plays host to Conducting from the Grave and S.B.-born, L.A.-dwelling metalheads Nekrogoblikon. Since joining forces back in 2006, Nekrogoblikon's six members have made quite the mark on the hard rock community, thanks to a combination of driving guitars, whip-fast drum work, and nuanced electro trickery. Oh, and they sing head-banging, hard-hitting odes to goblins. This is niche rock in the truest sense and an S.B. export we never saw coming. For more, visit nekrogoblikon.bandcamp.com. For show info and tickets, visit electricsex.ticketleap.com.