Arts & Entertainment
Enjoy the Trip
Surf Scribe Michael Kew's Self-Published First Book, Crossings
It would be easy to think that written words are becoming an endangered species—that is if they aren't on the list already wedged in there between the writhed hornbill and the wrybill. Between our flaming obsession with ever-shortening written correspondence and the ADD-inducing side effects of mobile technology, the chances of getting lost in a wide and wonderful world of words are trending toward nil it seems, especially for the youngsters. Luckily, however, Michael Kew isn't buying into the rumors. Quite the contrary, actually — he is making sure they never become a reality.
Earlier this year, Kew, who lives on a modest farm just up the canyon from Rincon, self-published his first book, a rollicking and adventurous collection of stories about his mostly far-flung surf-motivated travels called Crossings. As accomplished a surf scribe as you can find, Kew has repurposed the uncut versions of 35 true-life stories, many of which have been previously published in some form or another by surf mags around the world, into one volume that fits in the back pocket of your jeans. (Just don't expect to sit down should it spend any real amount of time in your back pocket, as the book, weighing in at a portly 467 pages, would definitely send you to the chiropractor in short order.)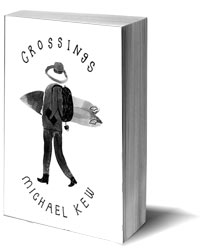 With Kew as your guide — a romantic sort of wordsmithing traveler à la Paul Theroux — you get to take the slow and rewarding road through 10 regions of the world: Polynesia, Scandinavia, the Gaels, the Indian Ocean, the Caribbean, Melanesia, Micronesia, Africa, Asia, and the Pacific Northwest. And while Kew, who reckons his whole wave-motivated wanderlust was seeded by Bruce Brown's film The Endless Summer, certainly writes from the vantage point of a person who gets a passport with the distinct purpose of scoring surf, the holy hunt for rollers is by no means the only thing in his field of vision. He is a constantly curious human with an ear hardwired for dialogue, a thirst for authentic native experiences (as well as native adult beverages), and a sneaky sense of humor. Putting all this together in one place with Crossings, and especially when enjoyed in the long form of the book, Kew effortlessly ditches the first half of that pesky "surf writer" label and shows his considerable worth as simply a writer — and a damn fine one at that.
Pick it up, and not only will you be stoked you did, but you also will be helping save the art of the written word.
4•1•1
Michael Kew will read from and sign copies of Crossings on Saturday, March 31, at 8 p.m. at Surfbeat Gallery (22 Anacapa St., #5 [in the Funk Zone]). For more info, visit peathead.blogspot.com.