Theater
Creditors
Strindberg's Dissection of Marriage Plays Through April 15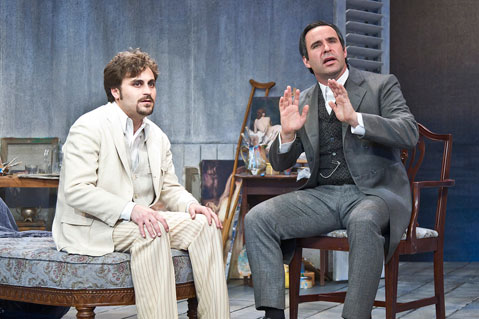 George Bernard Shaw once remarked how easy it is to shake a man's faith in himself, writing, "To take advantage of that to break a man's spirit is devil's work." In this sense, the current production of Ensemble Theatre Company is all about devil's work, and plenty of it. Swedish playwright August Strindberg's acerbic, psychologically tortuous classic Creditors (1889) is a relentless (no intermission) 90-minute carjacking of the mind, a joyride of dark comedy and perverse tragedy. A young painter named Adolf (Charles Pasternak) and his older wife, Tekla (Dee Ann Newkirk), are vacationing at a seaside hotel. An authoritative stranger named Gustav (Mitchell Thomas) has befriended the insecure and sickly Adolf while his wife is away, winning trust through his analysis of Adolf's health, art, and marriage. "Analysis" is the key word here, as Gustav is very skillful at dissection — vivisection, really — and lures the unguarded Adolf into revealing his vulnerabilities, only to slice them with a dizzying force that dismembers the younger man's world.
Structurally, the play takes the three characters and pairs them in a sequence of dialogues — one character is always offstage. Deceptions and distortions are spun behind the backs of each in turn (suggestively, this production begins with Gustav's back to the audience). Director Jonathan Fox has assembled a very capable cast for this demanding piece of theater. Pasternak embodies the anxious Adolf effectively; his tortured equivocations are by turns humorous and pathetic. As Gustav, Thomas summons, yet veils, a cool and vicious evil. And Newkirk portrays the conflicted Tekla transparently, showing how her influence and independence are the precarious products of a now waning sexual allure. This production owes much to David Grieg's crisp and updated (2008) English adaptation of the play, as well as to a smart set with skylights that subtly transmit the shifting light of day.
Strindberg's adherence to naturalism puts life above formula, emotion before idea. Although there are plenty of warring ideas here — free will versus determinism, scholarship versus art, power versus love — they only surface randomly in the rolling waves of raw emotion. Creditors is a kind of laboratory for a wholly predatory view of human relations where all interaction is transaction, emotional debts are never forgiven, and interest rates are exorbitant.