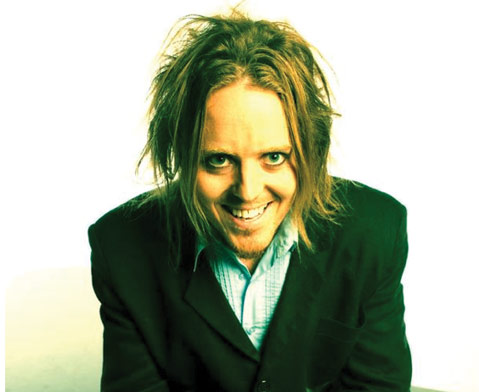 It's rare that a performer with Tim Minchin's level of popularity is able to fly into Santa Barbara under the cultural radar, but that's exactly what's happening with his upcoming appearance at the Lobero Theatre on Wednesday night. "It's not one of the places I ever expected to play," said Minchin of our city when I spoke with him by phone last week. "I've been appearing with an orchestra in front of thousands of people in the U.K. and Australia for the past couple of years, so coming to a more intimate room with just a piano to do my cabaret act is like going back in time," he said. "But I've been missing it, so this is great." Minchin got his start in Australian musical theater, and while his piano and vocal style may remind one of a beatnik Elton John, his fashion sense and penchant for wearing heavy eyeliner put him firmly in the camp of Russell Brand and Eddie Izzard. But what separates Minchin from his comedic and his musical peers is something that's also the secret to his cult-like following, which is actually quite strong, even here in the United States.
"I call them my 'worldview' fans, because they are coming to hear me articulate some of their deepest feelings," Minchin said, referring to the outspoken atheism that he shares with many of his followers and that animates much of his work. "I'm in Washington, D.C., right now for the Reason Rally, which is the world's largest gathering of committed nonbelievers, and, like, a lot of the other speakers and artists gathered for this event, I'm known for saying things that people ordinarily don't say," said Minchin. He's referring to such satirical numbers as "Woody Allen Jesus," "The Good Book," and "Peace Anthem for Palestine," as well as his popular animated video "Storm," in which he takes on a New Age enthusiast at a dinner party for holding unexamined and contradictory ideas about the supernatural. He's irreverent, he's amusing, but most of all, Minchin is on a mission: smash the soft shibboleths of commercialized spirituality. "I'm up here for all the card-carrying weirdos," said Minchin, "for the biology teachers in Kentucky, and for anyone else who has the guts to stand up and say, 'Your faith is wrong.'"
Tim Minchin performs at the Lobero Theatre (33 E. Canon Perdido St.) on Wednesday, April 11, at 8 p.m. Call (805) 963-0761 or visit lobero.com for tickets.