Dance
Monica Bill Barnes at Center Stage Theater
N.Y.C.-Based Company Performed Suddenly Summer Somewhere on Thursday, April 5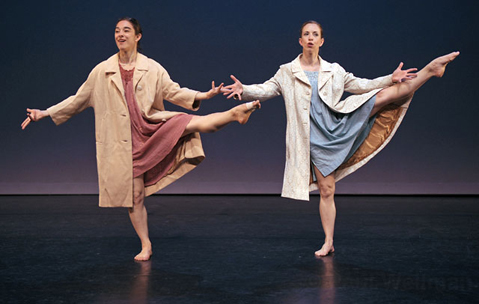 Santa Barbara's Contemporary Arts Forum (CAF) has long been known as a hub for cutting-edge visual art. With Forum Lounge, the free, monthly performance art series curated by Heather Jeno Silva, CAF is also bringing some of the nation's most interesting and genre-bending live art makers to town. The latest in the series was Monica Bill Barnes & Company, a New York City-based contemporary dance group whose work challenges easy categorization. Barnes is something of a sensation in the New York dance world, known for creating unpredictable, highly theatrical works that always seem to find both the humor and the pathos in their subjects. For her Forum Lounge appearance, Barnes brought Suddenly Summer Somewhere, a 25-minute work for two dancers set to the music of the Rat Pack.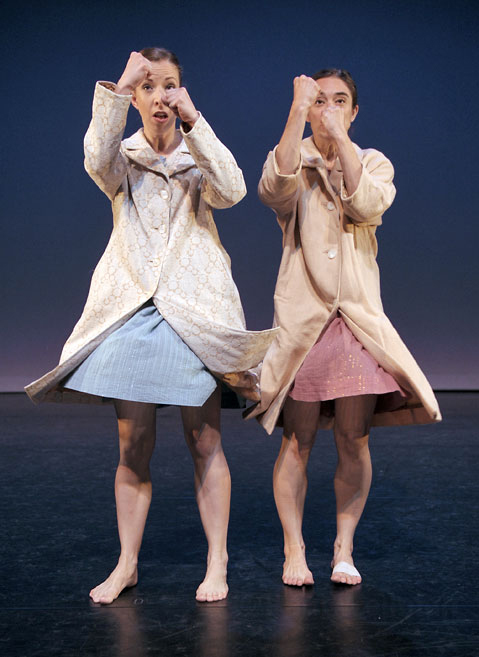 A lot happens in the first half of this work, but nothing you could call a dance step. Two women stand uncomfortably close atop a table set with mismatched plastic dinnerware. They're barefoot, they wear shapeless housedresses, and they're having trouble seeing eye to eye. They edge forward and back in an awkward, constrained shuffle, avoiding each other's gazes, knocking into plates and cups to the sound of distant traffic. One woman nearly slips off the edge; the other pulls her back up by the skin of her cheek. There's a riveting tension in their dance — if you can call it that — and it hardly matters whether what we're seeing is a family feud or a lovers' quarrel, whether these women are metaphors for some larger conflict, or whether they represent women at all.
They do reach the floor eventually, but instead of dancing "to" the music, Barnes and her partner, Anna Bass, seem to offer a foil for it. "You're nobody 'til somebody loves you," a male voice croons, and Barnes writhes across the stage like a fish on a hook, mouth gaping, legs akimbo. Moments later she's standing shoulder to shoulder with Bass, boxing with an invisible opponent and, from the look of things, losing.
Like the Rat Pack singers whose voices suffuse the work, Barnes and Bass know how to work the crowd for laughs. They wink and grimace; they shift from bellicose to coy to comical. Then they catch us off guard with a moment of tenderness — as in the final, achingly slow descent to the floor — and we're helpless against the wash of feeling they've elicited.
The musical tracks for this work are all live recordings, so amplified audience applause is a recurring component. It serves as a reminder that all this has happened before and will happen again; our role is simply to witness it in the moment.