Visual Arts
Alice Hutchins at Jane Deering Gallery
Magnet Art from a Fluxus Pioneer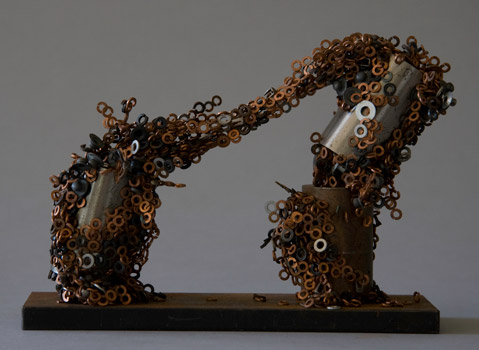 FLUX STAR: As the years pass, the "Eureka!" moment experienced by Alice Hutchins while browsing the crowded aisles of Manhattan's Canal Street junk shops gains in stature. A recent arrival to New York City, Hutchins was a young artist who was already well-versed in the emergent sensibility of radical experimentalism hatching in her former home of Paris. In 1967, just months after coming into contact with George Maciunas and the other John Cage-influenced artists of Fluxus, Hutchins was cruising New York's junkiest street, looking for small objects with which to create her Dada-influenced jewelry when she happened on a bin of powerful Alnico magnets. On their own, these magnetic alloy rings, chains, ball bearings, and plates made strong visual statements, recalling the industrial-looking sculptural innovations of such artists as David Smith and Anthony Caro. But taken together and assembled in geometric compositions that could be rearranged in a multitude of different ways, these fascinating amalgams of object and force field became at once Hutchins's aesthetic signature and her conceptual métier.
With the power vested in her by magnetic fields, Hutchins exploded the notion that a finished sculpture required submission to a single physical outcome. Whether it's the nestled links of a tiny chain attached by magnetic force to the face of a woman's ring, or the magnetism that holds two large steel cylinders in an irregular vertical stack against the background of a large ferrite magnet, Hutchins's assemblages invite reassembly and reassessment. As Hutchins put it in her central mission statement, "Multiple choice with freedom to change is central to my life."
At Jane Deering Gallery (128 E. Canon Perdido St.) this month (through Apr. 29), 19 of Hutchins's works are on display in an exhibition called, appropriately enough, magnetic force. In addition to such iconic magnet works as "Group 1 Model K" (1968) and "Stand Up" (2008), the show also offers some examples of Hutchins the abstract painter, like the gorgeous, Rothko-esque "Untitled (orange)" from some time around 1966. Hutchins, who was raised in Chico, California, moved to Santa Barbara in 1991 and lived here until her death in 2009. She's one of the most important artists to have called Santa Barbara home in this century, and her work commands sustained attention in a way that compares favorably with the best of Fluxus and other conceptual/intermedia work of the 1960s and 1970s.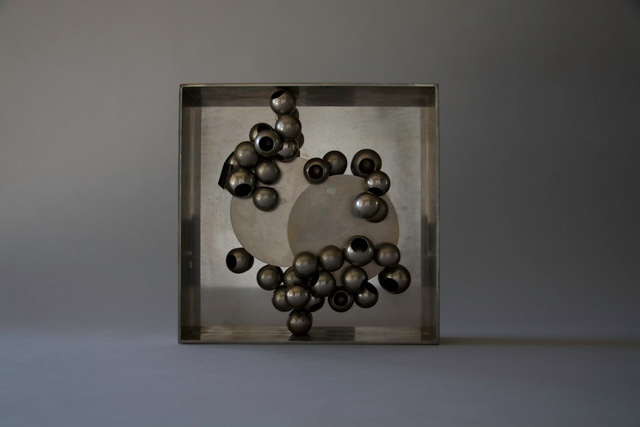 To put this show into the context of the grand Pacific Standard Time initiative that is just now coming to a close in Los Angeles, Hutchins could easily have earned a substantial place in any prehistory of Under the Big Black Sun, the Museum of Contemporary Art in Los Angeles' massive survey of experimental California art of the 1970s. Looking at something like Hutchins's "A Flux Box (Circuit Box Series 5/6)" (1973), one experiences anew the shock that greeted viewers when the "ready-made" methods of Marcel Duchamp began to proliferate contemporary art in the late '60s and early '70s. In other words, this is a great show, partly beautiful and partly provocative, filled with the vivid ideas of a woman who did not accept traditional definitions of the relations among artist, object, and audience.
DROP THE ROCK: Unfortunately the recent exhibition at the Channing Peake Gallery, Threshold, which featured the underwater and water surface–based photography of Michele Simonsen and Tim Webb, passed too quickly, having closed on April 13. But memories of these dramatic large-format portraits of people, often in balletic poses, and in many instances entirely underwater, linger, their effacement delayed as though, like the figures they depict, they were sunk in the mind by holding a large rock. And although the Threshold exhibit has dropped the rock that kept it in the Channing Peake Gallery, we look forward to the next time that Simonsen and Webb, who teach art at Alan Hancock College, take the plunge with their work in a Santa Barbara gallery.