There's an undeniably familial quality to Santa Barbara's music scene. Small enough to feel tight-knit, yet large enough to be called thriving, it's a community that looks after its own, welcomes newcomers, and, when necessary, goes the extra mile for the sake of its loved ones.
Case in point: SOhO Restaurant & Music Club, S.B.'s lone seven-nights-a-week live-music venue. Owned and operated by husband and wife Gail and Bob Hansen, the club plays host to all walks of music makers, employs arguably one of the sweetest staffs in town, and welcomes Santa Barbara's youngest and oldest music makers with equally open arms. As such, when the music scene suffers a blow, SOhO is often the first place folks turn to. In 2010, when beloved S.B. guitarist Pat Milliken passed away, SOhO is where friends gathered in musical remembrance, happy to share the stage that, to them, felt like home. So when word got out that Gail and Bob had been dealt an especially dire hand, it wasn't long before their second family had gathered around in support.
Late last year, the Hansen's youngest son, Zack, stepped into a doctor's office with complaints of hip pain. A few days and an arsenal of tests later, then-21-year-old Zack was diagnosed with acute myelogenous leukemia, a rare strain of cancer that begins in the bone marrow before infecting the blood cells. In a blink, Zack was admitted to Alta Bates Summit Medical Center to begin treatments. After an initial 34-day stay, Zack was released, but continued an aggressive combination of chemotherapy treatments stretched over seven months.
A healthy and successful student at UC Berkeley, Zack seemed like the least likely candidate for such a diagnosis, a sentiment his mother impressed upon me multiple times when we chatted in SOhO's office space last week. "You just don't think about your kid getting cancer when he's 21 years old," she said. "To have to face your mortality when you're that age — it's just not fair." Luckily, Zack's health and youth only helped in the healing process. After an initial stint in the hospital, Zack returned to his frat house and to school, and this May, he'll receive his bachelor's degree in architecture with a hopeful prognosis — complete cellular remission.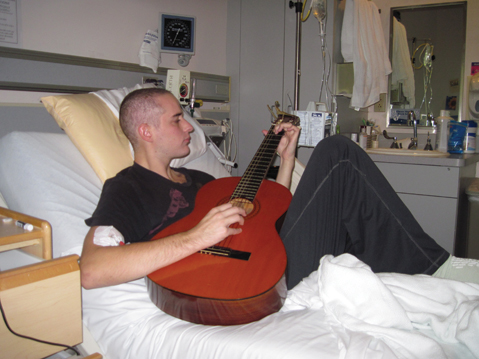 Currently, Zack is gearing up for his last month of school and taking solace in the slow road to recovery, which still includes a sizable round of oral chemotherapy drugs. He's also staring down a stack of medical bills that has amassed since his UC insurance ran out earlier this year. "He was in the hospital when they called and told us he was no longer insured," Gail recalled wryly. Faced with a mountainous amount of debt and a lengthy list of people who were eager to help, Gail and Zack quickly decided to turn back to the place — and the people — they call home. This Thursday, SOhO will play host to a sizable bill of Santa Barbara's musical elite, with all of the proceeds going toward Zack's medical expenses.
"I've been playing at SOhO for probably 15 years or so," recalled Glen Phillips, who'll take to the stage on Thursday alongside Alan Parsons, The Kinsella Brothers, members of Gardens & Villa, and many more. "They're good people, and they've always been just solid as a family, solid as human beings," Phillips continued. "It just seems ludicrous, as young as he is, that something like this is even possible. The fact that he beat the cancer and they aren't going to cover his remission drugs, it's insane."
While it goes without saying that music plays a large role in the Hansen family, it also stands to mention that the upcoming benefit will feature a performance from its main beneficiary. Since picking up the guitar at age 13, Zack's played music almost every day. On Thursday, he'll be joined onstage by his uncle and longtime guitar teacher, Dan Zimmerman.
"When I was in the hospital, I had basically all of my stuff with me, including my guitar, which was really nice and kept me busy," Zack said. "I had my family and friends with me throughout the whole thing, but those times when I wasn't with someone, I was either playing or on my iPad." Most fittingly, when I spoke to Zack last week, he was en route to Indio and gearing up for his first trip to the Coachella Valley Music & Arts Festival. "I really like Radiohead," he enthused from the passenger seat, "but there's so much stuff that I've been listening to for a long time. I really like Pink Floyd; I like Muse, Stone Temple Pilots, Led Zeppelin, stuff like that."
Back home, as the troops rally to put the finishing touches on SOhO's most personal show to date, Gail can't help but get a little teary-eyed at the prospect. "I'm just happy I have a place that can do this for other people and, now, for my own child," she gushed. "It's nice to be able to have that kind of community support. Zack and I, we're both so overwhelmed at just how amazing people are; there's just been so much love and so much support."
Overwhelming? Yes. But surprising? Hardly. Because family sticks together, and SOhO's clan is about as strong as they come.
4•1•1
Alan Parsons, Glen Phillips, The Kinsella Brothers, Crosby and Bella Loggins, Chris and Adam from Gardens & Villa, Dan Zimmerman, Zack and Rob Hansen, Dave Fortson and Eric Cardenas, and DJ Skywalker will play a benefit concert for Zack Hansen Thursday, April 19, at SOhO Restaurant & Music Club (1221 State St.) at 5:30 p.m. Call (805) 962-7776 or visit sohosb.com for tickets and info.