Arts & Entertainment
Charles Lloyd New Quartet at the Lobero
Charles Lloyd Appears with Singer Maria Farantouri
"I believe in truth and love," affirmed Charles Lloyd in some free-form remarks during his concert at the Lobero on Wednesday, April 18 — "this other stuff is not permanent." It was a sentiment that brought the ruins of the Acropolis, close to which Lloyd recorded his Athens Concert of 2010 (ECM 2011), poignantly to mind. Even as he enters his 75th year, sax elder statesman Lloyd grows ever younger artistically. Wednesday's program marked the North American premiere of the Athens material, and it was rich in imagination and showed a kind of inspiration that knows nothing of age or borders. Ten years ago, when Lloyd first heard his guest artist, the renowned Greek vocalist Maria Farantouri, her voice stirred memories of Billie Holiday, and Lloyd initiated their musical friendship. "She's the real deal," he declared. The resulting musical suites are tapestries of Greek culture, drawing on ancient and modern song and verse. And, as with the blues, their themes tilt toward longing and sorrow.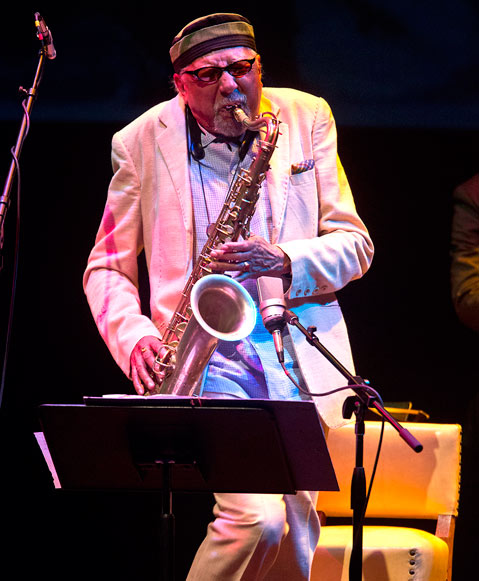 Elastic tempos gave an incantatory aura to the opening number, the Byzantine "Hymn to the Holy Trinity," as well as to the "Lament from Epirus Region." Lloyd's rhythm section navigated both the amorphous and the defined easily, and the players clearly enjoy the unity they've forged over four years together. Pianist Jason Moran, a 2010 MacArthur Fellow, exercised great restraint in several solos, engaging in subtle rhythmic contests with drummer Eric Harland and bassist Reuben Rogers.
Farantouri exited the stage mid-concert, only to return two songs later, thus giving the quartet time to stretch out on a couple of instrumentals. "Dream Weaver," although based on a simple Bourbon Street–style tune, wandered into adventurous territory. The melody from the Beach Boys' "Caroline, No" was all sweet heartache in the voice of Lloyd's horn. Songs of the second half were further Hellenized by lyre player Sokratis Sinopoulos. His lap fiddle ranged from tear-pulling laments to goading rhythmic drive. But ultimate honors go to the saxophone yogi himself, who, in his easy but exacting presence and his mastery of the jazz vocabulary, is a dream weaver who forges lasting collaborations and leaves lasting impressions.