News
Tempest in a Trash Can
Whole Foods Shifts to Corporate Recycling Service, Finds Old Trader Joe's Food in Dumpsters
After Santa Barbara city officials and MarBorg waste haulers discovered that the recycling dumpster stationed at Whole Foods had recently been filled more than once with food scraps and other contaminating trash, they removed the dumpster not as punishment but to allow the environmentally minded grocery store to recalibrate its compliance with local recycling rules.
Instead, corporate spokesperson Hilary Maler said, "Whole Foods Market made a business decision to have all of our recycling for Santa Barbara go through our distribution center in Los Angeles where we collect the rest of our Southern California stores' recycling." It will be taken to Community Recycling, she said, a longtime Whole Foods business partner that also handles its compost. MarBorg Industries picks up comingled recycling from all but a few S.B. commercial businesses, then trucks it to Gold Coast Recycling in Ventura for processing.
Two Whole Foods employees, who spoke to The Santa Barbara Independent but declined to give their names, said they and other workers are unhappy with the move away from MarBorg, explaining management could have done more to ensure waste transport and handling stayed in the area. Whole Foods, headquartered in Austin, Texas, runs 29 stores in Southern California, 67 in the state, and over 400 locations nationwide.
Brian Borgatello, manager of MarBorg's recycling division, said that one of his drivers in February reported a large amount of trash and contaminants in the recycling dumpster at the S.B. market. Borgatello said a MarBorg route supervisor spoke to the store manager, who complained he simply wasn't able to keep food out of the dumpster — which ruins the items in it that can be recycled — and therefore chose to give up the recycling bin for an additional trash dumpster. Borgatello explained that, despite what the manager claimed, it was clear the food was left over from the market's retail space, hot cases, and salad bar, and didn't come from customers.
In late March, Borgatello went on, Whole Foods reordered the recycling dumpster. MarBorg assumed the store had ironed out its operational wrinkles, but when he picked up the bin the next day, the driver again found a large volume of contaminants mixed with recyclables. Borgatello himself, accompanied by a representative with the city's Environmental Services Division, spoke with the Whole Foods manager in person, explaining what items are and are not allowed in the dumpster, and offering to retrain the store's staff on proper disposal methods. They also gave the manager a stack of brochures to give his employees. The manager, though, appeared resistant to the help, said Borgatello.
"It's too bad they don't want to do the right thing and recycle properly," said Borgatello. "We tried to help them get on track, but you know what they say: 'You can lead a horse to water, but you can't make it drink.' Hopefully we can get them back on board eventually." When it became clear the issue wasn't going to be solved anytime soon, however, MarBorg again removed its recycling bin from the market in early April.
Matt Fore, head of Santa Barbara's Environmental Services Division, stressed that the decision to pull the bin wasn't a punitive move, but is more of a chance to let Whole Foods "reset its clock" and figure out how to best handle its recycling. It's not uncommon, he said, for large corporations to have such problems with their individual stores.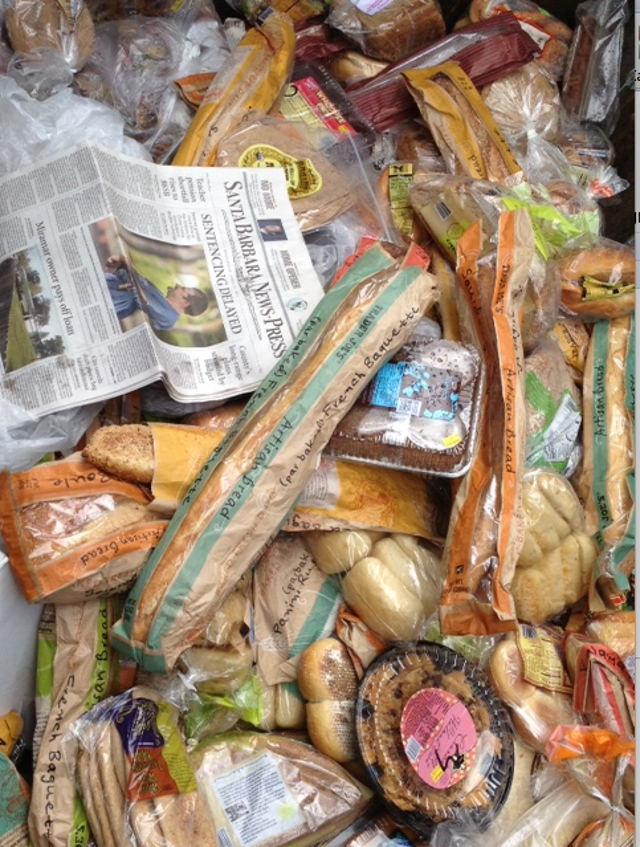 Whole Foods spokesperson Hilary Maler — rather than speak on the recycling rigmarole — said that during routine check at the S.B. location on April 10, store reps found eight plastic bags in their trash cans filled with Trader Joe's product. "Mystified, we called the local Trader Joe's and talked to the manager to see if they knew anything about this," Maler said in an email. "They did not. What we did discover in our conversation is that we both have common vendors. We are contacting the corporate offices of those vendors to see if perhaps somehow that product being picked up from Trader Joe's for spoilage and/or donation is where the problem is occurring. We want you to know," she went on, "that we are working together with Trader Joe's to resolve this problem but think this may have been going on for quite awhile."
Haler said MarBorg has offered Whole Foods locking trash dumpsters. A Trader Joe's manager at the De la Vina location said he wasn't unaware of the situation, referring questions to corporate, which didn't respond to requests for comment.