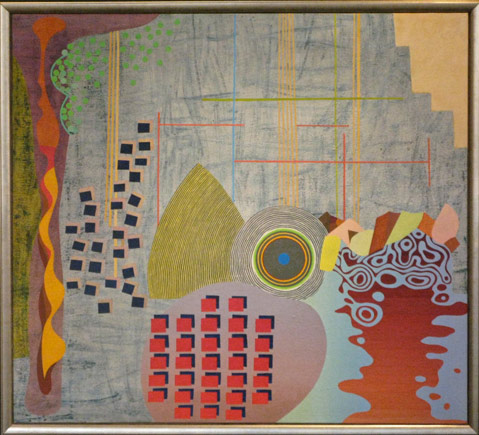 LAUGHING LEGENDS: Local Legends is the tongue-in-cheek title of an excellent group show on view at Art From Scrap (302 E. Cota St.) through June 15. The talented assemblage artist Mary Price, who clearly knows her way around the upstairs gallery space at AFS, has done an outstanding job of integrating 65 works by Neal Crosbie, Brad Nack, Bill O'Malley (née McVicar), Ron Robertson, and Barry Spacks into a coherent and engaging totality. Seeing this quantity of work by these five artists curated into a real visual dialogue is the gallery-going equivalent of stepping into a lively house party. The atmosphere brings out the laughing trickster in all these artists, none more so than the multidimensional, multimedia Buddhist artist Crosbie. His coyote-man series, which has appeared as a feature in the Zen magazine Tricycle, is here represented in several media, including wonderful comic-strip–style Zen poems on paper such as "Coyotes Are Interested." Crosbie is also showing some more imposing works like "Others Tell the Story Differently But It Comes Out the Same" that are painted on found surfaces of metal and slate, and even a few very large, white-dominated abstract paintings on canvas. The cumulative effect puts one in mind of Jean-Michel Basquiat — maybe this is something like what he would have done if he had become a happily married Buddhist living in Santa Barbara.
Nack carries on his lifelong love affair with the human form as reflected in images of animals with a dozen small drawings and two really impressive larger paintings. The energetic vertical strokes of color that give "Three Apes with Green Background" its flavor make a perfect counterbalance to the humorous "bro-ishness" of the figures, who are clearly stand-ins for their evolutionary cousins Homo sapiens. O'Malley paints extremely well in the idiom of (a much taller) Ed Ruscha. His clever, sharp-minded diptych "Our Heads Maybe, Our Hearts Never (Tools of De-colonization)" would have been at home among the best works in any number of the recently concluded Pacific Standard Time exhibitions — it's that strong.
Spacks is better known as a poet, but his talents as an artist are also estimable, particularly when he picks up the scissors and glue and lets his imagination run wild, collaging on and with his own appropriately literate drawings.
Robertson remains one of the most powerful artists working in Santa Barbara in any medium. His assemblage work manages to achieve an instantly recognizable signature style while making no compromises with predictability. The patinas Robertson painstakingly applies to the surfaces of pieces like "Eye of the Storm" contribute to the impressive overall effect of inscrutable mystery that surrounds his work.
LIGHT MEETS DARK: Meanwhile, a few blocks away at MichaelKate Interiors through June 18, Richard Phipps, Tara Patrick, Karin Aggeler, and Gary Paul are in an equally interesting group show that was curated by artist Brad Nack. Phipps borrows elements of a sculptor or a designer's process and uses them to create beautiful, complex paintings that skirt the edges of surrealism and hard geometric abstraction. Everything works in these images, from the bold and unpredictable palette to the scale and exploitation of figure/ground effects. Like all the works in this show, these are paintings that reward sustained, focused attention. Aggeler mines a more traditional abstract expressionist approach for wonderfully delicate atmospheric effects, and Paul pushes at the limits of impressionism with a technique that's awash in fascinating forms of visual feedback. Patrick throws some deep shade on this scene with several idiosyncratic variations on the human figure.