Film & TV
Monsieur Lazhar
Mohamed Fellag, Sophie Nélisse, and Émilien Néron star in a film written and directed by Philippe Falardeau.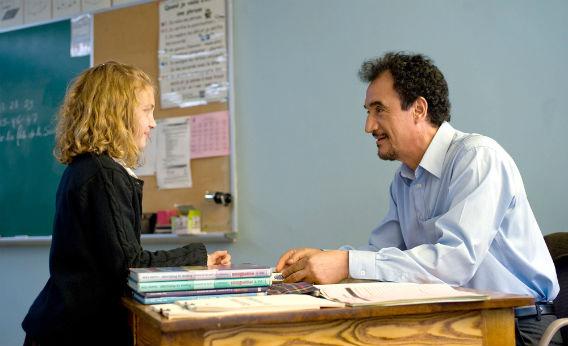 Deceptively simple, Monsieur Lazhar manages to brush against Academy Award buzzkill obsessions like trauma and colonial subjugation, yet miraculously emerge as a touching little film. Opening on a snowy Montreal school ground, we meet a cast of winsome children who might've wandered out of Truffaut's Small Change. As the camera winds around, we settle on a young boy peering through the door of his locked classroom to see his teacher hung from the rafters. Enter our eponymous hero, an Algerian, Lazhar, who somewhat suspiciously shows up offering to work any hours (even overtime!) to fill the position left by the dead (and greatly loved) former teacher.
But the film's real mysteries emerge from the characters and their world, and not necessarily in the tricky machinations of the plot. We see Lazhar, whose fragile emotional state demands our sympathies, thump a kid on the head and later calmly deny it. The kids, like children everywhere, are alternately vicious and merciful. Even more interesting, though, are the forces that take shape. At one point Lazhar becomes suddenly redemptive and a moment later is thrown on a heap, his own deceptions undone.
Director Philippe Felardeau, whose It's Not Me, I Swear was a highlight of the S.B. Film Fest a few year's back, has the deft plotting hand of a novelist and a poignant eye for telling details; the grammar school seem as airy and complex as anything Jacques Tati shot. It's a short film that exudes an austere grace, and will play out in your mind hours after Lazhar's last class gets dismissed.