Arts & Entertainment
CANCELED: Up Close with John Cusack
Actor Takes Fans Behind the Scenes for UCSB Lecture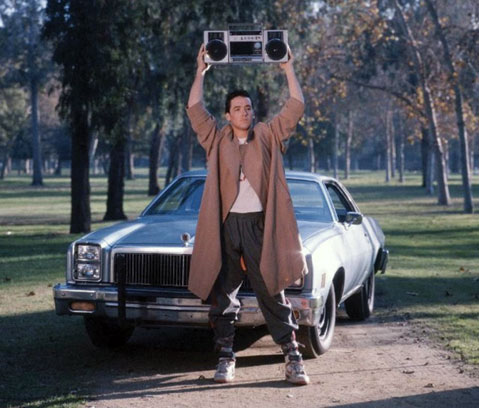 Much like his breakthrough role, John Cusack has proved himself to be an unlikely idol. As Lloyd Dobler, the sweet and simple star of 1989's Say Anything …, Cusack embodied the nice guy next door but did so with the grace and humility of a real leading man. Now, some 23 years and nearly 50 acting roles later, Cusack can easily be considered one of the greater character actors of our time. In the years since Lloyd stole the hearts of teenage girls across the country, Cusack has gone on to play a hit man with a heart of gold (Grosse Pointe Blank), a hapless record store owner (High Fidelity), a reclusive puppeteer (Being John Malkovich), and bad-ass U.S. marshall (Con Air). Today, he can be seen on the big screen portraying Edgar Allan Poe in James McTeigue's newest thriller, The Raven. This Wednesday, Cusack takes to the stage at UCSB's Campbell Hall for an evening of storytelling and behind-the-scenes talk with entertainment writer Leonard Maltin.
Born and raised in Chicago, Cusack comes from a long line of thespians; brother Bill and sisters Ann, Joan, and Susie all have acting credits to their name, and father Dick was a documentary filmmaker and producer. Similarly, John has remained personally and professionally close to a tight-knit crew over the years, appearing alongside sister Joan and BFF Jeremy Piven in a lengthy list of films and projects. He's also crafted a résumé that's as diverse and character-driven as they come; he's as well-known as a rom-com lead as he is for his dark comedy roles, and he's spent a fair share of time in the writer and producer's chair.
"I do have scenes [that I helped write], in Say Anything, Grosse Pointe Blank, and High Fidelity, that I remember as being some pretty cool moments," Cusack recently told Vanity Fair. "Like writing a monologue for Sir Ben Kingsley to shoot in a garbage truck in Bulgaria for War, Inc. — I realized then how special that was. Or I'm doing a scene with Paul Newman. Or I'm working with Al Pacino. Or how did I get to write comedy for Dan Aykroyd [in Grosse Pointe Blank]? Those are the moments that I look back on and think, 'God, you are so lucky.'"
John Cusack speaks at Campbell Hall on Wednesday, May 16, at 8 p.m. For tickets and information, call 893-3535 or visit artsandlectures.sa.ucsb.edu.