News
She's on a Mission Mission
Stephanie Dodaro Stops in Santa Barbara on Her Historic Trek from Sonoma County to San Diego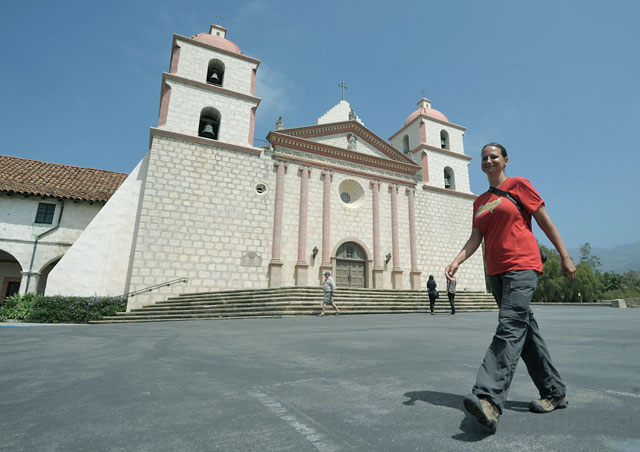 As far as anyone knows, Stephanie Dodaro is only the third person in modern history to walk down the State of California and visit each of the state's 21 historic missions, the colonial complexes built from Sonoma County in the north to San Diego in the south by Spanish soldiers and missionaries as well as Native American laborers in the late 1700s and early 1800s. On Friday night, Dodaro's 55-day, 800-mile trek — which began on April 11 and is expected to end on June 6 — hit Mission Santa Barbara and, on Saturday morning, the cheery 38-year-old from San Francisco was officially welcomed by Mayor Helene Schneider and about a dozen other supporters.
"It's been an amazing thing," reported Dodaro, who's been staying in a mix of hotels, campgrounds, and friends' houses, and had already walked a couple of miles of State Street earlier in the morning. "You get to see all the parts of California: the good, the bad, the ugly."
Though raised Catholic, Dodaro's mission mission isn't really a religious pilgrimage — indeed, far from glorifying the system, she is trying to draw attention to both the good and the bad of California's Spanish roots, explaining, "There's a lot more to history than what we've been taught." But there is a somewhat psycho-spiritual bent to her quest. After years of working in the corporate world, Dodaro explained, "I kind of lost my focus." In March 2011, she walked about 300 miles of the Camino de Santiago, the centuries-old pilgrimage route through northwestern Spain (which, coincidentally, travels through the birthplace of Santa Barbara pioneer José de la Guerra). That trip helped restore Dodaro, who said, "It really does reset your mind." Since then, she'd started walking the missions of the Bay Area and decided that this was the year to do them all.
Most of the people welcoming Dodaro on Saturday were also veterans of the Camino de Santiago, which was recently put on the big screen in the Emilio Estevez-directed, Martin Sheen-starring film The Way. The leader of the welcoming committee was Camino aficionado John Harrison. "I left a knee there," he said of his experience on the Spanish trail, nodding to the cane in his hand. "But I'll never regret it. I would have left both knees and a hip."
Beyond the camaraderie and personal rebirth fostered by walking for weeks on end, the Camino de Santiago and "Camino de California" also offer one-of-a-kind experiences for trekking tourists. One night near Fort Hunter Liggett, Dodaro was kept up by a raging party of Armenian hunters who sang and shot guns late into the morning, and another day, she found herself in the middle of a manhunt, apparently for some bank robbers out of Greenfield. She's had pesticides blown in her face, had to bum water off of strangers when dehydrated, and met all sorts of people along the way.
"It's a very top-line anthropological survey," explained Dodaro. However, she also admitted, "Some of it's not all that wonderful to walk on."
When done, Dodaro will be creating a free guide to the route, and she hopes that, in the future, more folks will begin to explore California in this manner. Follow her quest at walkingthemissions.com.