Feral cats are typically born in the wild and live with relatively little human contact. They struggle to survive and are often too wild to be handled. Feral cats can rarely become house cats unless they are socialized and fostered at a very young age. These cats usually live in groups, known as colonies, and feed on rodents and garbage while breeding uncontrollably.
The American Society for the Prevention of Cruelty to Animals states that there are estimated to be tens of millions of feral cats living in the United States alone, and, unfortunately, the majority of them are not spayed or neutered. According to Alley Cat Allies, 80 percent of the 82 million owned cats in our country are spayed and neutered, while fewer than 3 percent of feral cats are spayed or neutered. Since feral cats tend to mate and reproduce in warmer weather, millions of kittens will be born over the next few months and taken to animal shelters across the country. Unfortunately, few of these kittens find adoptive homes. Many, if not most, are killed in shelters. A better alternative to the "catch and kill" method is a program called Trap-Neuter-Return.
Trap-Neuter-Return (TNR) is a nonlethal strategy to reduce the number of feral cats and improve the quality of life for cats, birds, wildlife, and people. The TNR program involves live trapping the feral cats one by one, having them spayed or neutered, monitoring the cats for a day or two, and then releasing them back into their colony. The veterinarian will also vaccinate and "ear tip" the cat during this process. Ear tipping involves snipping a small part of the ear when the cat is unconscious. This procedure is performed so that when the caregiver continues to trap feral cats, the person will know immediately if the cat has already been spayed or neutered.
Research shows that TNR programs really work. With this program, fewer kittens are born, resulting in a decrease in the number of animals; bothersome behaviors associated with breeding (fighting, roaming, spraying, crying, etc.) are minimized. Those who argue that feral cats should be removed, relocated, or euthanized don't realize that feral cats from surrounding colonies may move in to take advantage of the newly available resources. The cycle of reproduction begins all over again. And the population will continue to increase until the level that can be supported by the available food and shelter is reached.
With all the feral cats in Santa Barbara County, Animal Shelter Assistance Program (ASAP) is in desperate need of placement for cats arriving at the County Animal Shelter who are not suitable for adoption into a household environment. Though these cats usually prefer minimal human contact, they are used to outdoor life and often make great hunters. If you are able to participate as a caregiver for a feral cat, ASAP will provide a healthy, sterilized, and vaccinated cat in need of a new outdoor home, plus relocation support and training. You would provide a shelter in a suitable barn, garage, or outbuilding and protection from predators, plus daily food and water as cats cannot live on mousing alone. For more information, contact Beth Rushing at (805) 964-8956 or bethrush@cox.net
The organization Alley Cat Allies has a wonderful website for anyone looking to care for feral cats. They have advice on how to participate in TNR programs, while keeping your neighbors happy. For more information on helping feral cats, visit http://www.alleycat.org/
Announcements
Celebrate "Chihuahuas de Mayo"
The major shelters in Santa Barbara County are offering half off adoption fees for Chihuahuas and Chihuahua mixes adopted during the month of May.
In addition, the owners of the first 300 Chihuahuas and Chihuahua mixes who register and live in Santa Barbara County will be able to get their dogs spayed or neutered for free during the month of May. Owners can call one of the following organizations to schedule an appointment:
• S.B. County Animal Services, Santa Maria Animal Center: (805) 934-6968 (S.B. County residents only)
• Santa Maria Valley Humane Society: (805) 349-3435
• Santa Ynez Valley Humane Society: (805) 688-8224
• Santa Barbara Humane Society: (805) 964-4777 x20
• Care4Paws: (805) 968-CARE (2273)
Adoptable Pets of the Week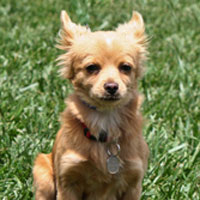 Ying is a mushy, huggable little thing that you just can't resist picking up and loving. He is cute and petite and has the softest coat of butterscotch hair. He has a darling face with fuzzy, soft ears that perk up and very bright and friendly smiling brown eyes. Ying is really great with the other dogs. He is very confident and can even be a bit sassy when he plays with dogs who are much bigger than he is. He dances when he walks and is very affectionate. Little Mister Personality. He is not a barker and is very well behaved. He would be a great little family dog
To inquire about adopting a dog, visit DAWG in Santa Barbara. DAWG (Dog Adoption and Welfare Group) is a no-kill, not-for-profit dog rescue/adoption organization located at 5480 Overpass Road in Goleta. For more information, call (805) 681-0561. You can view more adoptable dogs at www.sbdawg.org. The public is invited to stop by and look around every day from 9 a.m. to 4 p.m. DAWG relies on volunteers to take care of all the dogs, so if you love dogs, think about volunteering! Students are able to fulfill their volunteer community service requirement by volunteering. Volunteer orientations are generally held every other Saturday at 10 a.m. Contact DAWG for the next meeting.
Maribel
Maribel is a beautiful Jersey wooly mix bunny who is in need of a permanent home. Jersey woolies have gentle temperaments and are an excellent choice for both novice and experienced rabbit fanciers. Maribel is the perfect-size bunny for a youth to handle, though parental supervision is always necessary. She will need appropriate grooming to prevent knots and mats.
Bunnies Urgently Needing Shelter (BUNS) is a volunteer organization that cares for abandoned rabbits. BUNS is located at the Santa Barbara County Animal Shelter, 5473 Overpass Road. BUNS works to find bunnies permanent homes and educates the public on caring for a companion rabbit. You can call the County Shelter at (805) 681-5285 or call BUNS at (805) 683-0521 and leave a message for someone to call you back. For more information, visit www.bunssb.org
Lisa Acho Remorenko is executive director of Animal Adoption Solutions, www.animaladoptionsolutions.com