Arts & Entertainment
UK Artist Ben Howard Ventures Stateside
The Gold-Selling Singer-Songwriter Plays SOhO June 1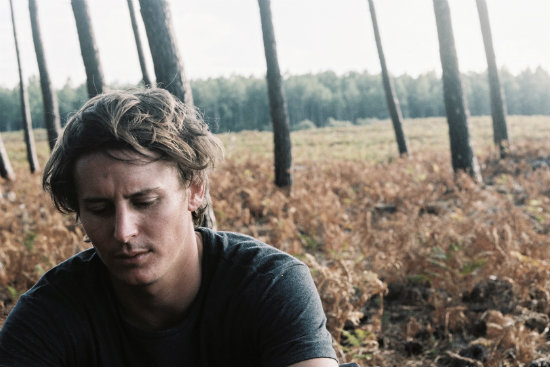 This week, UK singer-songwriter Ben Howard ventures stateside for a string of (mostly sold out) West Coast dates, including a Friday night stop at SOhO Restaurant & Music Club. Since releasing his U.S. debut, Every Kingdom earlier this month, Howard has been winning over critics and fans with his beautifully unadorned approach to music making. (Think brutally honest lyrics, effects-free vocal leaps, and a whole lot of guitar-bound percussion.)
With a voice that calls to mind a stronger, more self-assured José González, Howard is one of those artists that not only deserves, but demands to be caught live. Below, we chat with Howard about his musical upbringing, his thwarted journalism career, and why recording in abandoned barns just ain't his thing.
Where did you grow up? I grew in Devon, in Southwest England. It was a pretty countryside and a pretty small town. It was a pretty crazy upbringing, really. I spent a lot of time outside and kind of did OK at school.
Did music play a big role in your family? My parents played a little bit of music, but not much. The biggest influence for me was just the records they had in the house — they always had music playing. My enthusiasm came just from listening to so much of their record collections.
When did you start playing guitar? I was about six or seven, somewhere around there. For most of my life I've played the guitar. I should be a lot better than I am, really. [Laughs]
Who were your early influences Quite a few. A lot of songwriters the likes of John Martyn and Nick Drake, people like Van Morrison and Simon & Garfunkle. My dad had an old songbook where he had written out a load of old Simon & Garfunkle songs, so I remember learning a few of them, but it was pretty widespread. James Taylor was a big one, probably one of my earliest musical memories, really. I remember "Fire and Rain" and "Sweet Baby James," those were huge tunes for me.
When did you decide to pursue music full-time? I was actually studying journalism at University College Falmouth down in Cornwall. A lot's been made from it in the press in the UK because I quit about five months before I finished my degree to pursue music. I just thought that I'd much rather play music for a living and I wanted to see if it was possible. I'm very stubborn, so I made the decision and was kind of like, 'OK, you've got to do something about it now.' A lot's been made of it, but I probably wasn't going to get a great degree anyway. I was never [in class], so it was an easy decision. I was about 21 when I decided I'd make it a career, but music's one of those funny ones where you can't be too careerist about it because you never know what's going to happen.
I hear you're also an avid surfer? I was just telling someone that I talk about surfing more than I actually surf nowadays, but yeah, I get in the sea a fair bit. I was just out in Ireland for six days for a little bit of time off, which was amazing. It was a chance to get wet and kind of get back to basics. I spend most of my time falling out of the sky, to be honest.
Does surfing help inform the writing process, or vice versa? For me they're kind of two different things, but I spent a lot of my childhood by the sea, so it definitely creeps in to the lyrics. The only way surfing really influences music is through the time and space aspect for me. You get to sit and float around for a little bit and — it's not meditating, but you don't have to think about much. You think about what the sea is doing. It's quite a good way to focus yourself and not clutter your head with too many thoughts.
I want to talk a bit about the record. Is it true you recorded it in a barn? Yeah, it was a converted barn next to our cello player's house, which we did because we had made a conscious decision to be close to home. I think we were a bit naïve at first, we thought we could record it all fairly quickly, but you end up learning so much. [We learned] everything from the ground up — how to record stuff, what things sound like, and how they sound to us. We were really blessed because Chris, who plays drums and produced the record, was a real driving force, and he has a great set of ears on him. We worked really hard, but it ended up taking us a year and a half.
Would you record that way again? I'd never do it again. It was the hardest thing I've ever done in my life. [Laughs] I had some of most miserable moments and some of the greatest moments of achievement, all mixed into one. There was one really memorable occasion where… I'm quite solid most of the time, I'm not overly emotional, but there was one day when I drank too much and just fell apart. We banned whiskey from the studio after that. [Laughs]
Your new record is out over here on Ben Lovett's (Mumford & Sons) label, Communion. How did that come about? We did a lot of stuff in the UK with Communion. We were never really part of any scene in the UK because we lived in Devon and no one really did much down there. We always felt really out of place when we came up to London, and then Communion came along and we started doing some London shows with those guys. They're just a really cool bunch of people, and they got what we did and it just stemmed from there. They put out our EP in the UK. It's such a cool roster of people — they're all great musicians, but they're also really cool people.
4•1•1:
Ben Howard plays SOhO Restaurant & Music Club (1221 State St.) on Friday, June 1 with opener Bahamas. Call 962-7776 or visit sohosb.com for tickets and info.