Food & Drink
Wine Cask Turns Into Beer Keg
Report from May 31's Beer Pairing Dinner
We can all agree that basic beer goes pretty well with a basic burger. But with so many complex styles of ale available these days, truly matching a gourmet menu to a slate of handcrafted brews takes special skills, plenty of patience, and lots of experimental sipping. Luckily for us in Santa Barbara, the dedicated crew at the Wine Cask — especially head chef Brandon Hughes and beverage guru Branden Bidwell — doesn't mind that sort of work, and the epic results of their plotting were glaringly apparent on Thursday night at the Anacapa Street restaurant's second-ever beer dinner. Here's a replay.
First Course: Korean Chicken Skin Tacos, with house-made kimchi, potato, pickled salad
First Beer: Anderson Valley's Boont ESB, from Boonville, CA, 6.8%
First Thoughts: Why haven't I ever had chicken skin tacos before? The crunchy factor was in high gear, set off by the fermented sourness of the kimchi, and washed away pleasantly by the Boont hoppiness. As my dining companion and this newspaper's food editor George Yatchisin explained, "They could just serve me these all night and I'd be fine."
Second Course: Mussels and Fries, with rock shrimp veloute and house-cut fries
Second Beer: Allagash's Curieux, from Portland, ME, 11%
Thoughts: Our table agreed that Belgian-style beers can be somewhat dicey: too much foaminess, a bifurcated nature of spice and fizz that doesn't blend well, etc. The Allagash, however, destroyed those connotations, and left us amazed at its suavity, despite an 11% booze tag. That might be because of its aging in bourbon barrels, which also inspired the sauce atop the mussels and fries: a Jim Beam-and-vanilla concoction that I thought could be whipped into a tasty cake for dessert. I truly almost drank the leftovers.
Third Course: Pork Poppers with beer barbecue sauce and market slaw
Third Beer: Green Flash's Saison Diego, from San Diego, CA, 4.5%
Thoughts: These bite-sized treats were certainly the saltiest thing on the menu, but that was quickly cut with the zesty Saison. Mine disappeared far too quickly, aided by the sweet dipping sauce.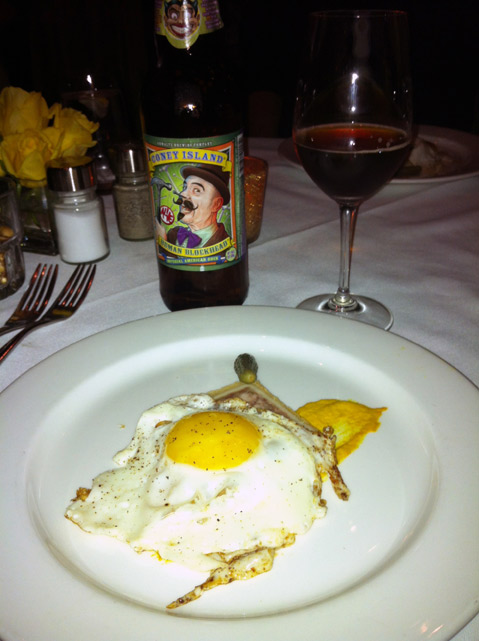 Main Course: Pork Jowl En Croute, with house mustard and over easy egg
Fourth Beer: Coney Island's Human Blockhead, Brooklyn, NY, 10%
Thoughts: The most visually interesting dish of the night, we were served slices off a bread-encrusted pork loaf, atop fresh mustard, adorned with a soft egg, a tiny pickle on the side. Branden Bidwell said that, during one of the first planning meetings for the dinner, they envisioned an entire menu of reimagined breakfast items, but that didn't fly too long. "This is what was left of that," he laughed. "It's basically bacon, eggs, and toast." Equally compelling was the Human Blockhead, an "American Bock" kitchen sink-type ale of lots of malt and lots of hops that Bidwell admitted he wouldn't drink straight, but thought it went well with the dish. He was right: the beer's complication paired nicely with the bizarre twist on a classic morning dish.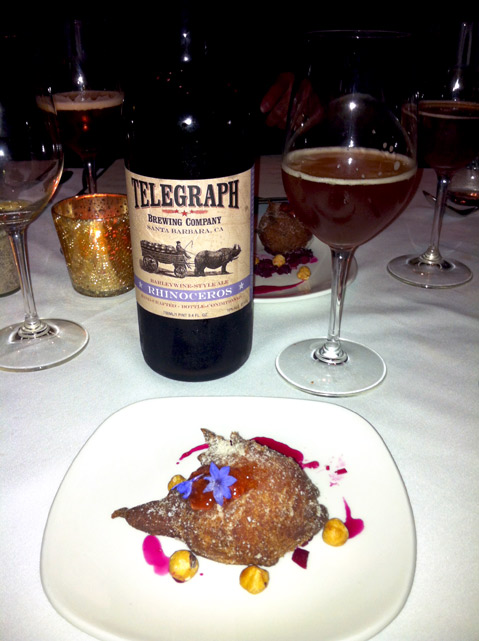 Dessert Course: Apple 'n Foie Fritter, with rose jelly and candied hazelnuts
Final Beer: Telegraph's Rhinoceros, Santa Barbara, CA, 10%
Final Thoughts: With foie gras about to be banned for sale in California this July 1, chefs everywhere are throwing it into whatever they can. In this case, that meant dessert, with a tiny bit of goose liver inside an apple fritter, bolstered by the smooth "rye wine" produced a few blocks away at Telegraph. It was a quick end to the three-hour night, though Bidwell topped us off with a sip of Auchentoshan's Three Wood Whisky.
With his own beer finally in hand, Brandon Hughes walked around the room asking for what people thought, and the response seemed to be unanimous: Do it again. He was smiling like the rest of us, and hinted that there may indeed be another one coming up a couple months from now.