Film & TV
The Intouchables
François Cluzet and Omar Sy star in a film written and directed by Olivier Nakache and Éric Toledano.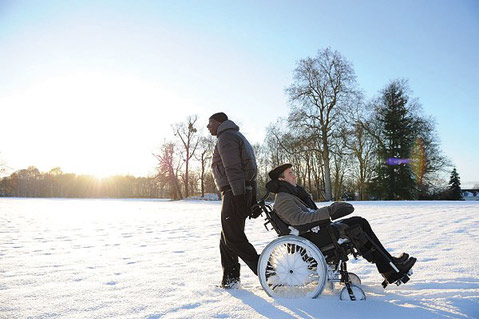 At the heartwarming yet mostly non-mushy core of this poignant, true story–inspired tale is an odd coupling of heroic proportions. An affluent French tetraplegic (paralyzed from the neck down) man (François Cluzet) ushers into his life a Senegalese immigrant (Omar Sy), a reluctant caregiver whose lack of reflexive pity the Frenchman appreciates. What he gets in his employee is a frank, funny, and matchmaking hipster with little patience for stuffy protocol, making for the comic-dramatic zing that made The Intouchables (which translates to "Untouchables" in French) a megahit in France.
Meanwhile, the narrative itself cross-references the "untouchable" lives of the rich and the scuffling African Parisians, two sides of town and socio-economic realities in Paris. The filmmakers, writer/directors Olivier Nakache and Éric Toledano, take care to work the multiple inherent contrasts in their story, not only in terms of race, class strata, and cultural aspects — as during a telling scene in which each plays his favorite music, Handel versus Earth, Wind and Fire — but also the characters' very kinetic disparity. French actor Cluzet works amazing expressive magic within the definitively minimal means of a face-alone vocabulary of gestures, while Sy's palette of physicality seems almost overstated by comparison.
Comedy and drama continually ebb and flow in the film, with a surprising seamless ease. The underlying melancholic air of the story is reflected in the soundtrack by the mood-making pianist/composer Ludovico Einaudi (whose solo work always sounds more like a soundtrack waiting to happen than music for its own sake). When EWF's "September" zooms up in the score, the story's alternate personality and upbeat, uplifting spirit take over.
As solidly styled and well-acted as it is, in filmic terms, The Intouchables ultimately leans more into the realm of feel-good cinema than the art film zone. But its generous heart shines through its sometimes blatantly sentimental machinations, and we end up relating to and rooting for both central characters, as individuals and as the composite partnership they create as a duo. The odd couple wins out.