Briefs
Santa Barbara Votes: 2012 Primary Election
[FINAL RESULTS]: Capps and Maldonado Head to November Runoff; Farr Defeats Pappas; Measure Y Doesn't Come Close; School Parcel Taxes Voted Down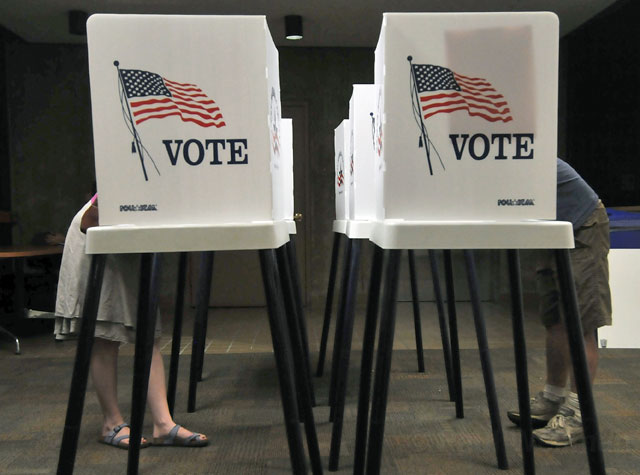 It's the 2012 Primary Election, and in the biannual independent.com tradition, we'll be using this page to deliver results, reactions, and reports from the various Election Night parties happening throughout Santa Barbara County.
Our team of experienced staffers — reporters Chris Meagher, Brandon Fastman, and Matt Kettmann, along with photographer Paul Wellman — will be out and about to get the scoop while news editor Tyler Hayden and contributor Lyz Hoffman hold down the fort at Indy headquarters and write these updates, which typically run into the wee hours.
If you're wondering who's winning, who's losing, what they're saying, and what they're drinking, this is the page to stay on all night long. Feel free to send feedback and your own reactions to news@independent.com.
[Results last updated Wednesday, 8:55 a.m.]
U.S. Congress, District 24
[100% of precincts reporting]
Lois Capps: 58,327 (46.5%)
Abel Maldonado: 38,298 (30.5%)
Chris Mitchum: 25,932 (20.7%)
Matt Boutté: 3,001 (2.4%)
State Senate, District 19
[100% of precincts reporting]
Mike Stoker: 54,155 (45.3%)
Hannah-Beth Jackson: 49,271 (41.2%)
Jason Hodge: 16,146 (13.5%)
State Assembly, District 37
[100% of precincts reporting]
Das Williams: 39,868 (55.9%)
Rob Walter: 31,483 (44.1%)
S.B. County Board of Supervisors, 1st District
[100% of precincts reporting]
Salud Carbajal: 10,335 (75.9%)
Carole Lieff: 3,214 (23.6%)
S.B. County Board of Supervisors, 3rd District
[100% of precincts reporting]
Doreen Farr: 6,857 (54.51%)
Steve Pappas: 5,667 (45.05%)
S.B. County Board of Supervisors, 4th District
[100% of precincts reporting]
Joni Gray: 5,441 (39.74%)
Peter Adam: 5,160 (37.69%)
Joyce Howerton: 3,070 (22.43%)
State Ballot, Prop 28
[100% of precincts reporting]
Yes: 2,319,918 (61.4%)
No: 1,456,749 (38.6%)
State Ballot, Prop 29
[100% of precincts reporting]
Yes: 1,894,871 (49.2%)
No: 1,958,047 (50.8%)
S.B. School District, Measure W
[100% of precincts reporting]
Yes: 21,330 (64.34%)
No: 11,822 (35.66%)
S.B. School District, Measure X
[100% of precincts reporting]
Yes: 9,498 (65.01%)
No: 5,112 (34.99%)
S.B. City, Measure Y
[100% of precincts reporting]
Yes: 5,196 (34.03%)
No: 10,071 (65.97%)
S.B. Democratic Central Committee
[100% of precincts reporting]
David Pritchett: 3,080 (19.99%)
Daraka Larimore-Hall: 2,664 (17.29%)
Joe Allen: 2,648 (17.8%)
Bob Handy: 2,1923 (12.48%)
Olivia Uribe: 1,835 (11.91%)
Robert Burke: 1,609 (10.44%)
Ed France: 1,608 (10.43%)
—
[8:04 p.m.] Chris Meagher, over at Lois Capps's campaign headquarters on Chapala Street, says the mood is "very relaxed." The 14 people there are cracking beers, huddling around computer monitors, and keeping close tabs on state and local results websites.
[8:50 p.m.]: If early returns are any indication, Lois Capps is well on her way to a runoff with Abel Maldonado in the general election for California's 24th Congressional District. Due to the new primary election rules, this contest's top two vote-getters will go head-to-head in November, regardless of party affiliation. Capps sits with 17,286 votes to Maldonado's 14,685. Chris Mitchum trails with 5,909 votes, and behind him is Matt Boutté at 1,103.
Incumbent 3rd District Supervisor Doreen Farr is currently leading challenger Steve Pappas, with 3,812 votes to his 3,436. Over in the 1st District, although Carole Lieff dropped out of the race, she still has so far received 2,211 votes to Salud Carbajal's 7,016. And the 4th District race looks as if it will continue in November with a runoff between incumbent Joni Gray (3,763 votes) and one of her challengers, Peter Adam (3,415 votes).
Both school parcel taxes, local Measures W and X, are slightly behind the two-thirds "Yes" votes they need to pass. Measure Y, which would grant a public easement to a private developer, Mark Lee, so he could build an entrance bridge across Arroyo Burro Creek into a 25-unit housing development, seems doomed to go down in defeat. It's so far received 3,532 votes of support and 6,615 votes against it.
[9:05 p.m.]: Republican Mike Stoker — who is currently leading the 19th District State Senate race with 33,775 votes to Hannah-Beth Jackson's 28,761 and Jason Hodge's 10,088 — quoted Tom Petty: "The waiting is the hardest part," he said at his Brewhouse party. A Brewhouse regular, Stoker was drinking out of his personal mug and mingling with guests including Andrew Firestone, Tom Watson, Dan Secord, and a softball team.
[9:25 p.m.]: Over at Casa Blanca, reporter Brandon Fastman found that Measures W, X, and Y were of much concern. "If this fails, and if the governor's initiative in November fails, we are just dead meat," said Lynn Rodriguez, president of the Santa Barbara Education Foundation, about Measures W and X. Currently, Measure W is being approved by 64.18% of the votes, and Measure X is being approved by 64.76% of the votes. The hotly debated Measure Y is currently being shot down by 65.57% of the votes, and City Councilmember Bendy White said he knows why: "I'm a big believer in lawn signs. It's salt of the earth material," he said.
First District Supervisor Salud Carbajal, also calling Casa Blanca his election night hangout, had mixed feelings about his easy coast to victory. "Tonight, despite the numbers and the optimism, it's bittersweet," he said. "The person who introduced me to public policy and government is not here," he went on, lamenting the loss of former supervisor and activist extraordinaire Naomi Schwartz, who passed away Monday at age 78.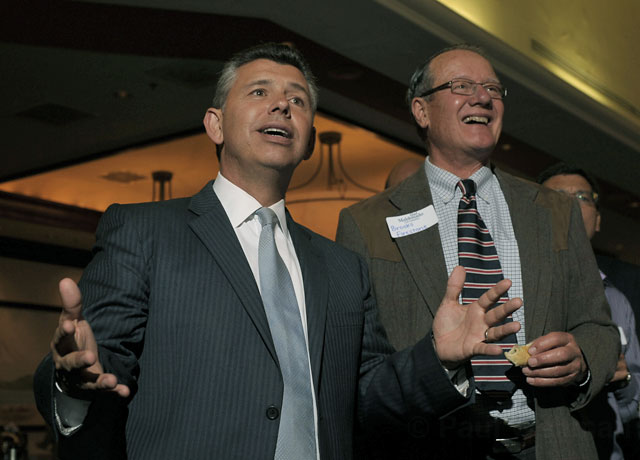 [9:55 p.m.]: It was all smiles for Abel Maldonado's camp in the Ronald Reagan Room at Fess Parker's DoubleTree Resort. Confident that their Republican candidate for the 24th Congressional District will indeed face incumbent Lois Capps in November, supporters sipped Curtis and Rusack wines and munched on lamb sliders as the TV was alternately tuned in to Santa Barbara and San Luis Obispo election results.
Maldonado's campaign manager Brandon Gesicki, before his boss took the floor, said to the crowd of about four dozen: "This is a huge, huge victory for us. We're very happy that more than 50 percent of the voters went Republican … It's a devastating loss for Lois Capps." Former Santa Barbara County supervisor Brooks Firestone also spoke. "This is a great night, a wonderful night," he said. "He has won tonight big time."
The evening was a family affair for the Maldonado clan as Abel, his wife, four kids, mom, dad, brother, and sister all held court when the latest round of numbers were reported. He spoke of being in business with his relatives by mentioning its ups-and-downs, perhaps a reference to his family farm's tax troubles highlighted by recent news reports. "Sometimes it's the most beautiful thing in the world, sometimes it's the hardest thing," he said. "But at the end of the day, it all comes together."
As supporters ate the last of the clams in butter sauce and truffle macaroni-and-cheese, Maldonado echoed Gesicki's excitement at the positive showing for the GOP. "We are way above 50 percent of the vote, and that should send a strong message to the folks in Washington," he said.
Explaining he thinks Santa Barbara County is on the wrong track, Maldonado rallied against what he called "hyper-partisanship" and promised to cast some tough votes should he be elected to Congress. "That's what Americans are looking for today," he said. The choice in November, he went on, "is between the status quo or some real change."
Maldonado told his contingent to enjoy the rest of the night because the hard work begins tomorrow. On the new open primary that he ushered into law, Maldonado said he is pleased with how it's turned out. "The one who's going to win [in November]," he promised, "is the one who can reach out to independents … You've got to change the politician." As things wound down, Maldonado handed out jelly beans to his supporters, an homage to the late Ronald Reagan, a notorious jelly bean fanatic.
[11:00 p.m.] Capps issued this statement not long ago: "I am very grateful and humbled to again receive such strong support from Central Coast voters. I look forward to meeting residents across the district in the months ahead and discussing important issues, including how we can improve our economy and create more jobs, protect Social Security and Medicare, and make college more affordable."
[11:40 p.m.]: Farr and her supporters were just met with the news that she has officially ended Pappas's latest bid to unseat her. After addressing a crowd at Holdren's steakhouse in Goleta, Farr was asked by Chris Meagher if she thinks she'll get a call from her opponent. "Do I expect to hear from him? No. I'm still waiting from last election." Salud Carbajal and his staff were on hand for a round of congratulations.
City Councilmember Cathy Murillo at El Paseo restaurant earlier in the evening had this to say about the defeat of Measure Y: "It says that Santa Barbara voters do care about the environment, and they understand when an EIR says something is a Class I negative impact, they say no."
[11:55 p.m.]: Brandon Fastman just got an email from School Board member Susan Deacon about the failed passages of measures W and X: "It's a particularly sad outcome because we came so close. Getting a 2/3rd majority vote is a very steep hill to climb, and we came within 1-2 percentage points of that," she wrote. "I suspect that in a November election when voter turnout is much higher, we could have reached that threshold.
"The board will likely have to consider bringing the measures back to the voters, and that is not a small endeavor since we depend upon volunteers to run the campaign," Deacon went on. "The funding for the school programs does not go away until the end of the next school year, so there is time.
"I think local voters do a much better job of understanding the value of supporting education than the state does, but in this economic climate it is very difficult to pass revenue measures. There is a fatigue factor, and we may have been a victim of that.
"The school board did not take this financial commitment by voters lightly. We were committed to using the funding to ensure students have access to music, the performing arts, trade-related courses and smaller classes. We recognize there is a cost to this support. The health of a community can be measured by the quality of its schools. For many of our students music, the arts, and other electives are what make them want to go to school, and stay in school.
"While our district has faced horrible cuts to our general budget during the economic downturn, one bright spot had been the continuation of electives and enrichment courses that many other districts across the state have eliminated. Unfortunately that may now be our fate."