Arts & Entertainment
Sasquatch! Music Festival at the Gorge Amphitheater
The Independent's Levi Michaels Ventures North for More Bands, More Camping
It's always irked me how Coachella is touted as the Fest of the West, when the Sasquatch! Music Festival is, in many ways, a more interesting experience. To be sure, comparing any two festivals is as silly as trying to compare the music itself, but where the former is a weak dose of the festival drug, the latter seems a full-blown intravenous injection, both immersive and addictive. If the desert doesn't meet your fancy, and you don't mind an insanely long but scenic trek, look no further than the highlands of George, Washington. The weather is more temperate, the people are friendlier (read: Canadian), and with camping both free and (practically) mandatory, one can steer clear of stressful logistics and undue gouges to the wallet. You may not get a gander at some of those glamorous reunion acts, and this year the sound issues seemed to be more persistent than usual, but add it all up and you've still got four beautiful, relaxing days of music.
To me, a festival experience is largely defined as a function of risk and reward. In general, the less expectations I have, and the more out of my element I feel, the greater the reward. This being my second year at Sasquatch!, I knew a little more about what to expect, but the setting of the Gorge Amphitheatre is still a wonder to me. The festival is divided between five stages (one more than last year), each with benefits and drawbacks unique to every artist. Read on to find out who were the heroes of each stage, who the villains, and who the innocent bystanders.
SASQUATCH STAGE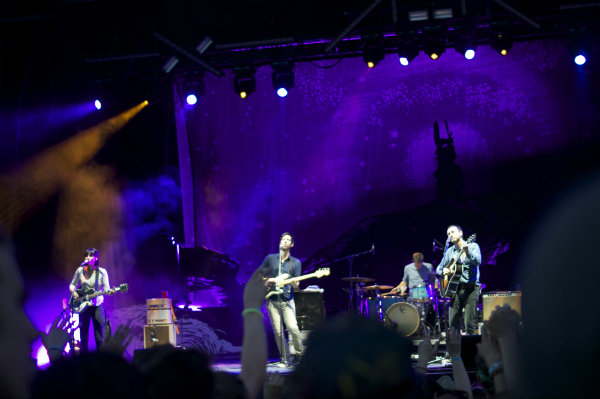 Sitting atop a precipice that overlooks the Columbia River, this hulking beast of a stage acts as the centerpiece of a natural amphitheater, towering like a musical monolith over the northern wild. With the right musicians at the helm, it sort of feels like God is working the visuals. Of course, it's not an ideal setting for every band; even though there is hardly a bad seat in the house, some artists have difficulty filling such a monumental space. This year, the main stage was occupied by a wide range of artists, from folk and indie rockers to party-starting DJs. On Friday, Pretty Lights was in charge of closing out the first night with his heavy amalgamation of hip-hop, jazz, and dubstep samples, but seemed to miss the mark that bands had an easier time hitting. The following night, main stage duties were presided over by Metric, The Shins, and Jack White. Led by former Broken Social Scene member Emily Haines, Metric's synth-heavy indie rock is practically tailor-made for stadium-sized venues, and despite a few slip-ups and a false start or two, Haines and crew easily occupied every inch of the amphitheatre. Metric was no match for The Shins, though, who absolutely owned the place with a set of mostly classic jams like "Caring is Creepy," peppered with newer cuts from their latest effort, Port of Morrow. The energy was infectious for the duration of the set, and Sasquatch himself even made an appearance on stage during "September." On Monday, main stage heavy hitters included Clap Your Hands Say Yeah, Silversun Pickups, and Feist, who beamed with longer, harmony-laden arrangements from last year's Metals. Undoubtedly, though, it was Tenacious D who claimed the place for the night, as they worked oldies and new tracks from Rize of the Fenix into a series of skits and misadventures that included another Sasquatch sighting and a devil possessing guitarist John Konesky. I can safely say, however, that my weekend was complete upon hearing the entire amphitheatre singing "Fuck Her Gently" in soft, passionate chorus.
BIGFOOT STAGE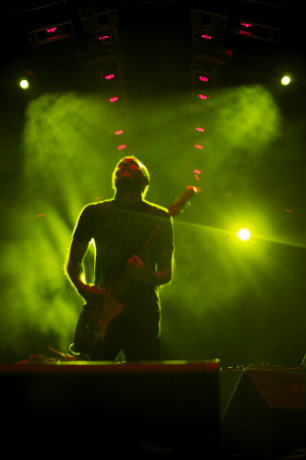 Weighing in after the amphitheatre is the Bigfoot stage, a decently sized deck that hosted some of the best acts of the weekend, like Explosions in the Sky on Friday night. It seems that no festival is complete these days without these four Texans drowning folks in their huge, feedback-ridden guitars. Though there were no major aberrations from the band's now usual setlist, it's always a pleasure to hear massive arrangements like "Birth and Death of the Day" and "The Only Moment We Were Alone" with newer, more rhythmic tunes like "Postcard From 1952" in between. On Saturday, St. Vincent gave a truly mind-blowing performance that landed somewhere between frightening and liberating. Annie Clark and her crew have been touring practically nonstop since October, but this performance felt alarmingly different than anything I had seen before. Sure, they ran through the same motions, including a cover of The Pop Group's "She is Beyond Good and Evil," and Clark crowd-surfing during the final run of "Krokodil." But there was something about the way she forced herself on a hesitant and uninterested crowd, thrashing wildly around with sharp stiletto heels like she was the pinnacle of punk, even though the sound really wasn't all that great. Maybe it was that feeling of alarm — that unmistakable moment where you ask yourself, 'Is this what it looks like when somebody breaks down on stage?' In any case, after Clark was escorted off by security guards, and a woman next to me turned to her friends and declared, "That was the worst thing I've ever seen," I knew that I had just seen the most badass festival performance in quite some time. The following night, however, saw the Bigfoot stage hosting another female-fronted group who shattered my expectations for different reasons entirely. Sleek, precise and indomitably sexy, Little Dragon has certainly grown up in the nine months of relentless international touring that has passed since their spot at last year's Outside Lands festival. Not a single imperfection was heard during the time these Swedish dance floor despots were on deck, and though they did not have the biggest stage at their disposal, they certainly played like it. Their minimal electronic tones came through crystal clear for the set, which leaned heavily toward their third and latest full-length, Ritual Union, leaving plenty of room for vocalist Yukimi Nagano to fill the mix with her deep contralto voice ("Little Man"), rise to a mounting, almost orgasmic pitch at select moments ("Please Turn"), or just sit back and amaze everyone with a cowbell solo ("Brush the Heat"). Simply put, the night belonged to Little Dragon, and nobody else that weekend even came close to the level of authority they commanded.
BANANA SHACK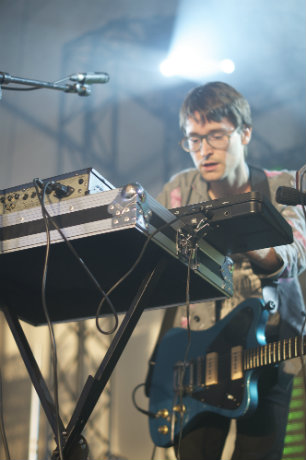 I'm tempted to end this review with such a definitive statement, but that would overlook the Banana Shack and the many electronic bands that dominated this space, like STRFKR. Despite working with some serious sound issues (an annoying buzz seemed to persist behind the mix for most of their set), the Portlanders pulled through with their bouncy, keyboard-heavy jams and a very patient crowd. Dressed in a hooded rainbow cape, composer Joshua Hodges breathed his soft, airy vocals above a decent mix, but it wasn't until the last song that he finally asserted himself vocally. Com Truise followed up in the same vein with a steady DJ set powered by flittering synths and heavy beats at a head-nodding tempo, perfect for an early evening lull. Also on Saturday, Fred Armisen and Carrie Brownstein of Portlandia had a go at the Banana Shack, beginning with an on-stage text message war and a slideshow reel that introduced the pair via silly yearbook portraits and childhood photos. It made for a fun diversion for a while, but as soon as they invited the audience to participate in a game of "Did You See?" (a variant of "Did You Read?" for those who follow the show), it was on to the next thing. As the excitement of the weekend mounted on Sunday evening, Tycho took over and slowed things down. The brainchild of visual artist Scott Hansen, who is also known for his design work as ISO50, Tycho enlisted the help of a drummer and bassist for a combination of sedative visuals and ambient beats, almost like Explosions in the Sky recreated with electronics. Closing out the Banana Shack that night was James Murphy, who brought with him a cheeky '80s dance party vibe, plenty of lasers, and some downright bizarre house tracks. Save for an inharmonious mix or two, Murphy did a killer job feeding the party on the most exciting night of the weekend, and when he got on the mike to shout his thanks, he professed that it was his "best festival set in years." But not even James Murphy at his best could hold a flame to SBTRKT's Monday night performance. Although the Man of Many Masks was flying solo with a DJ set instead of the drummer/vocalist combination he usually performs with, he found his groove with ease by mixing sinuously between UK garage, house, and dubstep. Booties were shaking, the mix was fluid and unpredictable, and he played "Wildfire," his breakout collaboration with Little Dragon, not once, but twice! Just when it seemed things couldn't get any sexier, the Londoner took us back to the '90s with Booty Call's "My Boo," truly an homage to his R&B heritage.
YETI STAGE
Which brings us to the Yeti. Despite being the smallest stage, a tiny moon by comparison to the red giant of the Sasquatch stage, the Yeti was the most problematic in terms of sound. Feedback issues were persistent, and the right speaker died completely on more than one occasion. However, the area is not without its merits, as the stage enjoys an auspicious view of the Gorge and faces directly towards the setting sun, making for some breathtaking views in the evening. Unfortunately, even with a sunset lighting up their faces, Zola Jesus could not overcome the sound failures, and their operatic electronics mostly fell flat. By contrast, our hometown space-rockers Gardens & Villa did Santa Barbara proud by successfully coping with similar problems during their Sunday afternoon set with the help of a lively, forgiving crowd. Even the temporary death of a speaker during "Spacetime" could not discourage the five-piece, nor their young fans, who climbed on one another's shoulders during "Orange Blossom" at the band's request. Hardly surprising, as there is probably no better place to hear Gardens & Villa's nature-obsessed mating calls than the Gorge. Some how I don't think that's the last Sasquatch! will hear from Santa Barbara — but let's crash the party next year, just to be sure.