Arts & Entertainment
Jones Fest Celebrates Sweet 17
Santa Ynez Celebrates Music, Community on Saturday, June 9
For most, family traditions evoke thoughts of green-bean-casserole recipes and Christmas-present-opening rituals. For the Jones family, however, family traditions mean something altogether different. Every year for the past 17, the Santa Ynez Valley clan of four has opened their doors — and more importantly, their front yard — to the population at large. The occasion: an all-day music festival they call Jones Fest, which falls on the second Saturday of June and coincides with the now 50-year-old Old Santa Ynez Days Festival.
"This is our New Year's," 24-year-old Kara Jones explained to me last week, a giddy smile on her face. "As a family, we celebrate Christmas, but that's pretty much it. We wait all year for Jones Fest: It's like a fresh start; all slates are cleared. If you mess up during Jones Fest, though, we'll hold it against you 'til the next one," she added, laughing.
Begun as little more than a jam circle for momma Karen Jones and her closest friends back in 1994, the gathering has grown into something of a valley institution, last year gathering more than 300 visitors over the course of the fest's six hours.
"I remember it got really big when my brother [Alex] was graduating high school and I was just starting," Kara recalled. "In the early 2000s, the crowds really started pouring out into the streets."
Of course, as with all good family folklore, the Jones Fest backstory is almost as impressive as its still-blossoming future. In the early 1900s, Kara's great-grandma Magdalena moved to Los Angeles from her home in New York City to pursue music. During a dress fitting in the City of Angels, a seamstress introduced Magdelena to her 30-year-old son, Clarence Mead "CM" Jones, who lived in Santa Barbara. The two fell madly in love and, by 1920, had relocated to the rural Santa Ynez Valley. Over the years, the pair raised three children (including Kara's grandfather Kenneth) and acquired a number of properties in what is now downtown Santa Ynez, including CM's garage, which stood at the corner of Edison and Sagunto streets. A generation later, Kara's father, Robert, was born, one of three children, all of whom grew up in the valley. In 1963, a grown Robert Jones moved to Taft, California, for work, where he met and married Karen and began his own family, which today includes both Kara and her 29-year-old brother, Alex. In 1995, Karen learned about the Jones's Santa Ynez property and soon enough Robert was headed back to the valley, his young family in tow. The couple and their two kids moved into the original, 112-year-old home, which by then had been long boarded up, and got to work restoring the property. Meanwhile, Karen started finding her footing.
"We grew up throwing hoedowns in our front yard, so when we got to town, my mom started doing open mikes and just trying to tap into the music scene," Kara recalled. "In the beginning, Jones Fest was just my mom and three of her friends passing the guitar around. That first year people started pulling up lawn chairs and sitting down to listen. She decided right after that to make it a tradition; second Saturday of June, we meet here and we play music."
As traditions often do, Jones Fest has grown and morphed greatly in the 17 years since it began. Originally intended as a venue for area honky-tonk, bluegrass, and folk musicians, the yearly gathering now plays host to rock, pop, folk, country, and bluegrass acts from Santa Barbara County and beyond, a progression that Kara traces back to none other than Warren Zevon.
"My mom is a hardcore Warren Zevon fan," Kara laughed. "She's mentioned in his book; she's written him letters; he's written her back. They had this weird relationship, but, like, from arm's distance." The obsession eventually led Karen to organize a Warren Zevon tribute concert, which led her to Phil Cody, a Cincinnati-born, S.B.-dwelling folk rocker who had opened for Zevon before his passing. Cody was recruited to play the tribute show, and shortly thereafter, a bond was formed.
"Phil is a solid staple in the family now," explained Kara. "When I was living in L.A., I started promoting with Phil and going to his shows. He got me a job working for Bonnie Raitt. Really, it's kind of crazy to think how much Warren Zevon has changed my life."
In the years since, Kara and brother Alex have continued to stay actively involved in the music community. In 2010, the pair started the popular Blue Agave Music Series, which hosted bands and singer/songwriters on the Cota Street restaurant's intimate balcony. They've also become increasingly involved in planning and organizing Jones Fest.
"I feel like the baton is being passed," said Kara. "Mom is still very much the matriarch and the decision-maker, but we all play a huge part. … Luckily, we all pretty much line up musically."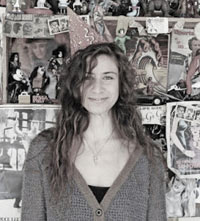 This year, the Jones Fest bill ranges from longtime participants like Cody and Earl Arnold to a mighty collection of young talent, many of whom the Joneses met while organizing concerts for Blue Agave.
During our talk, Kara spoke emphatically about the number of rising stars she's getting to play host to this weekend, including S.B. pop songstress Skyler Stonestreet, S.Y.V. transplant Idea the Artist, and Blue Agave alum Orlando Napier, who most recently made a strong showing on NBC's The Voice. "I feel like I hit the jackpot with all the amazing musicians that I got to meet last year," she gushed.
Currently, the Jones Fest roster contains seven S.B. County acts and three Los Angeles players, of which Kara is especially proud. "The music scene is really starting to blossom here," she enthused. "The community has just been so good to us. This is the one time of year that we can return the favor."
As for attendees, Kara insists that the festival is open to all and family friendly. "It's a potluck. We'll have beer on tap. And Old Santa Ynez Days is happening right down the street, so people can come and go," she explained. "It's a lot of Santa Barbara and Santa Ynez people that come out, then we'll get a handful from places like New York or L.A. or Seattle. We keep waiting for that one year when everybody shows up at the same time. But those are the kind of the problems that we hope for. We'll never turn a singer from our door."
4•1•1
Jones Fest 2012 takes place this Saturday, June 9, from 11:30 a.m. to 6 p.m. at 1120 Edison Street, Santa Ynez. Performers include Phil Cody, Eyes Lips Eyes, Jonathan McEuen, Orlando Napier, Skyler Stonestreet, and many more. For a full lineup and event details, visit joneshousemusicsb.blogspot.com.